Some books shake you to your core and blur the line between fiction and reality. Parable of the Sower by Octavia E. Butler, the first book in the Earthseed series, is one of those books.
Set in 2024, the novel features an America devastated by corrupt government, violence, and rapid climate change.
The teenage protagonist, Lauren, has hyper-empathy, which makes her feel the pain and the pleasure of those around her. In a cruel, cold, and brutal world, Lauren's empathy is considered a disability. But when Lauren leaves her gated neighborhood in L.A., she remains steadfast in her pursuit to create a sustainable home for those survivors who choose to follow.
RELATED: Octavia Butler's Parable Reread
In 2020, Octavia Butler's post-apocalyptic vision of 2024 appears eerily plausible. The past year has brought coronavirus, the Australian bushfires, heightened racial tensions in the wake of the murder of George Floyd, and an ever-growing wealth gap.
Here are a few more post-apocalyptic books that mirror a reality we may soon face if we continue to neglect our humanity in favor of greed, corruption, and twisted ideologies. These 11 books like Parable of the Sower by Octavia E. Butler are a wake-up call and a call to action.
RELATED: 9 SFF Books With a Hopeful Vision for the American Future
Never Let Me Go
Kazuo Ishiguro's haunting novel revolves around a woman reminiscing about her time at a boarding school called Hailsham.
What appears to be a typical school becomes a suspenseful set-piece that asks unforgettable questions about seclusion, human futility, and the gravity of the unsaid. Part mystery, part love story, Never Let Me Go, like Parable of the Sower, is a book about the discomfort and power of acknowledging reality.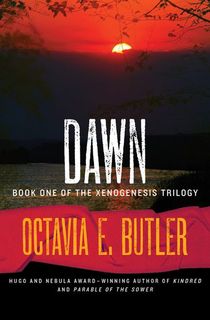 Dawn
If you are compelled by Parable of the Sower, then any one of Octavia Butler's books or works of short fiction is likely to move you. Much like Parable, Dawn is set in an unnerving future where humans must reimagine who they are to survive.
Lilith Iyapo is the lone member of her family to have survived the cataclysmic war on earth, but her survival is a blessing and a curse. She was rescued from the planet by the Oankali, an alien race whose views on power and identity are drastically different from humanity's.
Now, the aliens want to repopulate Earth and heal the planet — by merging Oankali with humans.
The first book in Butler's fascinating Xenogenesis Trilogy, a TV series adaptation of Dawn is in development from Ava DuVernay.
The Handmaid's Tale
As a handmaiden in the Republic of Gilead, Offred has no control over her life. The handmaidens are used only for their viable ovaries for bearing children.
The Handmaid's Tale speaks to a future that isn't far-fetched. Margret Atwood uses this novel as a cautionary warning about extremist ideology, and how quickly fascism can take control.
RELATED: 13 Books Like The Handmaid's Tale
Station Eleven
One cold night, movie star Arthur Leander dies on stage while giving the performance of a lifetime. That same night, a flu pandemic arrives in North America. The Georgian Flu goes on to kill most of the planet's population.
The story continues twenty years after the arrival of the plague, and follows a group of troubadours called the Traveling Symphony who perform Shakespearean plays. Station Eleven moves between the time before the flu and the time after, as a religious zealot threatens the delicate communities created in the wake of the plague.
Severance
In Ling Ma's novel, the world is brought to a halt when a global pandemic breaks out. Sound familiar?
The Shen Fever is not a quick death. It turns people into zombies who perform tasks compulsively until they die. Candace Chen, the millennial protagonist, documents the final days of New York City on her blog called NY Ghost, while she experiences the early stages of pregnancy.
A unique coming-of-age story, Severance feels as brutally realistic as Parable.
Brave New World
Aldous Huxley's 1931 novel Brave New World is set in a society where all citizens are environmentally engineered. Everyone is indoctrinated into the class system according to their intelligence and labor. However, Bernard Marx questions the society he lives in, and delves deeper into the inner workings of his 'perfect' world.
The book tackles themes such as consumerism, the use of technology to control society, and suppression of truth in a bid to create a twisted utopian ideal.
RELATED: 9 Dystopian Movies That Take You on a Wild Ride to the Future
Who Fears Death
Onyesonwu's name means 'who fears death.' She's a product of a rape, a mix between the dark-skinned Okeke and the light-skinned Nuru.
Birthed into a life of violence, Onyesonwu embarks on a journey to discover who she is, what magic she possesses, and why she was given her name.
The Road
In this Pulitzer Prize-winning novel, father and son travel across post-apocalyptic America. All traces of vegetation and animals have vanished, and the few surviving humans they encounter are cannibals.
But, as with Lauren's journey in Parable, each step the duo takes is an act of rebellion as they refuse to crumble under the pressure of a transformed world. While they scavenge for food, father and son hold on to their memories, and each other.
RELATED: Authors Share How Apocalyptic Fiction Can Be an Antidote to Panic
The Children of Men
In 2021, all humanity has become infertile. The population is rapidly aging, and England is now a dictatorship ruled by Xan Lyppiatt. In this bleak future, apathy and despair are the norm. But a group of rebels imagine a future greater than the past...
RELATED: 9 Sci-Fi and Fantasy Novels That Celebrate and Honor Rebellion
Life As We Knew It
Sixteen-year-old Miranda journals the events that follow after a meteor knocks the moon closer to the earth.
This catastrophe causes tsunamis that wipe out coasts, earthquakes that rock continents, and clouds of volcanic ash that block out the sun. Summers turn to arctic winter and Miranda, her two brothers, and mother retreat to the unexpected haven of their sunroom.
Miranda continues to write in her journal despite the struggles as she fights to hold on to the thing that matters most to her – hope.
RELATED: 8 Vital Sci-Fi Climate Change Books
Emergent Strategy
The only nonfiction book on this list, Emergent Strategy by Octavia Butler scholar adrienne maree brown is the perfect companion read to Parable.
In Emergent Strategy, brown — who co-hosts a podcast dedicated to the Earthseed series — uses Butler's fiction as a framework for considering how we can prepare ourselves, our communities, and our planet for Change.