The Testaments, the highly-anticipated sequel to Margaret Atwood's classic 1985 novel The Handmaid's Tale, hit shelves September 10th, 2019. Set 15 years after the conclusion of Handmaid's, Atwood's novel explores three very different women who have each made sacrifices to survive in the republic of Gilead. As the patriarchal political system struggles with in-fighting and disagreements over ideology, women across generations in Gilead must decide what 'freedom' would mean for them, and what they are willing to compromise for it.
Atwood's Gilead series isn't the only feminist dystopian drama creating waves. Now that we're living in a time when p*ssy grabs go unpunished and women are denied bodily autonomy, it seems that more authors are using their work to ask "what if?" What if the situation were reversed, and men were not in power? Or, more frightening: What if we allow this toxic, patriarchal culture to continue?
Like The Handmaid's Tale series and novel, the following books feature characters rising up against ignorance, sexism, hate, injustice, and so much more. In imagining futures that seem like the plausible outcomes of our present, they remind us that a healthy society is one in which both men and women are respected as equals—given control over their own bodies, identities, and choices.
Related: 8 Margaret Atwood Quotes for When the Bastards Grind You Down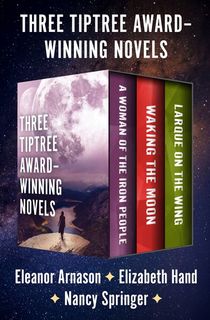 Three Tiptree Award–Winning Novels
This three-book bundle features female-fronted SF/F tales that challenge our notions of "maleness" and "femaleness." In A Woman of the Iron People, a female anthropologist's alien encounter makes her wonder if human intervention is necessary, or detrimental. Elizabeth Hand's Waking the Moon follows a conflict centering around the angry Moon Goddess, whose return is thwarted by a cult but fueled by the blood of young men. Larque on the Wing rounds out the collection, following a middle-aged woman's freeing transformation into a gay man who is unafraid to chase what he wants.
The Two of Them
Joanna Russ may be known for The Female Man—a novel credited with jumpstarting feminist sci-fi—but The Two of Them is another notable work of the subgenre. It's 1950s America, and Irene has had enough of the era's sexist, repressive ideologies. Desperate for freedom, she enlists in a space-time traveling agency, regains her independence, and strikes up a romance with her partner, Ernst. While on a mission, they meet a 12-year-old girl who, like young Irene, feels trapped by her society's religious narrow-mindedness. But though Irene is eager to organize the girl's escape, Ernst's hesitation calls his true values and character into question...
RELATED: The Enduring Anger of Joanna Russ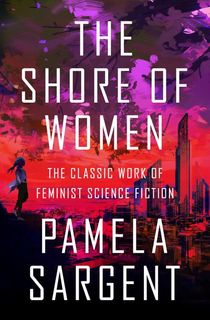 The Shore of Women
Set in a world in which women's rule is absolute, this classic sci-fi novel is the feminist utopia to Atwood's dystopia (though neither is ideal, of course). While females rule as "Goddesses," their male counterparts are banished to the outskirts of the city, called upon only for reproductive services. Birana is the rare exception: As a convicted criminal, she too lives in exile—though she lacks the requisite skills to survive. Luckily, she finds support—then love—with one of the men, though their relationship sparks controversy among their people and revelations about gender identities.
Related: Which Dystopia Will the Donald Trump Presidency Most Resemble?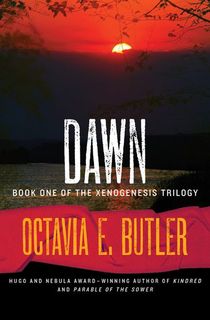 Dawn
One hundred years ago, the Oankali saved humanity from devastation by rendering them unconscious. One of the survivors has finally been reawakened—Lilith Iyapo, a grieving wife and mother—and she's been tapped to spearhead the Earth's recolonization. But the aliens require a trade for their help: If Lilith wants to return to her home planet, she must persuade other humans to breed with the Oankali. Will she rebel to preserve the human race as it has always been, or carry out her side of the bargain and change it forever?
Dawn is the first book in Octavia Butler's groundbreaking Xenogenesis trilogy, which is set to become a TV show helmed by A Wrinkle in Time's Ava Duvernay.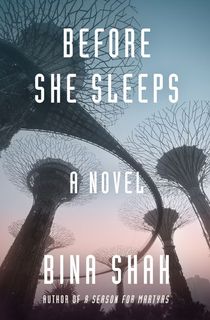 Before She Sleeps
In this near-future novel, the capital of Southeast Asia is the beautiful Green City. The verdant paradise conceals simmering tension between genders: with the number of men plummeting due to disease and environmental calamities, women are forced to take multiple husbands and to devote themselves to breeding. The only women spared from this indentureship are members of a secret, hidden class. Forced to hide underground, these women emerge at night to give the most powerful men of Green City a valuable currency in this new world order: true intimacy. But this secret society of women won't be able to stay hidden forever.
RELATED: Insightful George Orwell Quotes from 1984 and Beyond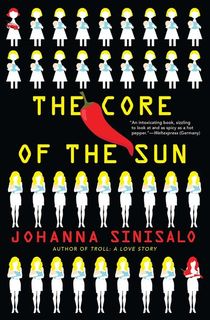 The Core of the Sun
Finnish author Johanna Sinisalo is acclaimed for speculative fiction which blends powerful questions of gender and identity with a sense of surreality that has been dubbed "Finnish weird." Much like The Handmaid's Tale and The Testaments, The Core of the Sun is set in a version of our present where sexism has been taken to its inevitable conclusion. People who can have children are an entirely separate subjugated class.
In The Eusistocratic Republic of Finland, the eloi are a caste of Finnish women bred specifically to be pliant, stupid, and fertile. Eloi have children, while non-eloi women are sterilized and forced into slavery. Although an eloi, Vanna is far more intelligent than men believe, but she's learned to hide her cunning, and her ambition to find her missing sister. Vanna is assisted in her quest for her sister by a man named Janna — but their mission may be halted by, of all things, a legendary pepper called "The Core of the Sun."
Her Body and Other Parties
With Her Body and Other Parties, Machado has defied genres and writing conventions to create a wholly original work about violence, particularly against women—whether that be physical, mental, or self-inflicted. Her collection never balks from the gruesome or macabre, but uses them to retell old myths. Take, for example, "The Husband Stitch"—a reimagining of the always creepy "The Green Ribbon," and critique of men's false sense of entitlement to the female body. Other stories include one in which women are literally becoming invisible, and "Difficult at Parties" is a harrowing exploration of the aftermath of sexual assault. For all its weird and fabulist elements, the collection speaks to the frightening truths of the female experience.
When She Woke
As in The Handmaid's Tale, Hillary Jordans' near-future America is a country in which there is no separation between church and state. But it also goes beyond that, taking many of its cues from Nathaniel Hawthorne's The Scarlet Letter. Here, criminals are not incarcerated but punished with public humiliation—the alteration of their skin color, according to their crimes. 26-year-old Hannah Payne (a nod to Hester Prynne) is one such individual: After aborting her love child with a self-righteous preacher, she is "chromed" bright red. Now branded a sinner and ostracized, she must survive the cruelty of her ultra-conservative society, come to terms with her past, and reevaluate her relationship with her faith.
Related: 9 Freaky Predictions from Dystopian Novels That Have Come True
Red Clocks
In the not-so-distant future, four women struggle to find their place in their changing dystopian world. Not only has legislation banned abortion and IVF procedures, but another law will bar single women from adopting children. It's a manipulative tactic also used by Atwood's Gilead—a way of forcing women into traditionally "female" roles and robbing them of their agency. Each of Red Clocks' heroines bucks against these constraints, though it will take true courage to maintain their personhood in a society that neither appreciates nor acknowledges it.
An Excess Male
An Excess Male takes a slightly different approach to Handmaid's school of dystopian fiction, but it's as equally plausible and unsettling. Maggie Shen King imagines the repercussions of China's "One Child Policy" in the mid-21st century, which has driven the female population to the brink of extinction. Due to the grievously lopsided male-to-female ratio, men must pay a substantial dowry to become one of a woman's three husbands. At last, Lee Wei-guo has bought his way into a polygamous marriage with 22-year-old May-ling—though he'll soon discover that this arrangement is fraught with secrets that could get him killed.
The Power
This prize-winning novel is framed as a history of the "Day of the Girls," and its aftermath—an event that awakened an electrogenetic organ in the female body. Alderman tells her story from multiple perspectives, recounting the escalation of the war between the sexes: Women establish camps to harness their newfound gift of electricity, just as supremacist groups aim to restore male dominance. A powerful runaway heads a cult of impressionable followers, while a young man risks his life to document the global revolution. As the world rushes towards a violent end, The Power shows us the dangers of gender inequality and the necessity of balance.
Related: 10 Sci-Fi and Fantasy Books About Heroes and Heroines with Extraordinary Powers
Gather the Daughters
With their country in ruins, a group of families absconded to an isolated island, where they established their own society. Years later, the male inhabitants sit at the top of their social hierarchy while the women—born solely to breed—lie at the bottom. The children are somewhere in between, left to their own devices as the pubescent girls train for marriage and motherhood. It's during one of these unsupervised adventures that someone witnesses something she should not—and ignites a Mayday-style uprising among the young female community. Partly inspired by the author's experience as a psychiatric nurse, Gather the Daughters is a dark but fascinating look at the normalization of abuse and its consequences.
Vox
Set in an alternate version of America (one that feels less and less 'alternate' every day), this celebrated debut novel centers around Dr. Jean McClellan, a mother of four daughters and an accomplished linguist. Dr. McClellan watched the rise of the Pure religious movement, and recognized its influence on the government. But she never wanted to believe that the worst-case scenarios predicted by others would come to fruition. She was wrong. Now, all women are only allowed 100 words a day, their every utterance tracked by a government-issued Fit-Bit like word counter. Too late, Dr. McLellan is ready to fight back — even if she can't use the her voice.
This post is sponsored by Open Road Media. Thank you for supporting our partners, who make it possible for The Portalist to continue publishing the stellar stories you love.