"So be it, see to it," Octavia Butler famously wrote in one of her journals. She was referring to her aspirations as an author, vowing she would not rest until she accomplished her goals. Among them: "helping black youngsters," and ensuring her books were "read by millions of people."
It seems as though, in writing these words, Butler also wrote her dreams into existence: Today, the titles of her novels are often (and justly) accompanied by adjectives like "classic," "essential," and "groundbreaking."
Ask a sci-fi reader to list the greatest voices of the genre, and Butler's name will more than likely come up. She dared to challenge the white maleness of the genre, paving the way for any "youngsters" of color who wanted to write—especially women.
Born on June 22nd, 1947, Octavia Estelle Butler grew up in a segregated Pasadena, California with her widowed working mother. She first penned original fiction at the age of 12, after watching Devil Girl from Mars—a now-cult film about a female alien commander who saves the day. It was the beginning of a lifelong love affair with science fiction, which only grew as she won writing contests in college.
These early stories were sometimes the seedlings of her later hits, often colored by her childhood experiences as a person of color in racist mid-century America. Even then, her work offered biting observations on race relations, gender, sexuality, and power—themes she would sharpen even further as she evolved as a writer.
RELATED: Samuel R. Delany and Others on Octavia E. Butler's Continued Legacy
Success came slowly but surely, beginning with her mentorship under Harlan Ellison in the 1970s. Still, Butler was in no place to quit her day job. Years later, the publication of her first three Patternist books finally allowed her focus on writing, full-time—a transition that gave rise to her 1979 masterpiece, Kindred.
Her star continued to rise as she garnered critical acclaim for her short stories and novels, earning multiple Hugo and Nebula Awards, plus the prestigious MacArthur fellowship (the first to be awarded to a science fiction writer).
When she died in 2006 at the age of 58, Butler had 15 novels and countless stories under her belt. Today, her work continues to influence readers and artists alike. From operas to comics to the small screen, Butler's canon continues to gain new life and new audiences.
Below, you can learn more about her most essential works—from her posthumous short fiction to her most beloved series—and get a taste for why she's one of the most important SF/F authors of all time.
RELATED: Black Science Fiction and Fantasy Authors You Need to Read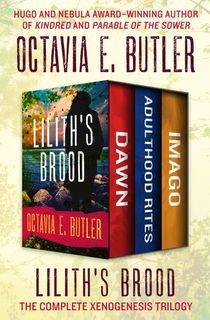 Lilith's Brood
Lilith's Brood is a collection of three novels—Dawn, Adulthood Rites, and Imago—that is also known as the Xenogenesis Trilogy. We begin with Dawn, in which the eponymous Lilith is induced into a centuries-long coma by the alien Oankali.
It was an act of mercy—a way of protecting humanity during Earth's destruction—though the Oankali have always had a particular agenda in mind. When they revive Lilith hundreds of years later, they enlist her as their champion and mediator, hoping she will garner support for their plan to breed an alien-human hybrid.
But with their unseemly tentacles and differing perspectives on gender and sex, can Lilith convince others—and herself—that this is truly the way of the future? So begins a thought-provoking saga about prejudice, gender, and human nature that expands to include the stories of Lilith's own genetically-altered children.
Butler literally went across the globe and back to complete her thought-compelling trilogy, visiting Peru and Machu Pichu in 1985 as part of her research. She even summitted the mountain Huayna Picchu, a daunting climb which she later described as an apt metaphor for the writing experience.
In 2017, it was announced that A Wrinkle in Time director Ava DuVernay would adapt Dawn for TV, in collaboration with writer and director Victoria Mahoney and Macro, the media studio helmed by producer Charles D. King (Mudbound, Sorry to Bother You). The project is still in development.
Series order:
Dawn (1987)
Adulthood Rites (1988)
Imago (1989)
Related: Humanity is Reborn in Lilith's Brood by Octavia Butler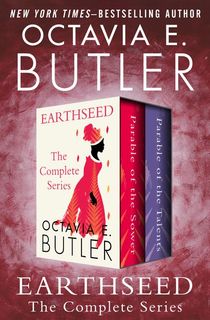 Earthseed
Among Butler's most famous works, the Parable/Earthseed couplet is another tour-de-force dystopian story that tackles race, violence, sex, gender, and so much more.
It's 2025, and environmental collapse has plunged the U.S. into turmoil: Violence is everywhere, drug-use has reached new heights, the poor are legion, and there is little hope for a livable future. At the center of the drama is Lauren, a teenage orphan whose extreme empathy enables her to feel others' physical pain.
As the post-apocalyptic anarchy intensifies, Lauren preaches a new religion across America, carving a tight-knit community out of the straggling survivors. But in Parable of the Talents, Earthseed's followers will find their faith is not without its enemies—and that it, too, might fall apart.
Though a third installment, Parable of the Trickster, was planned, Butler struggled with it for years, in part because she said she found the Earthseed series depressing. During this time she wrote other books and stories. At the time of her death, Parable of the Trickster was unfinished. Parts of Butler's drafts are available at San Marino's Huntington Library.
In the 21 years since the second and ultimately final book in the Earthseed series was published, Butler's dystopian duology has only grown more relevant. For instance, in 2016 many readers pointed out that Butler had all-but-predicted Trump's ascent to power. In Parable of the Talents, a fanatic presidential candidate named Andrew Steele Jarret campaigns on the promise to, literally, "make American great again."
Butler, who considered the Earthseed books to be a warning about what would happen if the most destructive aspects of society were left unchecked, would not have been pleased by this prescience. During a talk she gave at M.I.T. in 1998, the author said of Talents: "This was not a book about prophecy [...] This was a cautionary tale, although people have told me it was prophecy. All I have to say to that is: I certainly hope not."
The Earthseed series continues to compel readers, and has received adaptations in recent years, including an opera adaptation of Parable of the Sower written by Toshi Reagon and her mother, Sweet Honey in the Rock's Bernice Johnson.
Series order:
Parable of the Sower (1993)
Parable of the Talents (1998)
Related: Parable of the Sower: Enter Octavia Butler's Terrifying and Unforgettable World
Parable of the Sower: A Graphic Novel Adaptation
Butler's vivid exploration of hope in the time of apocalypse gains new life in this graphic novel from writer Damian Duffy and illustrator John Jennings.
The long-time collaborators previously adapted Butler's time travel novel Kindred in 2017. That adaptation went on to become a New York Times bestseller and to win the 2018 Will Eisner Award for Best Adaptation from Another Medium, with Kirkus Reviews praising the graphic novel's accessibility and evocative art.
After the success of Kindred: A Graphic Novel Adaptation, Duffy and Jennings knew they wanted to continue honoring Butler's work. As Jennings told Publisher's Weekly, Parable of the Sower was an obvious next choice, "because of our current political situation."
Through the lens of Duffy and Jennings' adaptation, the similarities between the world Lauren Olamina sees and our real-life present are even more unsettling than in the original text. Jennings' art makes the chaos of near-future America feel immediate — and reminds us that the 2020 world we live in is not so different from Butler's vision of 2025.
In Parable of the Sower, Lauren Olamina is one of the few members of her community with the courage to acknowledge the cataclysmic changes happening to the world. When a disaster strikes her gated neighborhood in Los Angeles, Lauren embarks on a mission across America, sharing her unique worldview in the process.
The graphic novel adaptation of Lauren's journey is even more harrowing than the original novel, bringing the chaos surrounding Lauren to unsettling life.
To some, an adaptation of Butler's work might feel like sacrilege. But as Lauren herself would attest, God is change. By transforming Parable of the Sower and bringing it to a new medium and audience, Duffy and Jennings have made the novel more powerful and relevant than ever before.
Parable of the Sower: A Graphic Novel Adaptation hits shelves January 28th, 2020.
RELATED: 9 Groundbreaking Graphic Novels and Comic Book Series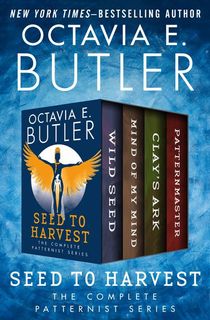 Seed to Harvest
As with another famous sci-fi series, Star Wars, the Patternist novels were published out of order. Chronologically, 1980's Wild Seed is the proper kick-off, as it covers the genesis of the breeding program at the heart of the entire series.
Here, Butler chronicles the lives of Doro—an immortal who possesses the bodies of others—and Anyanwu, an immortal female shapeshifter. Their relationship becomes increasingly strained as Doro devotes himself to creating "superhumans" and loses his moral compass.
Mind of My Mind sees the modern-day result of Doro's experiment, while Clay's Ark—which concerns an extraterrestrial disease and its effects—is a slight departure from its predecessors. Both narratives come together in Patternmaster, the final but debut installment.
In 2019, Amazon announced an upcoming series adaptation of Wild Seed from JuVee Production, the company run by Viola Davis and Julius Tennon. The series will be written by Who Fears Death author Nnedi Okorafor and Wanuri Kahiu, the award-winning Kenyan fillmmaker behind Rafiki.
Speaking to The Portalist in May of 2019, Okorafor shared that discovering a copy of Wild Seed at a bookstore while attending the Clarion Science Fiction and Fantasy Writers' Workshop was a transformative experience that felt like "validation and a sense of community rolled into one."
Series order:
Wild Seed (1980)
Mind of My Mind (1977)
Clay's Ark (1984)
Patternmaster (1976)
Related: The Patterns Around Octavia Butler
Survivor
1978's Survivor is a unique novel in the Butler canon, having lost its place within the Patternist universe after Butler disowned it. A prequel to Patternmaster, it takes place after the plague of Clay's Ark kills or mutates Earth's human population (Doro's society lives on the fringes, but does play a small role).
As a result, a group of missionaries jumps at the opportunity to immigrate to another planet, whereupon they clash with the native alien species, the Kohn. The novel primarily centers around the experiences of Alanna, who was a feral child back on Earth before being taken in by the Christian missionaries. Survivor is certainly an entertaining story, and modern reviewers argue that Butler did not give the novel enough credit.
She unaffectionately called the book her "Star Trek novel" for its depiction of humans visiting a new planet and clashing with its alien inhabitants, and demanded that the book never live beyond its initial print run.
If you're willing to shell out some big bucks, there are a few first editions available, and some libraries may also have a copy on hand.
Kindred
A landmark work of science fiction, 1979's Kindred puts a twist on the age-old time travel story, modeling it after classic slave narratives. In 1976, 26-year-old Dana finds herself not in contemporary California but in 19th century Maryland. As an African American woman now trapped in the American South, this backwards journey poses a serious threat to Dana's safety—and presents an ongoing moral conundrum.
By opting to save a drowning white boy named Rufus, she unwittingly becomes his lifelong protector before returning to her own century. But time moves differently in the past, and Dana's subsequent trips to 1815 introduce her to a Rufus who is older and more enmeshed in the slave trade.
Her discovery that she and Rufus are distantly related—and that her own existence is dependent upon his—makes this transformation all the more troubling. This powerful novel remains a classic for its unflinching portrayal of slavery and an eye-opening study of power.
Related: 10 Octavia Butler Quotes to Live By
Kindred: A Graphic Novel Adaptation
In 2017, author Damian Duffy and illustrator John Jennings released their first graphic novel adaptation of a Butler book, to critical acclaim.
In this Eisner Award-winning reimagining of Butler's novel, Jennings' art brings Dana's experience of the past and her present vividly to life. Through contrasting visual styles depicting Dana's time spent in 19th century Maryland and her present in California, the graphic novel reveals the explicit connections between America's shameful past and its ongoing persistent racism.
Whether you're a long-time Kindred fan or a first-time reader, this 240-page graphic novel is an unforgettable celebration of Butler's work.
RELATED: Afrofuturist Novel The Deep Is a Stunning Collaborative Achievement
Fledgling
For her final novel, published in 2005, Octavia Butler treaded new, alien-less territory to weave a story of a vampire's symbiont bond with a human man.
The heroine is Shori—a dark-skinned member of the blood-sucking (and predominantly white) Ina—who awakens with no knowledge of her surroundings or past. Desperate to feed, she begins attacking the locals, until she stumbles across Wright, a male construction worker.
Mutually bound by Wright's blood and Shora's life-extending venom, the pair embarks on a journey through Shori's forgotten past, uncovering the true story of her family, her kind, and her unusual skin color.
Fledging offers a unique interpretation of the vampire—one that has an interdependent, not a predatory, relationship with humans—in addition to providing powerful commentary on race and sexuality.
Had Butler lived, it's possible Shori's story might have continued in more books. Gerry Canavan, a literary scholar who studied Butler's notes after she passed, has said Fledgling was the start of an intended trilogy.
At the time of her death, it appears Butler had several very different visions for how the stories of Shori and the Ina could evolve over the next two books.
RELATED: 19 Bloody Good Vampire Books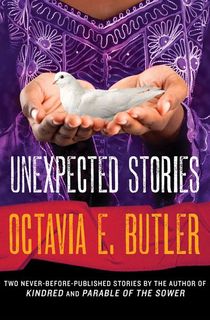 Unexpected Stories
Unexpected Stories was an equally unexpected discovery: After years of languishing in limbo, its two featured tales were finally published in 2014 after being discovered by Butler's agent and archivists from the Huntington Library in San Marino, California.
The collection opens with "A Necessary Being," a novella set on a planet where a once-great civilization has splintered into factions. Tahneh is the leader, or "Hao," of one such faction, having stepped into her deceased father's role. Theirs is a world where your skin color determines your social class and, thus, your place in the hierarchy.
As one of the few remaining Haos, Tahneh is a coveted pure blue, though such rarity comes with loneliness and the responsibility of producing an heir.
That all changes when an unfamiliar Hao—the first Tahneh has ever encountered and her tribe's last hope for survival—stumbles upon their territory. Will she imprison him to prevent the extinction of her people, just as so many others have done before?
"Childfinder" completes the collection, telling the story of a wayward telepath. After leaving the corrupt organization where she trained fellow psychics, Barbara begins mentoring other protegés on her own time.
Unlike her former charges at the organization, these children are black—not white—which instigates a conflict deeply entrenched in racism and privilege.
RELATED: 13 Sci-Fi Short Stories You Can Read Over Your Lunch Break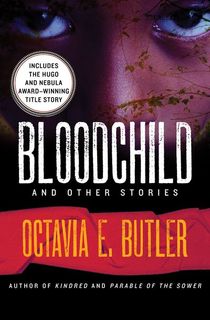 Bloodchild
Originally published in 1995, each of these six stories packs a serious emotional punch—but perhaps the standouts are the critically-acclaimed "Bloodchild" and "Speech Sounds."
The former features an alien species called the Tlics, who use their human neighbors as breeders in exchange for asylum on their planet. The effect is an alien-infused Handmaid's Tale that explores the concept of male pregnancy and earned Butler a shelf of SF/F awards.
"Speech Sounds" introduces a post-pandemic America, where the majority of survivors have lost their ability communicate in speech, writing, or both.
Jealousy often turns into fatal violence, creating a dangerous world for people like Rye, our unimpaired heroine. Butler's Hugo Award-winning tale follows Rye's journey to her only-living relative as she meets various strangers along the way.
This incredible collection also features the Nebula Award-nominated short story "The Evening and the Morning and the Night." At first, the cure for cancer is hailed as a miracle. But it's soon apparent this cure come with a catch.
The children of those who receive the life-saving medicine go on to develop "Duryea-Gode Disease," which results in psychosis and a preoccupation with self-harm.
Carriers of the genetic disease can delay its onset or relieve its symptoms through careful regulation of their diet. But 15-year-old Lynn refuses to accept that her life will be restricted by the condition she has inherited, and seeks out a new mode of treatment at a center called 'The Dilg.'
This post is sponsored by Abrams Books. Thank you for supporting our partners, who make it possible for The Portalist to continue publishing the stellar stories you love.
Featured photo: Alchetron