Speculative fiction has always explored themes of identity and gender. And in recent years there, has been a necessary influx of positive representations of transgender and non-binary characters and themes in science fiction and fantasy.
RELATED: 9 Influential LGBTQ Sci-Fi and Fantasy Authors
Still, although trans and genderqueer authors are seeing more of the recognition they deserve, cis authors still receive more mainstream attention. That's particularly unfortunate given that some cis authors use their platform to actively harm trans rights. Most notably, Harry Potter author J.K. Rowling used her social media during Pride Month to promote dangerous anti-trans rhetoric.
This bigotry is particularly disappointing given that speculative fiction is fundamentally about broadening one's horizons and embracing new perspectives. These nine sci-fi and fantasy books by trans and non-binary authors do just that—all while pulling you into unforgettable new worlds.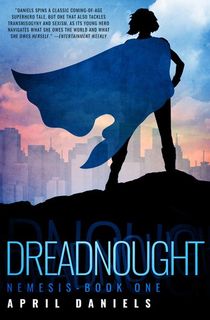 Dreadnought
This coming-of-age superhero tale is a powerful examination of trans identity, sexism, and the complexities of gender, written by April Daniels, a trans woman. The story centers around Danny Tozer, a young trans girl who has yet to come out to anyone.
When Danny unexpectedly inherits the powers of the world's greatest superhero – Dreadnought – her body changes, and her secret is out.
As Danny adjusts to living in a body that finally feels like her own, she's forced to balance an abusive family, entitled friends, and the deadly villain who murdered her predecessor and is now fixated on her destruction.
The first book in the Nemesis series, Dreadnought has been praised as "the superhero adventure we all need right now" by Nebula Award-winner Charlie Jane Anders.
The Merry Spinster
Daniel Mallory Ortberg's follow-up to his hilariously imaginative debut, Texts from Jane Eyre, takes a turn for the dark and strange.
Here, Ortberg—who began transitioning while writing the book—skewers classic fairy tales with stories that are often as horrifying and unsettling as they are imaginative and hilarious.
This anthology walks a fine line between staying true to the source material while simultaneously creating something wholly original.
Fans of The Merry Spinster will also enjoy Ortberg's most recent book, Something That May Shock and Discredit You, a memoir that explores Ortberg's transition as well as his fascination with pop culture (including Star Trek's William Shatner) and literature.
RELATED: 12 Enchanting Fairy Tales for Adults
An Unkindness of Ghosts
Rivers Solomon's debut novel weaves a story about race relations, queer identity, and oppression against the backdrop of humanity's final search for a better world among the stars.
Aster lives in the lowdecks of space shuttle that has spent generations ferrying the last of humanity to a utopian promised land.
But on the shuttle dark-skinned people like Aster are given a harsh existence toiling for the wealthy and powerful on the decks above. Aster has found a way to improve her station – if she's willing to go to war to do it.
Solomon, who uses they/their pronouns, was also nominated for a Hugo and a Nebula for the 2019 novella The Deep.
RELATED: Explore The Deep, a Stunning Afrofuturist Mermaid Story
All the Birds in the Sky
This Nebula Award-winning tale of star-crossed lovers imagines an alternate reality San Francisco in which an ancient society of witches faces down a tech startup as the fate of humanity and the world hang in the balance. The most talented member of each faction–a brilliant young witch and a genius young engineer—are childhood friends beginning to fall for each other at the end of the world.
Author Charlie Jane Anders, a trans woman, was the co-founder of influential sci-fi site io9, and co-hosts the Hugo Award-winning podcast Our Opinions Are Correct.
RELATED: Nebula Award-Winning Books by Female Authors You Need to Read
The Black Tides of Heaven
The first book in non-binary author JY Yang's Tensorate series centers around twins, Mokoya and Akeha.
The twins' mother is the head of an increasingly unstable realm lurching toward civil war. Mokoya is gifted with power of prophecy, while Akeha has the ability to see the problems with their world and what could be.
Akeha's power drives toward the rebellion and the forces looking to unseat their mother's brutal protectorate. But each step toward rebellion and a potentially better world pushes Akeha further from the sibling they are leaving behind.
Threshold
The loss of her beloved grandfather has left Chance Matthews severely shaken. She needs time to grieve, time to heal, time to find a new way through life. The last thing she needs is a strange girl claiming that angels have told her Chance must fight an otherworldly battle against monsters that have no earthly right to exist.
However, when she finds a horrifying fossil – one that cannot possibly have existed – among her geologist grandfather's possessions, Chance is pulled into a deadly world beyond her wildest imaginings.
Kiernan, who uses they/them pronouns and identifies as genderfluid, is a paleontologist and a World Fantasy Award-winner.
RELATED: 10 Incredible LGBTQIA Characters in Sci-Fi and Fantasy
Queen of the Conquered
Born on the island nation of Hans Lollik, Sigourney Rose is the lone survivor of the massacre in which her family was murdered by colonizers. Now, Sigourney longs to exact revenge on the people who destroyed her family — and she may have found her opportunity.
Queen of the Conquered is an absorbing fantasy novel that explores race relations, colonialism, and vengeance, from Lambda Award-winning trans author Callender.
Magic for Liars
Non-binary author Sarah Gailey's debut novel is a thrilling blend of classic noir, sibling rivalry, and fantasy.
Unlike her sister, Ivy Gamble was born without magical ability. It's not something she wants. Her life has been fine without it — at least, that's what she tells herself.
But when Ivy is called in to investigate a horrifying murder at the magical high school where her twin sister teaches theoretical magic, Ivy is pulled into a dangerous world of power, secrets, and the supernatural.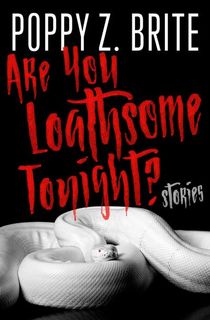 Are You Loathsome Tonight?
This collection of stories from acclaimed trans horror author Billy Martin, who writes under the name Poppy Z. Brite, is a quintessential offering from this pioneering voice in horror literature.
Set against the backdrop of his native New Orleans, these stories explore the darkness, sexuality, and gruesome supernatural encounters that have defined the authors work and make him one of the most offbeat and entertaining authors in the horror/dark fantasy genre.
This post is sponsored by Open Road Media. Thank you for supporting our partners, who make it possible for The Portalist to celebrate the sci-fi and fantasy stories you love.