Featuring settings that are ruthless and violent, and characters that are morally gray, grimdark fantasy books never guarantee a happily ever after.
Grimdark often features characters who have grown cynical, disillusioned, and even cruel in order to cope with the harsh realities of their environment. In stories where the entire world is grim and dark, even the smallest victories in the name of hope feel like massive triumphs.
George R. R. Martin's A Song of Ice and Fire is one of the most popular stories to draw on these ideas. Martin's series overtly shuns the idealism present in classic fantasy stories like The Lord of the Rings, using similar characters and tropes with much darker outcomes.
These grimdark fantasy books offer a perfect introduction to this genre of dread and dishonor— and prove that even the bleakest, grittiest fantasy worlds can be a lot of fun.
RELATED: 18 Action-Packed Sword and Sorcery Fantasy Books To Lose Yourself In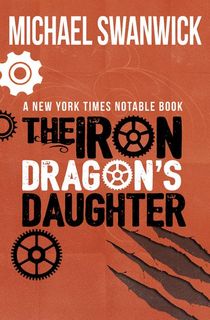 The Iron Dragon's Daughter
Swanwick's first installment in the series of the same name is a nightmarish blend of magic and steampunk.
Forced to build mechanical war dragons in a factory, Jane is tempted by one of the beasts to escape, shaking the foundation of their dystopian society.
A finalist for the Arthur C. Clarke Award, the World Fantasy Award for Best Novel, and the 1994 Locus Award, The Iron Dragon's Daughter is both genre-twisting and twisted.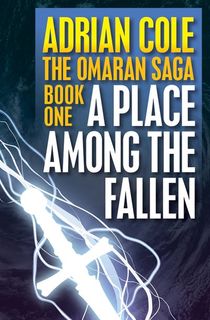 A Place Among the Fallen
The first in Adrian Cole's Omaran cycle, A Place Among the Fallen introduces us to a land and people who have disavowed magic, with a leadership that puts all heretics to death.
Korbillian flees his magical home of Ternannoc as it faces catastrophe, arriving on Omara to save it from the same brutal end. His journey begins an epic battle between inevitable destruction and the hope for salvation.
RELATED: 50 of the Best Fantasy Books Ever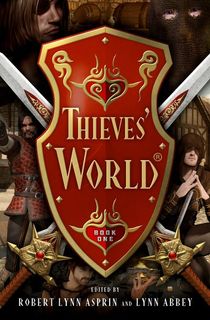 Thieves' World®
The groundbreaking start to a series of worldbuilding anthologies, Thieves' World explores the dangerous city of Sanctuary from the perspective of different characters and authors.
The collection follows every dark point of view including, of course, thieves.
The first book includes stories by John Brunner, Lynn Abbey, Poul Anderson, Andrew J. Offutt, Robert Lynn Asprin, Joe Haldeman, Christine DeWees, and Marion Zimmer Bradley.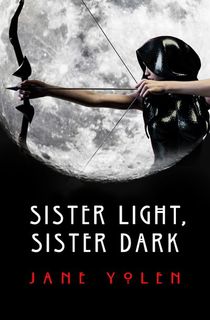 Sister Light, Sister Dark
This story of Jenna, a young orphan raised in a society of women who worship the Great Alta, explores a culture founded on myths, legends, and muddled histories.
The women who raise Jenna teach her to summon a dark twin in a mirror, mixing the concepts of light and shadow as she stares into her reflection.
Jane Yolen begins a three-part saga with a promise of devastating change and unraveling historical accounts.
The Mere Wife
A suburban housewife and a battle-hardened veteran: this modern retelling of the epic poem Beowulf follows two mothers trying to protect those they love.
The suburb of Herot Hall is pristine and peaceful for its inhabitants, and a daunting fortress to all who live beyond its gated walls.
When cave-dwelling Gren, son of former-soldier Dana, kidnaps Dylan, son of Willa and Roger Herot, the mothers of the two boys are forced to cross boundaries to settle the matter.
The Blade Itself
New York Times best-selling author Joe Abercrombie created a world with bottomless depths of brutality, naming the first book of The First Law series after a quote from Homer's The Odyssey: "The blade itself incites to deeds of violence."
RELATED: 16 Dark Fantasy Books You Won't Be Able to Put Down
Possibly the best author of gray morality in modern fiction, Abercrombie is unapologetically dark in his depiction of the three protagonists: exiled barbarian Logen Ninefingers; disgraced and disabled torturer Glokta; and the spoiled nobleman Jezal.
The Blade Itself reveals characters often held back by their own jaded perceptions of themselves and the dark world they live in, both of which they have the potential to change.
The Poppy War
A refreshing departure from fantasy worlds with European influences, Kuang's start to this fatalistic series is grounded in Chinese military history.
The war orphan Rin surprises everyone—including hersef—when she is accepted into the military academy Sinegard. But tensions are rising, and a Third Poppy War is on the horizon.
Kuang moves past the big picture morality of war to magnify the suffering of smaller communities, families, and individuals who are at the whims of conflicting military forces.
RELATED: 36 Must-Read Fantasy Book Series
The Lies of Locke Lamora
The Gentlemen Bastards Series introduces the infamous thief Locke, a man whose luck barely keeps him from the death of his overzealous ambition.
Filled with clever deceptions, schemes within schemes, and double-crosses, the book follows characters with strong hearts and stronger wits as Locke plots to beat a shadowy enemy at their own game.

Godblind
Worshipping the bloodthirsty Red Gods, the Mireces have been exiles for a thousand years, now led by a king intent on invading the bustling cities and verdant lands they were forced from.
Dom, a watcher who guards the border, is forced to harbor dangerous secrets when the Mireces slave Rillirin stumbles into his village.
As more and more leaders turn to the Red Gods, the information Dom and Rillirin possess could change the course of the coming war.
RELATED: 14 High Fantasy Books That Will Be Your Next Obsession
The Steel Remains
Cynical characters are almost impossible to avoid in the grimdark genre, and the washed-up mercenary Gil is deeply disillusioned.
Estranged from his powerful family for years, his mother finally reaches out to enlist Gil in a task that leads him to encounter dark sorcery and daunting prophecy.
As rumors of cruel but elegant demons spread, promising destruction, Gil must wonder if his solution will be even more damaging.
A Crown for Cold Silver
The exploits of General Cobalt Zosia are legendary. But her glory days were twenty years ago.
Zosia has tried to live in peace since, ignoring the crumbling empire she left behind, but the rumor that she still lives and is gathering an army has spread to her former captains.
Enraged and seeking vengeance for the destruction of her loved ones, she seeks answers —followed by the heads that give them.
The Black Company
Some say The Lady is the very embodiment of evil itself. As her dark influence solidifies, The Black Company, last remaining mercenary group of the Free Companies, bury their dead and ignore their doubts.
But hope arises with rumors of The White Rose, a force to personify hope in these dark times. Glen Cook's service in the U.S. Navy helps mix fantasy with gritty, down-to-earth portrayals of military life.
RELATED: 8 High-Stakes Fantasy Books Like Brent Weeks' Lightbringer Series
This post is sponsored by Open Road Media. Thank you for supporting our partners, who make it possible for The Portalist to celebrate the sci-fi and fantasy stories you love.
Featured photo via "The Iron Dragon's Daughter" Russian cover