Steampunk can be difficult to define. Most people agree that the aesthetically distinct genre combines Victorian pastiche with science, magic, and nostalgia for a world that never was. Try to be more specific than that, though, and you're bound to grind somebody's gears.
The genre often features anachronistic, steam-powered technology set in an alternate history in which the industrial revolution either never took place, or looked very different than it did in reality. But that's just the tip of the iceberg; as these fifteen titles prove, steampunk can encompass everything from time travel to dinosaurs to zombies to cowboys. Whether you're a longtime lover of steampunk or not, these books will make you want to grab your parasol, hop on a dirigible, and explore the skies in style.
RELATED: 12 Riveting Steampunk Movies
The Extraordinary Adventures of the Athena Club Trilogy
Sinister Mystery of the Mesmerizing Girl
The Sinister Mystery of the Mesmerizing Girl is the final book in the critically-acclaimed Extraordinary Adventures of the Athena Club trilogy from Theodora Goss. The first book, The Strange Case of the Alchemist's Daughter, won The World Fantasy Award and was nominated for the Nebula. The Athena Club is a society comprised of the daughters of mad scientists like Moreau and Frankenstein from 19th century pulp literature. Goss' series takes these illustrious ladies across Europe unraveling mysteries and uncovering threats to its members. Now, in the highly-anticipated final chapter of the trilogy, Mary Jekyll (yes, the daughter of that Jekyll) races to stop an assassination attempt on Queen Victoria.
Goss is a professor of late nineteenth-century and early twentieth-century British literature, and her expertise is apparent in the rich, playful alternate fantasy world she has created. With intricate worldbuilding, captivating characters, and an atmospheric blend of adventure and mystery, this is the sort of steampunk read you'll wish you could step straight into.
The Age of Unreason Trilogy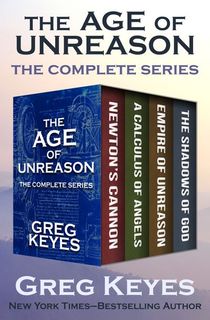 The Age of Unreason
Set in an alternate version of 1861, Newton's Cannon uses historical figures to weave a tale of alchemy and international intrigue. Renowned alchemist Sir Isaac Newton has made a discovery that will change the world forever: philosopher's mercury, a substance with which he can manipulate the four elements. King Louis XIV, his life prolonged by alchemic means, schemes to use a mysterious weapon in France's ongoing struggle with England. And across the seas, aspiring Yankee alchemist Ben Franklin heads to England to meet his hero Isaac Newton in the flesh...with a demon following not far behind.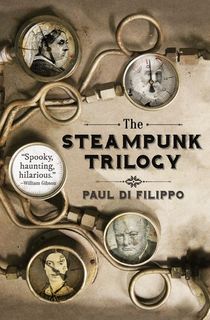 The Steampunk Trilogy
This trio of steampunk novellas provide an occasionally creepy, intoxicating journey. The first novella, "Victoria," follows the disappearance of Queen Victoria, and an aspiring scientist's decision to place a randy human-lizard hybrid on the throne in the true Queen's absence. In "Hottentots," a racist naturalist finds himself caught in a web of dark magic, and in the final novella, "Walt and Emily," we follow the imagined love affair between Emily Dickinson and Walt Whitman as the literary lovers travel throughout space.
RELATED: 10 Solarpunk Books for When You Crave Optimistic Sci-Fi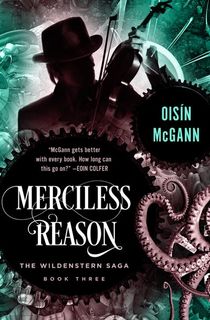 Merciless Reason
If you're a steampunk fan who likes intricate family drama as much as you like dirigibles, The Wildenstern Saga by award-winning Irish author Oisín McGann is for you. Nathaniel Wildenstern hasn't seen his family, the brutal and volatile Wildenstern clan, in three years. But when he learns a particularly troublesome cousin is experimenting on enigmals—machines with the brains of animals—Nathaniel knows he has to return to Ireland and intervene before a dangerous new species can be created. Unfortunately, being a Wildenstern comes with a complicated reputation. To stop his family from wreaking havoc, Nathaniel will have to pretened that he's not a Wildenstern at all.
The Light Ages
This World Fantasy Award finalist is set in an alternate history London. The city has been transformed by the discovery of an unfathomably powerful magical substance called 'aether.' The resource increases the stark divide between social classes: the poor, who mine aether, are sickened by it; but it transforms the rich into near-celestial beings. Robert grew up in poverty and preaches revolution. Annalise, a mysterious and beautiful member of the upper class with whom he shares a secret connection, stands on the opposite side of the aether divide. In the midst of political turmoil, their destiny becomes interwined —whether they like it or not.
The Clockwork Century series
Boneshaker
Like steampunk but think it could use a little more of the undead? Then you'll love this totally original series. During the gold rush, eager prospectors flocked to the Pacific Northwest. Inventor Leviticus Blue was commissioned to build a device he called the Incredible Bone-Shaking Drill Engine, designed to uncover riches as quickly as possible. Instead, the drill unearthed a deadly gas that transformed all who inhale it into zombies. Now, the city of the damned has been walled off. Dr. Blue's son, Zeke, lives in relative safety just outside the limits of the forbidden city, and he'll do what he can to redeem his family's reputation–including braving sky pirates, zombies, and bitter survivors inside the ruined town.
The Anubis Gates
This Philip K. Dick Award-winning novel is more fantasy than anything else, focusing on the power of magic rather than science to alter space and time. Regardless, author Tim Powers is known as one of the founding fathers of modern steampunk, and there's no doubt that Anubis Gates continues to be hugely influential on the genre.
The story begins in a camp by the river at twilight in 1801. Magicians frustrated with Britain's mandate against the worship of Egyptians gods attempt to manifest Anubis, but instead open a gate in space and time. Over a century later, millionaire J. Cochran Darrow discovers the gates and their potential for time travel. He hires Professor Brendan Doyle to travel back in time with him and attend an 1810 lecture delivered by Samuel Taylore Coleridge. But after a kidnapping attempt by a magician, Doyle becomes trapped in the past. Body-swapping, poisoning, lycanthropy, and a series of astounding, unforeseeable events ensue.
RELATED: 15 Great Time Travel Movies Worth Being Present For
The Diabolical Miss Hyde
You don't want to get on Eliza Jekyll's bad side. As a crime scene physician for the Metropolitan police, it's Eliza's job to help keep the peace. But she's plagued by an inner demon, Lizzie Hyde, who's more than happy to wreak havoc on Eliza and those she loves. Set in an alternate history, magic-filled Victorian London plagued by a serial killer ominously called 'the slasher,' Eliza has her work cut out for her if she's going to end this killer's reign of carnage and keep Lizzie in check. She'll have to rely on newfangled technology to crack the case– as well as the powerful elixir that releases her diabolical second self.
Perdido Street Station
Weird fantasy master China Miéville paints a vivid, unforgettable world in Perdido Street Station, the first of three books set in the larger world of Bas-lag. The city of New Crobuzon is a Dickensian metropolis where humans and other intricately-imagined species live together under the heel of the brutal parliament. In New Crubozon, magic and steampunk tech are linked; it is magic which keeps the many moving parts of the unwieldy city in constant motion. Miéville explores multiple points of view throughout the novel, with the story returning often to the mysterious and dangerous creature brilliant scientist Isaac has created.
Agatha H. and the Airship City
Following the Industrial Revolution, mad scientists called 'Sparks' rose to unconscionable heights of power. Now, the Sparks terrorize civilians with their increasingly outlandish inventions. After countless failed inventions of her own, Agatha, a student at Transylvania Polygnostic University, is on the brink of accepting that she'll never be more than mediocre. But when the diabolical Baron Klaus Wulfenbach attacks the university and imprisons Agatha on his airship castle, she finds she's more capable of genius than she could have dreamed.
The Goblin Emperor
This Locus Award-winning and Hugo, Nebula, and World Fantasy Award-nominated novel follows Maia, a half-goblin, half-emperor son of the Emperor of the Elflands. For the first 18 years of his life, Maia was mostly ignored by his royal father, and lived in exile from the court under the care of a cruel cousin. But when Maia's father and half-brothers perish in a suspicious airship accident, he is, unexpectedly, the next heir to the throne—and totally unprepared for the expectations of life at court. Set in an elaborate, steampunk-infused kingdom, The Goblin Emperor is a surprisingly optimistic story that follows Maia as he attempts to survive his transition from boy to man, and nobody to emperor.
Steamfunk!
Steampunk sometimes overlooks the racism of the Victorian era, subtly presenting white people as the default while failing to address the prejudices of the 19th century Western world. Steamfunk is steampunk that addresses those racial prejudices head-on, and represents the people of color that are often absent elsewhere in the genre. This anthology, edited by Milton J. Davis, depicts everything from Frederick Douglass and Harriet Tubman leading a technologically superior country of free slaves, to John Henry using his storied hammer to take down vicious machines.
The Half-Made World series
The Half Made World
The Wild West is divided into two factions: the violent Gun cult, and the Line, which prizes industry and enslaves those that stand in its way. Once, legend says, these warring gangs were held back by the brave fighters of the Red Republic, but the Red Republic's exploits now feel more like fiction than fact. Following the instructions passed on by her dead husband, psychologist Liv Alverhyusen journeys to a hospital in the wildest regions of the West where she meets a former general of the Red Republic firsthand. He may hold the clue to peace and stability—but Liv will have to face the Gun's John Creedmoor if she hopes to uncover it.
The Golden Compass
When 11-year-old Lyra's beloved uncle Lord Asriel disappears in the Arctic while researching a mysterious, powerful substance called Dust, she is determined to find him. Set in a parallel universe where humans have familiars called daemons, and dissent is suppressed by a religious theocracy called The Magistrate, The Golden Compass is the start of an epic series you'll remember for years to come. And don't let the young protagonist fool you—His Dark Materials deals with very adult, controversial themes, and ranked number eight on the American Library Association's list of most frequently banned/challenged books from 2000-2009. The series has also been adapted for an HBO series, which premieres November 2019.
The World Beneath
The Dinotopia series by World Fantasy Award and Hugo Award-winning illustrator James Gurney has some distinctly steampunk elements. Dinotopia is a utopian island where shipwrecked humans and dinosaurs live in near harmony. When Arthur Denison and his son Will are shipwrecked on the island, they quickly adapt to the local customs. In the second book, Dinotopia: The World Beneath, Arthur becomes obsessed by the society's technological advancements, including mechanical dinosaurs and impressive submarines powered by sunstones found in the island's subterranean chambers.
The Steampowered Globe
This unique collection of literary steampunk tales is written by members of Singapore's The Happy Smiley Writers Group (so named for its desire to challenge what editor Maisarah Abu Samah describes as Singapore publishing's focus on "depressive endings with angst‑ridden misery"). The stories in the anthology deliver on that promise of optimism, and follow everything from the pursuit of a nation-state zeppelin, to a dirigible inventor who realizes her deceased scientist brother may not be as gone as she feared.
The Difference Engine
This highly acclaimed novel was hugely influential in popularizing the modern steampunk movement. Set in an alternate history in which inventor Charles Babbage succeeded in creating a mechanical computer, the book depicts a technologically advanced, steam-powered Victorian society where Babbage's ubiquitous innovations have led to international political unrest.
The plot follows the interlocking fates of three individuals: Sybil Gerard, daughter of executed Luddite radical Walter Gerard; writer/spy Laurence Oliphant (very loosely based, like many characters in the book, on a historical figure); and paleontologist Leviathan Mallory, freshly flush from a successful bet. Their stories weave together amidst the tensions of the technologically advanced world, as characters follow the path of some very powerful computer punch cards.
RELATED: 5 Technologies from Neuromancer That Are Almost a Reality
This post is promoted by Saga Press. Thank you for supporting our partners, who make it possible for The Portalist to celebrate the sci-fi and fantasy stories you love.
Featured photo: Unsplash