Jane Yolen is one of the most prolific and acclaimed science fiction and fantasy authors alive today. Since launching her career in 1967, she's won a slew of major awards, in addition to earning the title "the Hans Christian Andersen of America." Her massive oeuvre contains a combination of children's books and adult novels—so many, in fact, that you can read a different Yolen title every day of the year.
Whether you're new to her wonderful work, or you want to make sure nothing has passed you by, check out our list of 10 must-read Jane Yolen books below.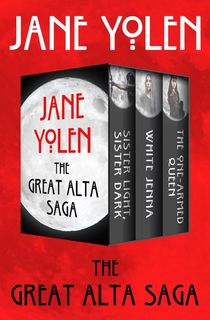 The Great Alta Saga
The Great Alta Saga revolves around Jenna, an orphaned warrior who trains under the White Goddess—and is prophesied to achieve great things. Her adventures begins with Sister Light, Sister Dark, in which we're also introduced to her mirror twin, Skada, who only appears in darkness. Throughout the rest of the trilogy, both girls form a strong united front as they fight to fulfill their destinies and save their kingdom from doom. Epic in scope and filled with Yolen's signature nods to mythology, this is a mature "tour-de-force fantasy" you simply can't miss (Newsweek).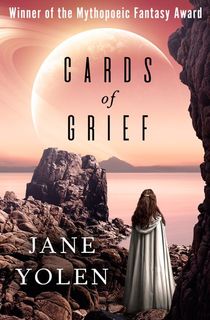 Cards of Grief
Winner of the Mythopoeic Fantasy Award in 1985, Cards of Grief is a riveting first-contact science fiction novel. In the year 2132, the Anthropologist's Guild lands on L'la'lor, a planet whose alien inhabitants revere death and grief. As the human explorers find themselves transformed by their surroundings, the culture itself begins to change after the arrival of a mysterious wanderer…This novel comes with a stellar recommendation from Marion Zimmer Bradley, who called it "a lovely, compelling fantasy" by an author who "belongs on the same shelf as Ursula K. Le Guin and Patricia McKillip." We couldn't agree more.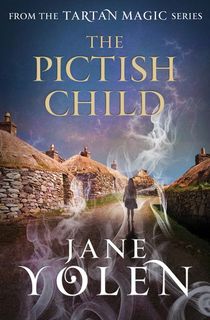 The Pictish Child
When teenage twins Peter and Jennifer visit their witch Scottish grandmother, they eagerly tag along to one of her coven meetings. There, they're given a magical object that leads them on a series of wild adventures involving a time-travelling Pictish girl and—bonus!—a talking dog. The first installment in Yolen's Tartan Magic series, this 1999 novel delivers plenty of fantasy action with "a good dose of humor" (Library Journal).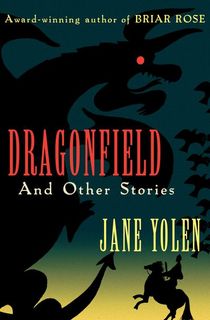 Dragonfield
Dragonfield: And Other Stories has a little bit of everything: dream weavers, aliens, mermaids, criminals, kings, dragons—even magic doves. But as fantastical as these creatures are, their stories are colored by the very human experiences of love, sadness, and hope. If you're looking for an introduction to Jane Yolen's creative range and imagination, this collection is a great place to dip your toes...Just watch out for the mermen.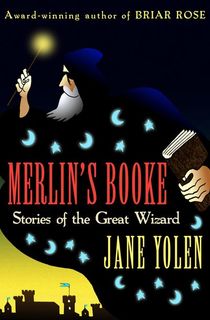 Merlin's Booke
Merlin's Booke puts a fresh spin on the legend of Camelot, chronicling the life of Merlin in a series of stories and poems. Each individual piece forms a cohesive, multi-faceted portrait of the Arthurian wizard, which earned Yolen nominations for the World Fantasy and Mythopoeic Fantasy Awards in 1987. In questioning the prevalence of Arthur-Merlin retellings, one reviewer wrote that there's always room for more "if the author is as imaginative and creative a storyteller as Jane Yolen" (Independent Publisher).
The Devil's Arithmetic
Hannah is a young Jewish girl who's grown weary of her family's preoccupation with the Holocaust. But while participating in the Passover Seder, a strange thing happens: Suddenly, Hannah finds herself in that very same era, living inside the body of a 1940s Polish girl. Hailed as a "triumphantly moving book" by Kirkus Reviews, The Devil's Arithmetic is a heart-wrenching exploration of one of history's greatest tragedies, and a National Jewish Book Award winner.
Owl Moon
Yolen collaborated with illustrator John Schoenherr on this beautiful picture book, which follows a girl and her father's nighttime "owling" adventure. As Yolen describes the night shadows or the crunch of snow, she evokes the quiet beauty of a cold winter evening. It's a tender, charming story that will remind readers of the magic of family love, and our relationship with the natural world.
Briar Rose
Rebecca's grandmother, Gemma, makes a startling deathbed confession: She is actually the titular heroine of Rebecca's favorite fairy tale, "Briar Rose." Once Gemma passes, Rebecca sets out to uncover the truth behind the story, only to discover a tragic connection to the horrors of the Holocaust. This Sleeping Beauty-inspired novel won Yolen the 1993 Mythopoeic Fantasy Award and a spot on the American Library Association's "100 Best Books for Teens."
Sword of the Rightful King
With Sword of the Rightful King, Yolen has once again reinvented the King Arthur lore for a more modern audience. Here, Arthur has recently been crowned, though his kingdom has not embraced his rule. His most trusted advisor, Merlin, concocts a master plan, hoping it will prove Arthur's claim to the throne. Meanwhile, drama brews in Morgause's camp as her son, Gawen, pledges his allegiance to Arthur—the man she will do anything to see killed. Pick this one up for a new perspective on familiar characters and Arthur's ascension to power.
This post is sponsored by Open Road Media. Thank you for supporting our partners, who make it possible for The Portalist to continue publishing the stellar stories you love.
Featured still from "The Handmaid's Tale" (2017) via Hulu
KEEP SCROLLING FOR MORE FANTASY STORIES