In light of the coronavirus pandemic, your life is probably much more uncertain and anxiety-filled than usual. These nine comforting sci-fi and fantasy books to read when you're sick or self-isolating from coronavirus offer soothing escapes from the ongoing pandemic chaos.
It's likely you've suddenly found yourself with a little more time on your very-clean hands. You might be spending hours compulsively stress-reading the news (we speak from experience!). Perhaps you're ill yourself.
Fiction can be a healthy form of distraction in times of distress. Stories remind us that we're not alone, give us examples of characters enduring hardships, and let us travel far outside of ourselves — even if we're in no position to leave our bed.
Note that this list intentionally doesn't include books about pandemics. However, if you find reading about fictional plagues helpful during our real one, we've got recommendations for that as well.
Take good care, stay safe, and happy reading.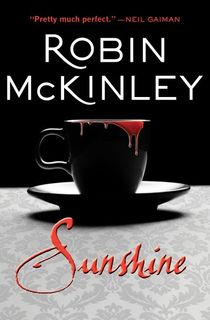 Sunshine
Rae Seddon, aka Sunshine, is a young mortal woman who lived through the supernatural conflicts known as the Voodoo Wars, and knows to be wary of the Others.
A small-town baker, Sunshine is renowned for her cinnamon rolls. But between the bakery and the demands of her family and boyfriend, Sunshine is drained. Searching for peace and quiet, she heads to her family's lake house — and comes face-to-face with a group of vampires.
A charming urban fantasy, Sunshine is comforting on a number of levels. The unlikely romance at the heart of the book is compelling enough to totally absorb you, and the descriptions of Sunshine's idyllic small-town life are super soothing.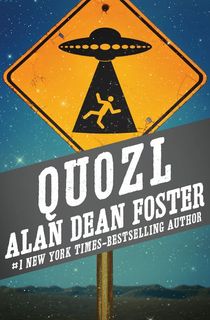 Quozl
We could all use a laugh right now, couldn't we? Alan Dean Foster's absurd alien invasion story Quozl will give you some much-needed giggles.
The Quozl are bunny-like aliens in desperate need of a new home. They've pinpointed the planet Shiraz as their final destination, but it's already monopolized by a species calling the planet 'Earth.'
Thankfully, Shiraz's current bipedal residents are distracted by a global conflict. But when the Quozl arrive on their new planet, not all of the aliens are content to remain undercover.
RELATED: Science Fiction Books That Will Tickle Your Funny Bone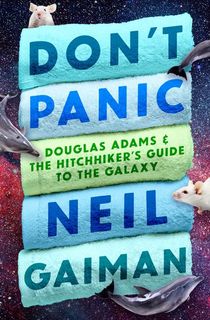 Don't Panic
"Don't panic" is the first recommendation offered by the fictional advice manual The Hitchhiker's Guide to the Galaxy in Douglas Adams' book series of the same name. It's also a handy slogan for uncertain times like this one.
Not-panicking is much easier said than done, but this fascinating biography of Douglas Adams offers welcome distraction. Written by Adams' friend Neil Gaiman, the book offers a compelling portrait of one of science fiction's most hilarious minds.
RELATED: Neil Gaiman Talks the Timeless Appeal of Douglas Adams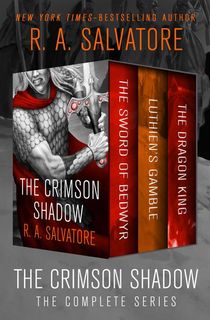 The Crimson Shadow
RA Salvatore has been writing reliable fantasy for decades. Many fantasy fans grew up reading his debut novel, 1998's Dungeons & Dragons tie-in The Crystal Shard, which introduced the iconic dark elf character Drizzt Do'Urden.
But readers should also explore Salvatore's novels set in realms entirely of his own creation. In the Crimson Shadow series, warrior Luthien Bedwyr attempts to save the kingdom of Eriador from the cruel reign of the wizard Greensparrow.
Full of action, humor, and battles between good and evil, The Crimson Shadow is a comforting and compelling series to get lost in when the real world is a little too volatile.
Salvatore used tabletop RPG games to hep him develop some of the characters' in the series, so who knows — The Crimson Shadow saga might even inspire you to start your own remote game of D&D.
RELATED: Top 10 Dragon Books That Inspired Dungeons & Dragons
His Majesty's Dragon
Naomi Novik's Temeraire series is a surprisingly-comforting alternate history epic. Captain William Lawrence has worked his entire life to reach a position of prominence in the British Royal Navy. When he aids in the capture of an enemy ship and a dragon egg is found on board, Lawrence is excited to contribute a dragon to his majesty's fight against Napoleon.
RELATED: 14 Best Dragon Books in Fantasy Fiction
Although aerial corps members are known as eccentric wastrels, the corps itself is also essential in the war. But when the dragon egg hatches and the newborn selects an unwilling Lawrence as his rider, the captain must sacrifice the life at sea he always envisioned.
With nine compulsively-readable books in the series, Temeraire is a perfect saga to begin if you've got a lot of reading time on your hands. Although much of the book centers around bloody military conflict, the intimate friendship between the dragon Temeraire and Lawrence makes this a soothing fantasy.
Dragon and rider travel across the globe in the series, but the pair's decency and love for each other is reliable and comforting.
Ella Enchanted
Readers raised in the '90s or early aughts probably have a nostalgic connection to this standalone fantasy novel. Even if you didn't grow up with this classic from Gail Carson Levine, you're likely to still find it comforting.
At her birth, Ella of Frell was given a gift of obedience from the fairy Lucinda. But the gift is ultimately a curse. No matter what, if Ella is given a direct order, she must obey.
RELATED: Young Adult Fantasy Novels to Cast a Spell on Readers of All Ages
Ella's obedience makes her extremely vulnerable after her mother dies and she's forced to live with her abusive stepsisters. Determined to control her destiny, Ella sets out on a journey to make Lucinda take back her 'gift.' Along the way she meets the kind Prince Char, and the pair develop a bond.
Although Ella Enchanted is aimed at young readers, the book's sincere exploration of love, consent, and autonomy will resonate with adults, too. Ella's fairy tale world is a perfect one to get lost in when ours becomes a little too stressful.
Redwall
Brian Jacques' 22-book Redwall series is the epitome of absorbing, cozy fantasy.
Redwall, the first book in the series, introduces the world's rich mythology. Matthias is a young mouse monk at Redwall Abbey. When Redwall is besieged by the armies of Clouny the Scourge, a conqueror rat, Matthias must rely on clues left behind by the legendary Martin the Warrior, history's most famous mouse.
In Redwall, epic fantasy is transposed onto the miniature world of woodland creatures, with delightful results.
The Long Way to a Small, Angry Planet
Becky Chamber's Hugo Award-winning Wayfarers series is full of characters that are remarkably decent. The standalone first book, The Long Way to a Small, Angry Planet, follows Rosemary Harper as she joins the crew of the tunneling ship the Wayfarer.
Ships like the Wayfarer are tasked with 'punching' new tunnels through space, which makes it the perfect escape for Rosemary, who is running from her past. But Rosemary gets more than she bargained for when the eccentric Wayfarer crew takes on a lucrative but dangerous job.
Full of sci-fi adventure with soothing slice-of-life details and extremely likable characters, The Long Way to a Small, Angry Planet will restore your faith in the universe.
The Wee Free Men
Few fantasy authors are as reliably comforting as the late, great Sir Terry Pratchett. Equally absurd and poignant, Pratchett's 47-book Discworld Series is truly hilarious.
In The Wee Free Men, soon-to-be-witch Tiffany Aching defends fairyland with the help of a clan of six-inch-tall blue men. Turn off the news for an afternoon and tune into Sir Terry — your mental and emotional health will benefit.
RELATED: 5 Things 'Serious' Fantasy Writers Can Learn from Terry Pratchett