Since their debut two decades ago, Jim Butcher's hard-boiled fantasy novels about magical private eye Harry Dresden have become international bestsellers. But what do you do if you've read all the Dresden Files books, watched every episode of the TV series, even had some of your own adventures with the Dresden Files Roleplaying Game? These 10 other books like the Dresden Files offer all the hard-boiled urban fantasy you could want.
If you can't get enough of Harry Dresden, Bob the talking skull, Molly, the vampire Thomas Raith, and the other characters in the series, these similar books will keep you captivated while you wait for the next Dresden novel.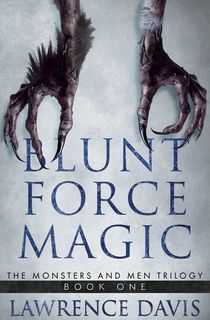 Blunt Force Magic
Five years ago, Janzen Robinson lost his heroes – and friends – in the battle against supernatural evil. Now, he lives in a run-down apartment on Cleveland's south side, making his living as a package courier.
He doesn't think much about magic anymore. But it crashes back into his life when a terrifying supernatural predator begins stalking a young witch.
Janzen finds himself drawn back into a world of magic and monsters in this "modern fantasy with a touch of noir, a dash of detective thriller, and a sprinkling of humor throughout" (Bestselling author Steve Jackson).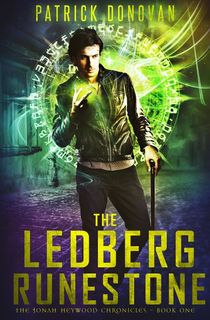 The Ledberg Runestone
Meet Jonah Heywood – confidence trickster and shaman for hire.
Unfortunately for him, he's in deep to the Carver brothers, Asheville's version of the mob, and they've threatened his father if he doesn't pay up.
That's what makes Jonah take a seemingly too-good-to-be-true job against his better judgment. The payday is big: $20,000 to find the Ledberg runestone, an artifact from Norse myth. But Jonah knows that when things seem too good to be true, they usually are…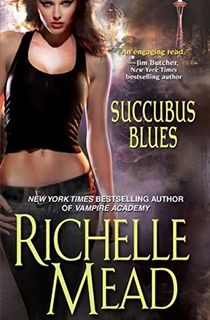 Succubus Blues
Jim Butcher himself called this urban fantasy an "engaging read."
Georgina is a succubus living in Seattle. She's in love with a writer she can't have, and works a day job at a bookstore, while spending her nights in Seattle's demon underground.
Unfortunately, trouble is coming — and this time, it will take more than Georgina's usual charms and one-liners to solve.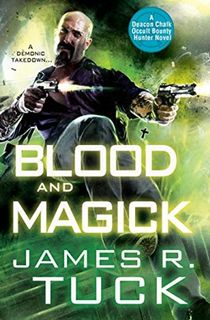 Blood And Magick
Deacon Chalk is an occult bounty hunter. That means he goes after demonic threats in order to protect humans and shape-shifters alike – and in his latest adventure, he has to suspect everyone he thought he could trust, if he wants to keep three were-dog children safe and himself alive.
Publishers Weekly calls this action-packed fantasy "Sookie Stackhouse meets the Dresden Files by way of Maxim."
Dead Witch Walking
The first book in Kim Harrison's long-running Hollows series introduces us to Rachel Morgan, a bounty-hunting witch who hangs out in Cincinnati's Hollows with vampires, faeries, and other creatures of the night.
And once she's got you hooked, there are tons more Rachel Morgan books to keep you turning the pages way past when you should have turned out the lights.
Dreams of Shreds and Tatters
In this novel from World Fantasy and James Tiptree Jr. Award-nominated author Amanda Downum, Liz Drake's best friend has vanished, and Liz is haunted by nightmares she can't escape.
Looking for answers, Liz is drawn into her friend's new circle of artists and mystics, where she just might find the solution to the puzzles of her dreams. Liz finds more than she bargained for in this urban fantasy as reimagined through the lens of Robert Chambers' "The King in Yellow."
Sandman Slim
With the release of his first Sandman Slim novel, Richard Kadrey vaulted to the top of the list of authors to watch in the urban fantasy world.
James "Sandman Slim" Stark just spent eleven years in hell, fighting demons in gladiatorial pits. Now he's back, and looking for revenge…
RELATED: 10 Can't-Miss Books Like Carnival Row That Feature Magic and Murder
Southern Gods
Lovecraft meets the blues in this thrilling debut novel by Bram Stoker and World Fantasy Award-nominated author John Hornor Jacobs.
Bull Ingram is a recent veteran of World War II. A DJ from Memphis hires him to find a mysterious blues player named Ramblin' John Hastur who has disappeared into the backwoods of Arkansas and may just have sold his soul to the devil.
Unfortunately for Bull, there are worse things waiting for him than devils...
RELATED: 9 Scary-Good Fantasy Horror Books
Bloodshot
Raylene Pendle is better known as Cheshire Red – a world-renowned thief of priceless art and rare jewels, who just happens to also be a vampire.
When Raylene is asked to track down some missing government files, rather than her usual scores, she bites off more than she can chew. Her adventures take Raylene from Minneapolis to Atlanta.
She crosses paths with Men in Black and teams up with a drag queen in order to get what she's looking for and get out in one piece in this book that Kirkus called, "A refreshing and addictive lure for readers uninterested in fangs, bats, capes, and hissing."
The Ballad of Black Tom
Named one of NPR's Best Books the year it came out, Victor LaValle's The Ballad of Black Tom won the Shirley Jackson and British Fantasy Awards and was a finalist for the Hugo, Nebula, Locus, World Fantasy, and Bram Stoker Awards. Whew. That's a lot of accolades.
Fortunately, LaValle's book lives up to the hype. It follows Charles Thomas Tester through 1920s New York as he brings an occult tome to a reclusive sorceress and sees a storm coming that might just swallow the world.
RELATED: Weird Fiction That Takes You on a Ride Through the Strange and Unusual
This post is sponsored by Open Road Media. Thank you for supporting our partners, who make it possible for The Portalist to celebrate the sci-fi and fantasy stories you love.