Science fiction tends to tackle big, complicated ideas within complex societies, explored on an epic scale. This usually means stories captured over the span of several books, giving time to build the world, technologies, and cultures with depth and nuance. But every now and again, an author manages to present all of these facets in a single book.
These standalone sci-fi books are satisfying and powerful stories, perfect for losing yourself in an immersive world without having to track an expansive series.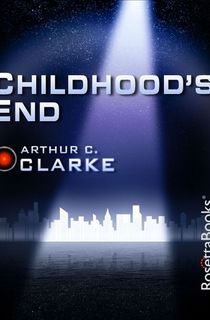 Childhood's End
Childhood's End by Arthur C. Clarke is a chilling exploration of the nature of power and the implications of advancing technology. What would it take to end war, eliminate poverty, and eradicate unnecessary violence? A species more advanced than we are, sent to stop our destruction.
When aliens arive, they give humanity peace, boost technology at an exponential rate, and open the door for everyone to receive an education. They even allow humans to govern themselves, as long as their rules are respected. This novel explores the facets of human nature and how we might evolve within an apparent utopia.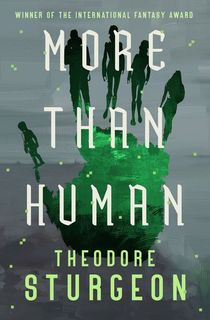 More Than Human
More Than Human is a genre-bending exploration into the next step in human evolution. A telepathic man, teleporting twins, a super-genius baby, and a telekinetic woman. Alone they are anomalies, together they might be the final chapter in our evolution.
Blending lyrical prose with philosophical questions, this novel verges on literary fiction. It's an award-winning story that tackles questions about inclusion and belonging that are still relevant today.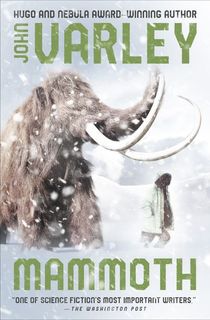 Mammoth
An eccentric billionaire sends a team to find a woolly mammoth frozen in ice to clone for his circus.
The discovery alone is an incredible breakthrough. But when they discover the 12,000-year-old body next to it is wearing a wristwatch, their project gets a lot more complicated.
A thrilling read from beginning to end, Mammoth has time-travel, government conspiracies, ethical examinations of cloning, a touch of romance, and most importantly, a baby mammoth.
Recursion
Mixing the mind-bending realities of quantum physics with the incredible potential of neuroscience, Blake Crouch takes us into a world where memories can change reality.
A devastating affliction only known as False Memory Syndrome starts leaving victims with overwhelming memories of lives they never lived. A neuroscientist determined to preserve memory and a New York cop stubbornly chasing the truth find themselves facing an opponent capable of changing the fabric of reality one memory at a time.
Recursion is a fast-paced science fiction thriller that forces us to question the construct of time, stretches the boundaries of our understanding of reality, and explores the consequences of playing with technology we barely comprehend.
RELATED: 10 Science Fiction Books Written by Actual Scientists
Blackfish City
Set within an interconnected universe, Blackfish City examines the perils of urban capitalism in a future torn apart by climate change.
The climate wars destroyed most of the planet, and now the remaining citizens live on a floating city in the Arctic Circle. Wealth and poverty reside side-by-side while an epidemic only known as "the breaks" runs rampant, pushing the city to the edge of disaster.
When a woman riding an orca arrives with a polar bear, she captures the entire city's attention. This mysterious newcomer brings together four individuals, who together have to face hidden secrets about themselves in order to save the city from destruction.
A hopeful examination of corruption, Blackfish City highlights the power of human connection and how the smallest acts of resistance can ignite enormous change.
Autonomous
Jack is a pirate. Not just any pirate, an anti-patent pirate who reverse-engineers drugs to make them accessible to the poor. Until her latest product leaves a trail of overdoses along the way.
While she tries to prove it's the original drug that's dangerous, Jack runs from a military agent and his robot partner who have been hired to silence her.
Autonomous dives into the dangers of a society determined to elevate productivity above all else, while weaving in the implications of biotechnology and the complicated ethics of artificial intelligence.
Riot Baby
This powerful novella follows two gifted siblings, Ella and Kev.
Outside of the powers Ella and Kev have, this world resembles ours, and Onyebuchi doesn't hold back or shield the reader from the real-life history of racist violence in our country.
It's haunting and brilliant; a story in which it is difficult to tease apart the dystopian elements from reality because the world and characters are so vivid, so raw, that they're a mirror to the society we live in today.
RELATED: Afrofuturism, Africanfuturism, and Writing Black Futures
The City in the Middle of the Night
As humanity expands through the universe, it populates a dying planet, January. One side is perpetually suspended in darkness, while the other remains in the sun, and two cities are built in the small habitable regions.
When Sophie is exiled and sent into the night of January, she's expected to die. Instead, she's saved. Even though she wants to hide, Sophie finds herself in the midst of a revolution.
A complex book filled with complicated characters who behave questionably, Charlie Jane Anders' The City in the Middle of the Night is brimming with both the light and dark sides of humanity.
It's a novel that sparks the endless imagining of 'what if', leaving the reader with unbridled hope instead of definitive answers.
Hummingbird Salamander
A futuristic eco-thriller from Jeff VanderMeer, Hummingbird Salamander launches readers into a tension-filled, fast-paced mystery where the fate of humanity hangs in the balance.
This is a book that makes the reader work. It's written in a cryptic format, where every clue unlocks another unanswered question, only revealing how they interlock to form answers at the very end.
It's a compelling exploration of climate change, the dangers of conspiracy theories, ecoterrorism, the threat of war on humanity and the planet, as well as the inherent downsides of technology and security.
The Space Between Worlds
Anyone can travel the multiverse, as long as their counterpart is dead. And Cara is dead in 372 of the 380 unlocked realities. Her unparalleled access takes her out of the wastelands and places her on the firm path to citizenship and security.
But when one of her counterparts dies under mysterious circumstances, Cara is thrust into a new world with secrets that threaten not just her life, but all the multiverses as well.
The Space Between Worlds reflects on the fragility of happiness, the long-lasting effects of trauma, and the dangers interwoven in our never-ending greed for power.
Brave New World
A utopia that is really a dystopia, Brave New World tackles control and power through the lens of behavioral classical conditioning and biopsychological manipulation.
Written almost ninety years ago, it continues to raise relevant questions about the ethics of genetic modification, social pressure as a means to conform, and the perils of emotional apathy.
The Stars Are Legion
The Stars Are Legion is the kind of epic sci-fi usually accomplished through a span of novels. Yet, it manages to encapsulate a multitude of timelines, the tragedy of love, and the horror of war in one succinct novel.
Legion is a set of world-ships, decaying and dying on the edge of the universe. Zan wakes up with no memory, suspicious of the people claiming to be her family. They tell her she's their salvation, the only person who can board and claim an empty world-ship still functional enough to take them away from the Legion. But their ship isn't the only one after the prize.
A thrilling adventure set within an all-female society, The Stars Are Legion is an emotional journey through the trauma and burden of facing an uncertain future by letting go of the past.
The Circle
It's a dream to be part of the world's largest internet company, and Mae Holland views her new job as an unmissable opportunity.
But as every new feature reveals more and more about her life to the world, Mae struggles to hold on to what little privacy she has left.
In a plot line that reads more like current day than a dystopian future, The Circle takes us into the risks and dangers involved in our ever-expanding online presence.
RELATED: 11 Best-Selling Sci-Fi Books That Left Their Mark on the Literary World
This post is sponsored by Open Road Media. Thank you for supporting our partners, who make it possible for The Portalist to celebrate the sci-fi and fantasy stories you love.