Witches and fairies, courtly love and revenge duels, freak storms, and technological anachronisms – all of these are Shakespearean staples, so it's no wonder Shakespeare has captured the attention of science fiction and fantasy writers.
Shakespeare's plays helped popularize the same tropes that would become common in SFF, and incredible homages to Shakespeare's plays exist throughout speculative fiction.
If you're eager for more SFF Shakespeare adaptations, check out this list of reads to furnish your own library with. And if we left off one of your favorite retellings, share it with us in the comments!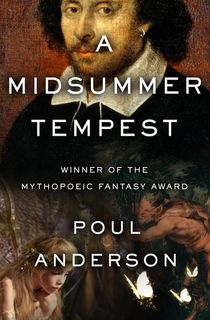 A Midsummer Tempest
Some of the best adaptations of the Bard are those that take an original story's premise and tilt it slightly to the left.
In this case, Poul Anderson shifts us in to a parallel world where Shakespeare was not a playwright, but a renowned historian. Shakespeare's plays are not adventurous fantasies but rather true accounts of historical fact, and the Industrial Revolution exists side-by-side with fairies and the English Civil War.
In this world, true historical figure Prince Rupert uses elements of various plays to save King Charles I's life. Prince Rupert seeks help from Oberon and Titania, iconic characters from A Midsummer Night's Dream, as he searches for mystical books sunk by Prospero at the end of The Tempest.
RELATED: 5 Elaborate Alternate History Books
The marvels of Shakespeare's two fantastical plays give this alternative history a thrilling edge. Anderson heightens the book's stylization by making noble characters speak in blank verse – and keep an eye out for sonnets, hidden in the prose.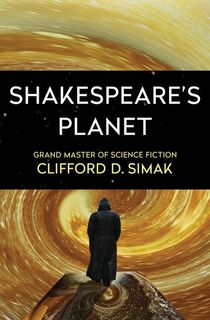 Shakespeare's Planet
Clifford D. Simak is a pillar of classic science fiction. He won three Hugos, a Nebula, and the Bram Stoker Award for Lifetime Achievement before his death in 1988.
Shakespeare's Planet follows Carter Horton and his crew of space explorers on an interstellar mission to find a planet suitable for human life.
After a malfunction with their spaceship's suspended animation, Carter is the last man alive on his ship – and he's been in a deep sleep for over a thousand years.
Shakespeare's Planet pulls from the Bard's character-driven, existential works. Simak creates a lonely exploration of what humanity means in a universe populated by nonhumans, indeed, even the nonliving, as Carter encounters new life forms created by a thousand years of new technology and adaptation.
This 70s sci-fi novel reads like a mesmerizing soliloquy. And keep an eye out for the titular Shakespeare character – do you think he's the real deal?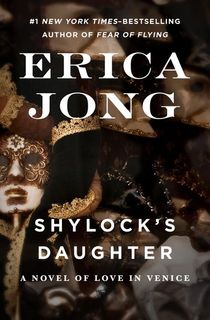 Shylock's Daughter
Shakespeare, meet time travel. Erica Jong proves herself a pillar of romance and satire in this poetic novel. Jong became famous for her novel Fear of Flying with her frank writing on women's sexuality.
Shylock's Daughter follows in its predecessor's footsteps with another romantic adventure, this one poking fun at Shakespearean romance while also celebrating the tropes.
Jessica Pruitt, a glamorous Hollywood film star, is at a low point in her life and career. Hollywood doesn't want Jessica now that she's no longer a young ingenue, and she's just lost custody of her daughter.
To revivify her spirits, Jessica immerses herself in preparations for a new movie adaptation of The Merchant of Venice. When strolling Venice's ancient city streets, she suddenly finds herself transported to the 16th century.
And she's not leading a movie anymore: Jessica is starring in a new play by the enigmatic young playwright, William Shakespeare himself.
Jessica has found a new beginning, a new audience—and, in the arms of a genius fledgling bard, a love affair more stimulating, satisfying, and liberating than any she will ever know, even five centuries on.
Erica Jong crafts a tale sharing Shakespeare's love of language just as much as his love for Venice.
Saving Juliet
Mimi Wallingford is a 17-year-old girl pushed into acting by her controlling stage mom. To make matters worse, she's burdened with saving her family's theater. When her mom stages a performance of Romeo & Juliet as a last-ditch effort to stay open, she casts Mimi opposite pop sensation and teen heartthrob Troy Summers, whom Mimi loathes.
But then! In a twist of circumstances, Mimi and Troy are transported back to 16th Century Verona, and into the Montague and Capulet's feud. Mimi and Troy meet Juliet, who struggles with setting her own wild nature free from her parents' control.
Mimi helps Juliet fight for her future happiness – but will she be able to save the star-crossed lovers in the end?
Mimi's narration is funny and smart, and the novel is full of fourth wall breaks, just like Shakespeare's asides. Selfors' descriptions of 16th Century Verona are so vivid, you can almost smell the city streets. This YA novel provides a fresh take on well-worn classic while staying true to the spirit of Shakespeare's play.
The Klingon Hamlet
In the movie Star Trek VI: The Undiscovered Country, Chancellor Gorkon states, "You have not experienced Shakespeare until you have read him in the original Klingon."
Nick Nicholas and Andrew Strader of the "Klingon Shakespeare Restoration Project" take this premise and run with it. They translated the entire text of Hamlet into the Klingon language, so you can read it side-by-side with the English text. And then they took it to the next level, providing academic evidence that the Bard was Klingon himself.
RELATED: Explore the Final Frontier With These Stunning Star Trek Books
According to the Klingons, the English translation only exists as a propaganda campaign created by the United Federation of Planets to sow hatred against the Klingon race.
Academic references from Klingon historians detail how the plot follows primarily Klingon motifs, and mourns the loss of the original's "spontaneous, direct and vibrant verse" for the convoluted English meanderings.
Whether you are a Star Trek fan, a translation aficionado, or a budding satirist, this adaptation has something for all.
This post is sponsored by Open Road Media. Thank you for supporting our partners, who make it possible for The Portalist to celebrate the sci-fi and fantasy stories you love.
Featured photo: Hulki Okan Tabak / Unsplash and Photoshop