This is a heavenly time to be a Gaiman fan. If you're hungry for more supernatural, smart fiction, we've compiled a list of the best Neil Gaiman books to get lost in. Be warned—many adventures await!
Neil Gaiman is a true multi-hyphenate; he's an author, a comic book creator, and a screenwriter, to name just a few of his creative pursuits. Gaiman's work is at turns fantastical and horrifying. His books have won numerous awards, and transformed various genres.
In 1977 Gaiman began his career as a journalist. He brought that journalistic experience to bear on his first book, a 1984 biography of the band Duran Duran called Duran Duran: The First Four Years of the Fab Five. Gaiman has since described the biography as "the worst thing" he's written, but the then-23-year-old soon went on to write books more aligned with his personal interests. In 1985 he co-authored Ghastly Beyond Belief, a celebration of fifty years of so-bad-it's-good sci-fi writing; 1989 saw the first issue of his seminal The Sandman comic; and 1990 marked the release of Gaiman and Pratchett's World Fantasy Award-nominated Good Omens novel. In the 35 years since Duran Duran, Gaiman has become a consistently influential voice in the pop culture and literary world. His fiction has changed the fantasy and horror genres, and he's been an active participant in online conversations via his blog and Twitter.
Below are 19 spectacular books by Neil Gaiman that are waiting to put a spell on you. Did we miss one of your favorite Neil Gaiman books? Share it with us in the comments!
Neverwhere
Richard Mayhew is a young businessman living in London when he discovers what lies below the surface of his city. After rescuing a young woman named Door, Richard is introduced to the fantastical otherworld London Below, populated with the lost, homeless, and dispossessed. As he learns more about this London Below—its monsters, saints, murders, angels, and knights — Richard is pulled further away from London Above. He'll need to survive battles against murderers and monsters in order to get back to reality.
Neverwhere illustrates Gaiman's unique mastery of the fantasy genre. He creates a world that is charming and fantastical but yet still attainable because it is a reflection of reality—London Below is less an alternate reality and more an extension of our own world. The realm of London Below also represents the diversity of our world as characters of various colors, shapes, sizes, and origins are represented. Go ahead and dive into this world: It's quite an adventure!
Neverwhere was originally a 1996 BBC Two six-episode miniseries conceived by Gaiman and comedian/author Lenny Henry. The novel is an adaptation of the show, featuring some concepts which couldn't be included in the series due to time or money constraints. The Neverwhere story has since been adapted into numerous other mediums, including a Vertigo graphic novel series, a stage play, and a radio drama.
RELATED: 9 Stirring Neil Gaiman Quotes
American Gods
This novel is the product of Gaiman's 1992 decision to move to America. His fascination for the place and people inspired him to write a book about the past, present, and future of this country. It is a perfect blend of Americana, mythology, and mystery. The story follows Shadow Moon, an ex-convict that becomes the bodyguard of a mysterious con man, Mr. Wednesday. Through their travels Shadow learns that Wednesday is truly the incarnation of Odin, the All-Father, and is recruiting American manifestations of Old Gods. The Old Gods' powers waver as their believers decrease, and soon the Old Gods must battle against the New American Gods, manifestations of modernity and technology. Together they must deeply look into America in order to find out what to save it from — or whom.
This 2001 novel is a great escapist read that also takes an incisive look at the modern world. It's a sprawling story that unpacks the ways humanity has allowed past idols to define our worldview and the ways we permit "New Gods" to steal our consciousness. The plot is as complex as the genre of the book: American Gods blends fantasy, mystery, and horror into one unforgettable story.
In 2017, American Gods was adapted for a TV series on Starz by former Hannibal showrunner Bryan Fuller and starring Ricky Whittle as Shadow Moon. A third season is on the way, and Gaiman says planning has begun for a Season 4.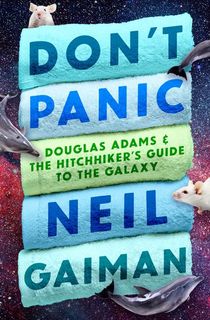 Don't Panic!
This book is a celebration of Gaiman's late friend, Douglas Adams, the creator of The Hitchhiker's Guide to the Galaxy. The format of the book resembles Adams' irreverent style; it's filled with scraps of scripts, letters, and comments from Adams. The book affectionately details Adams' life; Gaiman insightfully discusses Adams as a writer and provides the history behind some of his most famous works.
This is a great reads fans of Adams' work on The Hitchhiker's Guide to the Galaxy, Dirk Gently's Detective Agency, or Dr. Who as it sheds light on Adams' craft. The Hitchhiker's Guide to the Galaxy originated in 1978 as a BBC radio comedy written by Adams, before he developed it into a five-book trilogy. The story follows the last surviving man on earth, Arthur Dent, after the demolition of Earth by a Vogon constructor fleet. Dirk Gently is a humorous detective novel about a private investigator who is trying to solve a mysterious murder while also saving the human race from extinction. Adams also wrote for the classic BBC sci-fi series Dr. Who.
Through Don't Panic, Gaiman captures Adams' beloved sense of humor. For those who love biographies or want to dig deeper in Adams' creative process, we highly recommend this exciting title.
RELATED: Don't Panic Explores Douglas Adams' 'Lost Year in L.A.
Good Omens
A 1991 World Fantasy Award nominee, this novel was collaboratively written by Neil Gaiman and fellow British writer Terry Pratchett. It is a comedic interpretation of the birth of the son of Satan and the End Times. The story follows an angel, Aziraphale, and a demon, Crowley, as they find ways to sabotage the coming of the end times in order to save the comforts Earth offers them. Although Aziraphale and Crowley are representatives of Heaven and Hell on Earth, they form a friendship and decide to work together to raise the Antichrist so he can never decide between Good and Evil, thereby postponing the end of the world. Now they only need to find the Antichrist...
This is great book for those who want a good laugh. As the friendship between Aziraphale and Crowley forms, we see them work together and against each other, revealing an angel that is not necessarily always good and a demon that isn't exactly a bad guy. Fans of satire will really get a kick out of this one!
Good Omens was adapted into a 2019 BBC One and Amazon Studios miniseries. Gaiman wrote the adaptation and acted as showrunner. The acclaimed series stars David Tennant as Crowley and Michael Sheen as Aziraphale.
RELATED: 5 Things 'Serious' Writers Can Learn from Terry Pratchett
Coraline
The young protagonist in this dark fantasy, Coraline Jones, is just trying to settle into the new flat she and her parents recently moved into. On a rainy day, Coraline embarks on an adventure when she finds a little door that takes her to another world that resembles her own reality—except it's all perfect. The other mother—a perfected, pleasant version of Coraline's real mother—offers Coraline an opportunity to stay in the other idyllic world forever. But at what cost? This enticing coming-of-age story mixes horror elements that will constantly keep you on your toes.
Coraline is intelligent, inquisitive, brave, and delightful, making her a heroine that many can look up to. This story is the perfect twenty-first century fairytale, and each chapter is a flawless combination of humor and horror. It is a great read fans of the Grimm Brothers, Lewis Carroll, and Roald Dahl. Beautifully written with an understanding of a child's curiosity, the novel allows the reader to see the story through Coraline's perspective.
Ghastly Beyond Belief
A fun read for devout Gaiman fans, 1985's Ghastly Beyond Belief was Gaiman's second nonfiction book. Written with Bram Stoker Award-winner Kim Newman, this fun collection was initially intended to be an authoritative review of the best sci-fi quotes ever. However, Gaiman and Newman eventually realized the collection was going to be a celebration of ludicrously bad passages from 50 years of sci-fi and fantasy. The first section features books from short stories and novels, while the second half collects the worst offenders from movies. Throughout, the quotes are interspersed with Gaiman and Newman's commentary. A funny anthology written by authors with immense respect for the genres they're lampooning, Ghastly Beyond Belief makes a great collector's item for the shelf of Gaiman fans.
RELATED: Listen to the Audio Drama Adaptation of The Sandman Now
Fragile Things: Short Fictions and Wonders
This is a collection of some of Gaiman's most dazzling short stories and poems. Many of the stories are award-winners, and this collection shows the full range of the author's eccentric, colorful imagination.
If you want to revisit Gaiman's infectious voice, and read an entire narrative in one sitting, then this is a great book for you! The simple yet compelling entries in Fragile Things often focus on complex themes such as creative inspiration, the act of denial, or the intricacy of dreams. For instance, for fans of The Turn of the Screw by Henry James, October in the Chair follows the traditional "story within a story" format. It is a chilling tale, sure to send shivers down your spine, of a young runaway who encounters the spirit of a dead boy.
RELATED: 13 Sci-Fi Short Stories You Can Read Over Your Lunch Break
Anansi Boys
Anansi Boys is a fantasy novel that follows two sons who discover each other after their father, Mr. Nancy—an incarnation of the West African god Anansi—passes away. They embark on an adventure as they explore their heritage and each other. Fat Charlie lives an ordinary life until his brother, Spider, flips his world upside down, causing all sorts of havoc. Now Fat Charlie must manage between his demigod brother and the attentions of Bird Woman, a vengeful immortal.
While not a sequel, fans of American Gods may enjoy this book as Mr. Nancy appears in both. It is a superb urban fantasy that has an original perspective on what it means to come of age.
The Graveyard Book
The Graveyard Book won the Hugo Award for Best Novel, as well as the Locus Award for Best Young Adult Book. It follows young Nobody "Bod" Owens, who is adopted and raised by supernatural creatures after his parents are brutally murdered. The bulk of the book is about Bod's adventures in and out of the graveyard as he grows up and befriends a girl called Scarlett Perkins. Together they encounter dangers and adventures. But if Bod leaves the graveyard, he risks being attacked by Jack, the one who killed his family...
Gaiman weaves a combination of sweet and creepy elements with a bittersweet ending, creating a unique and unforgettable story which appeals to children and adults. It's an unforgettable reading experience as we ourselves follow Bod in the process of growing up, finding one's self, and letting go of our childhood home.
Smoke and Mirrors
First published in 1998, Smoke and Mirrors is a collection of short stories and poems. This is one of Gaiman's first books and demonstrates his incredible ability to make the fantastical feel feasible. In this anthology, our mundane world is transformed into a place with endless possibilities and fantastical creatures.
Every story in this collection is highly engaging and invokes a strong emotional reaction. This is a book that unifies some of Gaiman's best short work from his earlier career.
The Ocean at the End of the Lane
Winner of the 2013 Goodreads Choice Award, The Ocean at the End of the Lane follows an unnamed narrator as he returns to his childhood home to attend a funeral. This return causes within the narrator a flood of overwhelming memories that begin with Lettie Hempstock some forty odd years ago. He reminisces on the time he shared with Lettie and her family. Melancholic memories are mixed with a devastating occurrence; the narrator lovingly remembers Lettie but also relives the traumatic aftermath of a suicide in his town. A darkness was unleashed, and he found himself frightened and alone with Lettie as his protector. But can you save something that is already broken?
Written almost a decade after the publication of Gaiman's prior adult novel, The Ocean at the End of the Lane is fascinating and impressive. It's a dark fantasy adult novel that blends escapism and reality. On the surface it seems like an escapist tale filled with magic, but it's also an exploration of our childhood yearnings, and the human need for safety and affection. The magical moments in the story are stark and dark, meant to juxtapose and disconnect the child from the adult. It's a search of self-identity, a pursuit as difficult and murky as swimming to the seafloor.
RELATED: A Hungry Monster Haunts a Young Boy in Neil Gaiman's "Troll Bridge"
Stardust
Stardust is different from most of Gaiman's prose fiction, especially in style and tone. The novel was consciously written in traditional pre-Tolkien English and is usually published with illustrations by Charles Vess. It's a fun read for fans of fantasy, adventure, epic romance, or witchery, because it integrates elements of each genre to make the tale a pleasurable experience. It truly is an amusing fairytale with darker elements.
Gaiman introduces us to Tristran Thorn and Victoria Forester as they navigate their tiny town of Wall. The town is named after a large imposing stone barrier which separates it from a grassy meadow. In order to win Victoria's hand in marriage, Tristan must retrieve a fallen star and deliver it to her. This sends Tristran over the wall and into a world that is dangerous, strange, and well beyond his imagination.
Likely Stories
This short story collection features stunning comic adaptations of Gaiman short stories, illustrated by Gaiman's frequent collaborator, Eisner Award-winner Mark Buckingham. Featuring stories like Foreign Parts, Closing Time, and Feeders and Eaters, Likely Stories is a dark, creepy, and often weirdly beautiful anthology. Each story in the collection is set in the same loosely-connected universe and plays with the theme of appetites. Likely Stories is certainly aimed at a mature audience, and adult readers will be captivated by the intricate web Gaiman and Buckingham weave in this unique collection.
Likely Stories was adapted into a miniseries which aired on SkyTV in the U.K., and on the streaming service Shudder in the U.S. Gaiman himself even made a few appearances in the chilling anthology show.
RELATED: 10 Must-Read Adult Fantasy Books
Norse Mythology
Behind much of Gaiman's work is the inspiration of ancient mythology. Norse Mythology tells the story of the Norse gods, from their origin to their turmoil in Ragnarok. Gaiman transforms these ancient stories into novelistic arcs, staying true to his source material but re-telling the stories in a language that is fresh and engaging. The stories are kept in chronological order but each chapter still stands on its own. Even though it is a retelling, Gaiman is able to maintain his own distinct voice throughout the book.
Gaiman's gift of storytelling shines as he provides prose for these fierce gods and their competitive tendencies. This is a great book for those who want to learn more about Norse mythology—it doesn't get as much love as Greek or Roman. It's also a great reads for fans of Marvel Comics' Thor who want to learn more about the mythology that inspired the iconic comics character.
RELATED: Neil Gaiman Discusses the Lasting Legacy of Douglas Adams
InterWorld
Neil Gaiman and Michael Reaves teamed up to write this fantasy sci-fi novel. It follows Joey Harker as he finds himself on a crazy adventure during a field trip. Joey gets lost in the city and upon entering a mysterious fog, everything changes. He discovers that his world is one of a trillion alternate earths; some earths are ruled by magic, others by science, but all are at war. Now it is up to Joey and alternate versions of himself to join together in the fight against the evil magicians Lord Dogknife and Lady Indigo.
InterWorld is a great story for fans of His Dark Materials and the Harry Potter series. Although it is a YA book it can appeal to various ages as it is a science fantasy adventure with multiple allusions to Star Trek, The Twilight Zone, and The Wizard of Oz. Joey's journey teaches us that our decisions change alternate versions of ourselves—we are influenced by decisions made in our youth as we age. Good news if you want more of Joey and his adventures: InterWorld is part of a trilogy!
The Day I Swapped My Dad for Two Goldfish
Originally published in 1997, The Day I Swapped My Dad for Two Goldfish is a collaborative book written by Neil Gaiman and illustrated by Dave McKean. A young boy undergoes a hilarious adventure that involves two goldfish and his father. The boy swaps his father for his friend's two goldfish, causing his mother to order him to retrieve his father back. The boy quickly realizes that it is not an easy request, as his father keeps getting swapped from person to person.
This is an offbeat story that can be enjoyed by readers of all ages; because the story is told from the perspective of a child, it is comprehensible without missing its quirkiness. The book was well received and even won Newsweek Best Children's Book (2003) and the British Science Fiction Association award for Short Fiction (1997). The images really tie the story together; McKean provides wacky and interesting imagery that highlight the uniqueness of Gaiman's writing.
The Wolves in the Walls
This book was inspired by a nightmare Gaiman's daughter had about wolves in the walls. The story follows the protagonist Lucy as she finds wolves lurking behind the wallpaper of her family home. However, her fears are dismissed by her family as the result of her lively imagination. The family's doubt ends up costing them, as the wolves plunge out of the wall and invade the house. Now Lucy must find a way to save her toy, Pig Puppet, who is stranded with the wolves. Can Lucy rescue him?
This is a great read with amazing illustrations that are a mixture of painting and collage. Lucy's determination resembles that of Gaiman's beloved Coraline. The characters of this story are also reminiscent of those in The Day I Swapped My Dad for Two Goldfish. It's the perfect book for the Halloween season, and will leave everyone a little spooked!
Sandman
Gaiman's New York Times bestselling Sandman is one of the most critically acclaimed graphic novels ever. Under the DC Comics' imprint Vertigo, Sandman is an unforgettable meditation on mortality and the inevitable joys and tragedies of existence. It combines mythology and DC Comics' canon to tell the story of Dream, aka Morpheus, one of a group of unfathomably powerful entities called the Seven Endless. Dream's companions throughout the ages include Despair, Desire, Destruction, Destiny, Delight, and Death. Sandman's many readers are absolutely devoted to Gaiman's foray into the comic book world. Pick up a volume for yourself and see why his take on the DC Comics character has touched so many fans.
Trigger Warning
The 2015 short fiction anthology Trigger Warning is a collection of stories and poetry that are by turns horrifying and enchanting. Like Gaiman's previous short fiction anthologies, Smoke and Mirrors and Fragile Things, the concise visions in this collection are compelling as any novel. Trigger Warning features several short stories related to other Gaiman works. For example the short story "Black Dog" is set in the American Gods universe and was written specifically for this anthology. The collection also features a short Doctor Who story written for the series' fiftieth anniversary (Gaiman previously wrote the Doctor Who episodes "The Doctor's Wife" and "Nightmare in Silver").
RELATED: Enchanting Fairy tales for Adults
This post is sponsored by Open Road Media. Thank you for supporting our partners, who make it possible for The Portalist to continue publishing the fantasy stories you love.