When it comes to fantasy, it's easy to envision sweeping, high fantasy worlds filled with awesome magic and incredible creatures. But there's something special that happens when authors blend the mundanity of our reality with a touch of other-worldly elements. This subgenre, known as low fantasy or intrusion fantasy, can make our everyday world seem filled with magical potential.
Here are ten spectacular low fantasy books for every fantasy reader.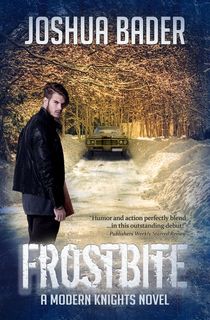 Frostbite
Just because you're a wizard, doesn't mean you can magic all of life's problems away. Colin Fisher knows that better than anyone. His dad is dying, he lives in a broken-down car, and his fiancé has vanished. Oh yeah, and he's suspected of murder. So when a billionaire CEO needs a wizard and offers a lucrative paycheck, Colin is all in. Unfortunately, the CEO is cursed, and Colin has to figure out how to stop the ice demon before it eats his boss––and him.
Frostbite deftly navigates the realities of our world with the added terror of demons and grotesque monsters. The thrilling plot is riddled with plenty of genuinely humorous moments, bringing both the magical elements of the story and the realistic cast of characters to life.
A Master of Djinn
Agent Fatma el-Sha'arawi may be the youngest woman working for the Ministry of Alchemy, Enchantments and Supernatural Entities, but she's got plenty of experience. When an entity claiming to be al-Jahiz––the man responsible for opening the veil to allow magic into our world––slaughters the secret brotherhood dedicated to upholding his memory, Agent Fatma is called in.
As dangerous magic threatens to unravel reality, the streets of Cairo are thrown into disarray. To restore peace, Agent Fatma must prove the man an imposter. But what if he's exactly who he claims to be?
A lush expansion of two novellas set in this world, Clark beautifully merges the fantastical elements into the reality of 1912. Beyond simply writing action-packed cinematic scenes and engaging characters, there's a thread of social commentary subtly woven into the story to engage the reader with thoughtful examination of both our history and our present.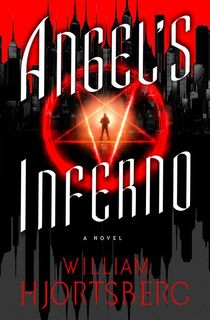 Angel's Inferno
It's a bad day when a private investigator is accused of murdering three people. Luckily, Harry Angel knows who actually did it. But to prove it, he has to escape. With the cops trailing him, Harry finds himself unraveling the mystery of not just the murder, but clues to his own past. His investigation takes him into the shadows of the dark occult, where in order to redeem himself, he may have to confront the devil.
A stunning combination of pulp detective noir and supernatural horror, Angel's Inferno is the thrilling follow-up to Falling Angel. The 1950s setting gives the story a tint of nostalgia, while the gritty underworld gives the book a dark edge. The deadly cat-and-mouse mystery drives the plot all the way to the explosive end.
American Gods
Shadow Moon is days away from finishing his prison sentence when his wife is killed in a car accident. On the way to her funeral, he meets Mr. Wednesday, a mysterious and charismatic businessman. He offers Shadow a job and they set off across the American Midwest as war between the old gods and new threatens to break out all around them.
What happens when mythology shifts? That's the question at the heart of this thought-provoking adventure. Neil Gaiman offers a feverish exploration of culture, history, vice, and worship in a fantastical hero's journey through America's heartland.
The Chosen and the Beautiful
In the midst of the Roaring Twenties, Jordan Baker seems on the surface to have it all. But Jordan is still denied the equality she deserves. Because she's queer and Asian, she's largely treated as a curiosity. Jordan knows that there's wonder and magic in this world...all she has to do is learn how to use it.
Take the glitz and glamour of The Great Gatsby and add a dose of magic. The result is an explosive and gorgeous retelling that will sweep readers away. The Chosen and the Beautiful is a fever-dream, filled with ravenous and beautiful prose packed with razor-sharp observation on the essence of human nature.
RELATED: Asian Fantasy Book Releases to Look Forward to in 2021
Storm Front
When Chicago PD has a case that transcends reality, they call Harry Dresden. After all, it takes a wizard to catch anything paranormal.
Filled with humor and inventive magic woven into our world, Storm Front is the beginning of Jim Butcher's The Dresden Files series. Each installment builds on the last, creating an immersive world with explosive adventures and unforgettable characters. In all, this series is a binge-reading good time.
RELATED: 10 Super-Fun Books Like Supernatural
A Discovery of Witches
Deep in the heart of the Bodleian Library at Oxford, a bewitched alchemy manuscript is hidden. When Diana Bishop accidentally calls to it, she finds herself in the middle of a supernatural war.
Soon, the library is crawling with demons, vampires, and witches, all hoping to find the manuscript for their own ends. When Diana is forced into an alliance with a vampire geneticist, the two are the only hope for breaking the curse and stopping the war.
Throughout the All Souls Trilogy, the pair time-travel to various parts of England and Europe. A slow-burn romance spiced up with stunning history and crackling suspense, this series will keep readers enthralled to the very end.
RELATED: The A Discovery of Witches TV Show Is One Spell of a Good Time
Ninth House
Most people make it into Yale based on their scholastic merits. Galaxy "Alex" Stern got in because she sees dead people. Her acceptance is based on the agreement that she'll help oversee the various occult rituals of the school's secret societies. But when a townie is murdered, Alex finds herself in the middle of a game she doesn't understand, surrounded by players with more power and resources than she can imagine. And she may be the sacrifice they've been waiting for.
In Leigh Bardugo's adult fantasy debut, The Ninth House gives the very real Yale secret societies a supernatural twist. This book is an unsettling journey into the heart of power, ambition, and societal class, wrapped in eerie dark magic and surrounded by ghosts.
Good Omens
The apocalypse has been predicted. Again. Except, this time the prediction might actually be right. Angel Aziraphale and demon Crowley have gotten quite used to their Earthly lifestyles and aren't willing to let them go. So, they agree to stop quarreling and do something about the end of the world—right after they find out where the Antichrist has gone.
The apocalypse may not seem like an appropriate setting for a humorous caper, but in the hands of Pratchett and Gaiman it is utterly delightful. It's filled with demons, angels, witches and more, all romping across England to stop the end of the world. Good Omens is probably the most fun you can have during Armageddon.
This post is sponsored by Open Road Media. Thank you for supporting our partners, who make it possible for The Portalist to celebrate the sci-fi and fantasy stories you love.