Neal Stephenson is one of speculative fiction's most groundbreaking and inventive writers. He dabbles across genres, and mixes high-concept ideas, from evolutionary biology, to linguistics, to quantum physics.
Stephenson has delved into historical fiction, space-faring sagas, and time travel epics. There really is something in the Neal Stephenson catalog for every reader, which is a testament to Stephenson's own boundless intellectual curiosity.
You really can't go wrong with any of his novels, but these are our picks for some of the best Neal Stephenson books.
Snow Crash
While Stephenson had published two novels prior to 1992, the release of Snow Crash announced the author as a major force in speculative sci-fi.
With its heady mix of speculative sci-fi, post-cyberpunk stylings, and Sumerian mythology, Snow Crash put Stephenson firmly in the conversation with names with like Asimov and William Gibson. The novel centers around a pizza delivery boy, Hiro Protagonist, who spends his free time in virtual-reality-like Metaverse as a warrior hacker combating a dangerous and deadly computer virus.
Hiro takes a mind-bending ride through an outrageously bizarre future America, on a search-and-destroy mission for the shadowy virtual villain threatening to bring about the info-pocalypse.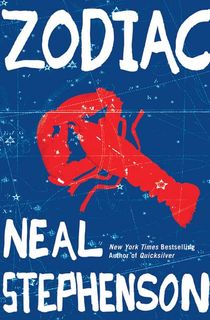 Zodiac
Zodiac, Neal Stephenson's sophomore effort, is something of a cult classic. It's a wild eco-thriller centering around a man named Sangamon Taylor, an environmental activist with a fondness for a brand of inflatable motor boat that gives the novel its title.
Taylor stumbles into a far-reaching conspiracy involving industrial polluters in Boston Harbor and Spectacle Island.
RELATED: 8 Vital Sci-Fi Climate Change Books
The Diamond Age
In his follow-up to the success of Snow Crash, Stephenson further cemented himself as one of the pre-eminent sci-fi voices of his generation.
Set against the backdrop of a futuristic Shanghai, The Diamond Age imagines a harsh, caste-based society decades removed from our own. When a state-of-the-art interactive device designed to teach girls to think for themselves falls into the hands of a street urchin named Nell, she and the creator of the device are soon pulled into a vast subversive information network built to reprogram humanity's future.
Seveneves
This millennia-spanning epic is among Stephenson's most ambitious and challenging works.
Beginning with an uncomfortably prescient premise of an Earth barreling toward ecological collapse, Stephenson crafts a story of not only humanity's last-ditch effort at survival among the stars, but also of the ultimate results of that effort, some five thousand years in the future.
It is a stunning work of speculative fiction positing a trajectory for humankind that is breathtakingly imaginative.
Cryptonomicon
Cryptonomicon is a consensus fan and critical favorite, and arguably Stephenson's finest single novel.
Like so much of Stephenson's catalog, it is an oddly prescient piece of speculative fiction. Originally published in 1999, the novel foresaw the eventual boom in cryptocurrency.
The narrative begins with a mathematical genius named Lawrence Pritchard Waterhouse, who is part of a clandestine operation to crack the infamous Enigma code during World War II.
The narrative soon shifts focus to the present and to Waterhouse's hacker-grandson Randy, whose attempts to create a encrypted "data haven" draw him into a dangerous conspiracy with ties reaching back to his grandfather's efforts. It is a tour-de-force for Stephenson.
Anathem
With Anathem, Stephenson takes a big swing — and it pays off.
Here, Stephenson dives into deep philosophical and metaphysical questions on the very nature of reality itself. Anathem imagines an alternate universe where mathematicians, philosophers, and scientists live their lives in seclusion behind the walls of an ancient monastery to protect them from the corrupting influence of the outside world.
With the world on the brink of cataclysm, this group – known as avout – are called to the outside world to assist in preventing a world-shattering catastrophe.
Reamde
Falling at the nexus of sci-fi, espionage, and techo-thriller, Reamde is one of Stephenson's more accessible and action-packed reads.
The story center around Zula Forthrast, the niece of a wealthy tech entrepreneur who created a wildly popular MMORPG.
A series of increasingly desperate events involving a stolen credit card database, terrorists, and the Russian mob eventually lead to Zula's kidnapping and the white-knuckle attempts by her uncle and various other characters to save her.
At its core, Reamde is a globe-trotting thriller lifted by Stephenson's narrative talents.
RELATED: 11 Books Like Ready Player One
The Rise and Fall of the D.O.D.O.
Stephenson's latest, a collaboration with fellow novelist Nicole Galland, is a labrythine near-future adventure with shady government organizations, stunning technology, time travel, and a surprising dose of magic.
It's unlike anything else in Stephenson's bibliography, and worth a look for that alone. The story follows Melisande Stokes, a linguistics expert, and Tristan Lyons, a military intelligence operator.
The pair are pulled into the inner workings of the shadowy Department of Diachronic Operations (D.O.D.O) and its mission to develop a device to return magic to the modern world.
Baroque Cycle
The Baroque Cycle is, in many ways, Neal Stephenson's magnum opus. The three books that make up the series – Quicksilver, The Confusion, and The System of the World – are among the author's best on an individual level, but when taken as a whole may represent his finest work.
Set against the backdrop of the political upheaval of the early 18th century, The Baroque Cycle primarily follows the exploits of three characters: Daniel Waterhouse, a conflicted Puritan in search of knowledge; "Half-Cocked Jack" Shaftoe, the swashbuckling King of the Vagabonds; and Eliza, rescued from a Turkish harem to become a spy and powerbroker in the reinvention of Europe. It is a complex, rip-roaring, swashbuckling adventure with some fascinating and unexpected ties to Stephenson's other works.
This one is a must read, set in a chaotic world in which reason wars with the bloody ambitions of the mighty, and catastrophe alters the political landscape overnight.
The Cobweb
Deputy Sheriff Clyde Banks thought he was investigating a college-town murder. He soon unveils the shady research of a powerful school department that uses government funds to manufacture a highly-dangerous bug.
His investigation leads him from Iowa to the Middle East, where Banks realizes he may be the only one who can stop the slaughter of thousands of American citizens.
Fall; or, Dodge in Hell
When a routine medical procedure goes irrevocably wrong, middle-aged Richard "Dodge" Forthrast is left brain dead and on life support. His beloved family is now faced with some difficult decisions.
Dodge, in his youth, drew up a will which instructed that his body be given to a cryonics company now owned by an enigmatic tech entrepreneur. Despite their misgivings, Dodge's family is legally bound to follow the directive and upload his brain to the cloud until it can be revived.
The next few years bring the development of Bitworld, an eternal afterlife in which humans can continue to exist as digital souls. Dodge's brain is turned back on, but this technological utopia is not what it first seems. Questions of gods and demons, the finite and eternal, now demand to be answered.