For years, so-called "hard sci-fi" – that is, science fiction that relies on credible science over speculative leaps or "hand waving" – has been seen as something of a boys club.
But women have been writing hard science fiction for as long as the (sub)genre has been in play. Even Mary Shelley's Frankenstein relied on then-cutting-edge scientific theory.
As a result, there are plenty of fascinating and thought-provoking books by women that are every bit as scientifically rigorous as those written by their male counterparts – if not more so. From Hugo and Nebula Award-winners to lesser-known gems, these hard sci-fi books by women will make you think, and keep you turning the pages.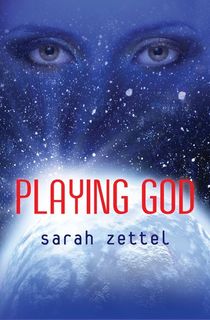 Playing God
Many sci-fi and fantasy novels revolve around winning a war. Sarah Zettel's Playing God is all about ending one.
The swan-like inhabitants of the planet Dedelphi have been at war for centuries, and if something doesn't change soon, there won't be much left.
In a last-ditch bid for peace, they ask for outside mediation, which comes in the form of the Earth-based Bioverse corporation and an ambitious plan to relocate many of Dedelphi's inhabitants into orbit.
Overseeing the project is human architect Lynn Nussbaumer, who finds that building peace on an alien world may be the most challenging project of her life.
Unanimity
The first in a six-book series, Unanimity lives by the old motto: "The road to hell is paved with good intentions." The story follows Thomas Astley-Byron, who created a Jungian simulated reality to help humans confront their dark sides and create utopia on Earth. Thomas and his partner, A.I. expert Henry Nowak, are celebrated as gods, and for a time everything seems perfect.
When things start to go downhill, however, Tom (called Shadow by his followers) descends into chaos and heartache. Opposing factions battle for his affection, and not all of them have his best interests at heart.
Finally, young goddess Estelle Ngoie is appointed to replace him. She seems immune to Shadow's struggles ... and any shred of sentiment. To set things right, Shadow must unravel the strings that pulled him astray — but first, he must regain some semblance of perspective in a changing world that makes it almost impossible.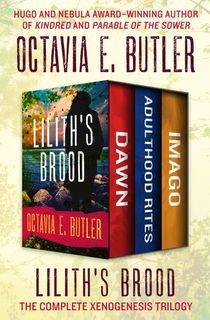 Lilith's Brood
Winner of the Hugo, Nebula, and Locus awards, Octavia E. Butler has been called "one of science fiction's finest writers" by The New York Times, and her Lilith's Brood trilogy is one of her most thought-provoking science fiction series.
Spanning three novels set in the wake of an apocalyptic nuclear war, humanity finds themselves interacting with aliens who seek to create a hybrid species that can survive where humans cannot.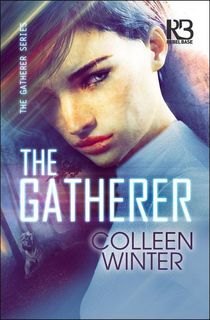 The Gatherer
Designed as a boon to all humanity, the titular invention from Colleen Winter's The Gatherer instead unleashes a plague that causes untold suffering. Now its inventor, also afflicted, is desperate to destroy it.
But there are others who wish to use it – and her – to their own ends in this action-packed eco-thriller.
Lagoon
When aliens land outside Lagos, humanity's first contact with extraterrestrials plunges the world into chaos in this book that iO9 called, "a fascinating entry into the science fiction of place."
As countless factions attempt to spin the landing to their advantage and world leaders contemplate a nuclear strike that would cost millions of lives, the only people able to save the world may be a rapper, a biologist, a rogue soldier, and an ambassador from the aliens themselves.
Where Late the Sweet Birds Sang
Winner of the Hugo and Locus Awards when it was first published in 1977, this early sci-fi novel is by acclaimed mystery writer Kate Wilhelm.
Tracing an isolated community's perilous experiments in cloning, Where Late the Sweet Birds Sang may be very much of its moment, but it also has strong warnings—and hopeful messages—about human nature and humanity's future in the wake of an environmental cataclysm.
Ancillary Justice
The only novel to win the Hugo, Nebula, and Arthur C. Clarke Awards, Ann Leckie's debut also won a Locus Award for Best First Novel and was recognized by the British Science Fiction Association.
This tale of a ship's AI who must seek justice against her creators kicked off Leckie's highly-praised Imperial Radch trilogy, which continued in Ancillary Sword and Ancillary Mercy.
The Terraformers
Destry cares for the planet Sask-E and its growing ecosystems, just as her parents did before her — and their parents did before them. She works toward a bright and beautiful future for the people who will one day live there.
When she discovers a city full of people inside a massive volcano, that vision becomes murkier. Everything Destry has been told says that these people should not exist. As she digs toward the truth, Destry will need to make a decision that will not only affect her life, but the lives of Saske-E's future generations.
The Calculating Stars
The impact of a huge meteorite will soon render the earth uninhabitable to humans in this alternate history sci-fi debut by Mary Robinette Kowal, a prequel to her Hugo Award-winning short story, "The Lady Astronaut of Mars."
The impact, which devastated the East Coast in 1952, led to an accelerated worldwide space race, as humanity desperately attempts to save itself by colonizing space. The Calculating Stars went on to win the Hugo, Nebula, and Locus Awards, and made countless best-of-the-year lists.
All Systems Red
Winner of the Hugo, Nebula, and Locus Awards, Martha Wells' All Systems Red (the first book in her Murderbot Diaries series) chronicles the voyage of self-discovery of a self-aware security android who refers to itself as "Murderbot," if never out loud.
When Murderbot is assigned to guard a scientific mission on the surface of a distant planet, it's plunged into a mystery along with the team of scientists it is supposed to guard. But all it really wants is to be left alone...
vN
Taking one of the staples of hard sci-fi—the android—Madeline Ashby crafts what The Guardian calls "a credible model for artificial life," a story of self-replicating Von Neuman machines whose empathy enslaves them to humans.
This first book in Ashby's Machine Dynasty series chronicles three generations of these vN androids.
Lightborn
Tricia Sullivan's high-tech zombie novel introduces the "shine," a technology that gives people the ability to reprogram their own minds, to get away from the "essential apehood" that we are all doomed to, as one character puts it.
But when something goes wrong, those who have used the technology become uncontrollably violent, leaving only those who haven't yet reached puberty intact.
Trapped within a city gone mad, 14-year-old Xavier needs the drugs that will help keep puberty at bay, while the military has started to suppress the city, block-by-block.
The Long Way to a Small, Angry Planet
Originally self-published, the Wayfarers series by Becky Chambers has become a mainstay of modern science fiction. It begins with The Long Way to a Small, Angry Planet, following Rosemary Harper and her journeys through space with the motley crew of the aging starship, Wayfarer. It's not glamorous, but the ship offers Rosemary a place to sleep and a chance to explore the galaxy. Most importantly, it gives Rosemary a chance to distance herself from her past.
The Wayfarer is full of strange characters, including the reptilian pilot Sissix and chatty engineers Kizzy and Jenks. When the crew is offered the job of a lifetime, Rosemary and the rest of the team must decide whether a lucrative paycheck is worth risking their lives. If they have any chance of finishing the job and getting out alive, they'll need to rely on one another in a way that Rosemary would really rather not.
This post is sponsored by Open Road Media. Thank you for supporting our partners, who make it possible for The Portalist to celebrate the sci-fi and fantasy stories you love.