Fantasy books are often gigantic tomes with sweeping storylines and epic stakes. The characters are weighed down by responsibilities, and typically face life-or-death situations with nothing less than the fate of the world on the line.
But sometimes, you want to be transported to a world that tends towards the lighter side of storytelling, where the hijinks and missteps are more the point than the quest. Here are nine fantasy books that will have you laughing as you turn the pages.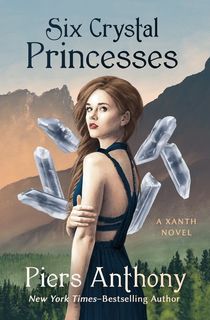 Six Crystal Princesses
In Piers Anthony's Six Crystal Princesses, life is good for Vinia. But her boyfriend, Ion, and his twin sister, Hilda, long for more than a pampered royal existence.
The twins tell Vinia the story of how their parents met after their mother escaped being frozen in crystal with other princesses in a dragon's lair. She survived, but left the six other girls behind.
And so, in search of adventure, Ion, Vinia, Hilda, and Hilda's caprine boyfriend decide to rescue them.
The fellowship seek the advice of the Good Magician, who assigns Vinia challenges to complete in order to free the girls. But none of them prepare her for the ultimate battle: freeing the princesses from the Dragon with the Girl Tattoo.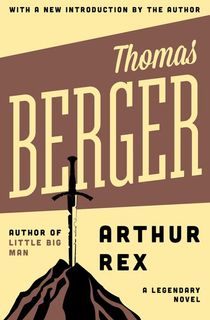 Arthur Rex
Everyone knows the tale of King Arthur and the knights of the Round Table. Or do they?
Sure, Arthur Rex is set in medieval England. But damsels aren't exactly in distress, and wizards, well' they have their own stylistic flair.
Fans of Arthurian legend will delight in this re-imagining of romantic heroes and sinister villains.
Kill the Farm Boy
In the magical world of Pell, a farm boy has been chosen to wake a sleeping princess from her tower. But first, he'll have to survive the attempts of the cheese-loving Dark Lord to kill him.
Along the way, the farm boy meets a host of bizarro fantasy tropes: an assassin who may be bested by chickens, a swordswoman who's afraid of her sword, a bard with a tale and a tail, and the Dread Necromancer Steve. Don't worry, they'll all get their happy-ever-after. Probably.
A delightful remix of fantasy tropes, Kill the Farm Boy is wild, absurd, and absolute satiric gold.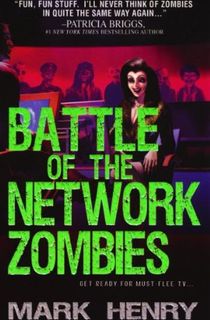 Battle of the Network Zombies
Maybe being one of the most beautiful undead isn't saying much, but Amanda Feral has a reputation to maintain. Unfortunately, her ad agency is losing money faster than her body is decaying, so she needs money fast.
The answer is to go on American Minions, a new reality television show hosted by sleazy wood nymph Johnny Birch.
When Johnny is found burnt to a crisp just days after Amanda moves into "Minions Mansion," she's determined to solve the crime and avoid becoming the next victim.
Battle of the Network Zombies is a laugh-out-loud mystery set in a vividly imagined world in which supernatural beings live side-by-side with humanity.
RELATED: Bone-Chilling Zombie Books So Good They'll Infect You
A Dirty Job
Charlie Asher is a normal guy. He has a normal life, a normal job, and is married to a normal wife. They're even expecting their first normal child! So it's very not normal when everyone starts dying all around him.
Turns out, Charlie Asher has been chosen for a new, very-not-normal job: the Grim Reaper.
The first in a duology, this is a dark but hilarious look at the day-to-day life of Death, full of irreverent glimpses of the underworld.
My Life As a White Trash Zombie
Angel Crawford isn't doing great. She has no degree, boasts a criminal record, and lives in a swamp with her drinker dad.
But then she wakes up in the ER without a single scratch after getting in a bad car crash—which is weird. Getting a new job at a morgue is weirder. But craving brains probably tops the weird scale.
To top it off, the morgue is filling up fast with the victims of a serial killer. And if Angel wants to keep ahead of a murderer with a penchant for decapitation, she'll have to pull her undead life together. Fast.
Dead Until Dark
When a Japanese company reveals they can bottle blood, vampires all over the world come out of the coffin.
Sookie Stackhouse doesn't mind that vampires exist. After all, she's telepathic.
So when vampire Bill Compton walks into the small-town bar and grill where Sookie is a waitress, she's immediately attracted to him—and shocked that she can't hear his thoughts. But when a string of murders occur in their tiny town, Sookie starts to wonder if maybe dating a vampire is a death sentence.
The first in the Sookie Stackhouse series, Dead Until Dark introduces a world filled with vampires, werewolves, fairies, and more.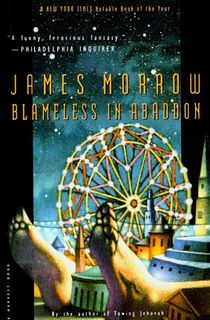 Blameless in Abaddon
If things seem off, it's because God is in a coma. And the Vatican sold God to Baptists in Florida, who then turned him into a Celestial City USA amusement park attraction.
Martin Candle has had enough of life's setbacks and decides God should be tried for crimes against humanity in the Hague. But in order to find evidence, he has to enter God's mind. And who knows what he'll find.
While technically a sequel, Blameless in Abaddon is satisfying as a standalone story. It's a sharp, witty adventure that entertains while also seriously examining theology.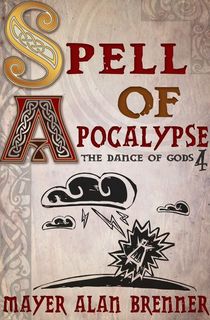 Spell of Apocalypse
Maximillian the Vaguely Disreputable knows an ill portent when he sees it. Like when the Great Karlini's lab goes up in smoke.
Now, mortals and gods prepare to battle one last time. But at the end of the war, will there be anyone left?
In this "amusing climax" to the Dance of the Gods series, readers get answers to the questions that have plagued them for volumes (Voya).
This post is sponsored by Open Road Media. Thank you for supporting our partners, who make it possible for The Portalist to celebrate the sci-fi and fantasy stories you love.