English-American author Piers Anthony has been churning out acclaimed sci-fi and fantasy novels since the late 1960s. With his old school (and occasionally punny) approach to the genres, he's created an extensive bibliography—and amassed legions of devoted readers. But which Piers Anthony books should you start with? Look below to see our recommendations!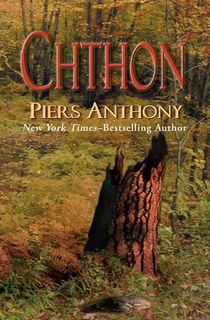 Chthon
While venturing through the woods surrounding his family's farm, Atom Five stumbles across a female creature who is named, quite ominously, Malice.
Despite obvious warnings that she isn't to be trusted, he embarks on an obsessive quest across his home planet, Hvee, to find her again…Published in 1967, Anthony's science fiction debut was a strong one: Chthon was nominated for Hugo and Nebula Awards.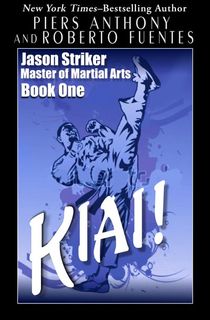 Kiai!
Anthony's career spans a wide range of genres, including film novelizations and writing collaborations. The Jason Striker books are the latter: Anthony co-wrote the series—which centers around the adventures of a martial arts master—with Robert Fuentes.
Kiai! sees the titular Striker compete in a fight-to-the-death competition, and has echoes of 1970s kung-fu movies like Enter the Dragon and The 36th Chamber of Shaolin.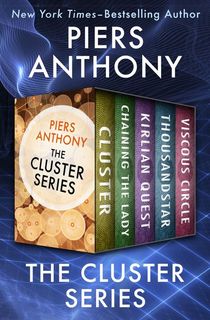 The Cluster Series
The first volume of Anthony's better-known sci-fi series introduces readers to a universe in which mankind has colonized other planets.
But humans aren't the only one with a presence in the galaxy, and conflict arises when an alien species aims to steal the Milky Way's "basic energy." Always fun and entertaining, the Cluster series was originally supposed to be a trilogy but, in a very on-brand Piers Anthony move, the author wrote more.
The Science Fiction Review called the ensuing series "original and fascinating . . . entertaining and beautifully written." Comprised of five novels packed with exotic beings, ancient secrets, and futuristic worlds, the Cluster Series is perfect for readers in search of a condensed journey through Anthony's epic imagination. Once you finishViscous Circle, strap in: the vast Xanth series is next!
A Spell for Chameleon
Anthony's fantasy novel A Spell for Chameleon follows an outcast whose fate depends on his ability to acquire the powers he lacks. But it's particularly noteworthy because of the world it introduces: Xanth. Anthony's most famous and enduring creation, Xanth has been the backdrop of his longest-running series of books.
How long, you ask? Including A Spell for Chameleon, there are more than 40 of these bad boys at the time of this writing—and that doesn't include the two confirmed titles currently in the works.
On a Pale Horse
The Xanth series is Anthony's longest and most famous, but its relatively lighthearted tone isn't to everyone's taste. For readers looking for more serious fare, the Incarnations of Immortality series may be the better choice.
It begins with this volume, On a Pale Horse, which sees suicidal photographer Zane accidentally kill Death itself. When Zane is forced to become the replacement grim reaper—sort of like The Santa Claus but with, uh, Death—he must grapple with the responsibilities and powers that come with it.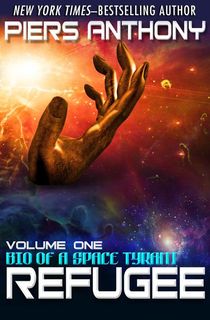 Refugee
Refugee kicks off another series by Piers Anthony, Bio of a Space Tyrant. In the future, Earth's inhabitants have populated the galaxy in insular ways—and thus, have perpetuated national and racial disparities on a solar system scale.
The narrator and hero is Hope Hubris (if you haven't noticed by now, Anthony isn't one for subtlety), whose family is struggling to survive on the moon Callisto.
Together, they flee to nearby Jupiter—which is governed by people from the American continents—only to face obstacles far more dangerous than they've known. You can expect more adult content from this story than you'd see in Anthony's earlier work.
Total Recall
Anthony is one of science fiction's titans, but his status hasn't given him a big head. Aside from being a hard worker, he's also maintained a democratic attitude towards all forms of writing—specifically, the oft-maligned film novelization.
Of all the works in this subgenre, Total Recall is a particularly unusual case. The 1990 film was based on a Philip K. Dick story—but the brevity of the source material, plus the movie's loose adaptation of it, left space for another interpretation. Enter Piers Anthony, whose version of a memory-wiped Martian spy is truly one of the best film novelizations ever written.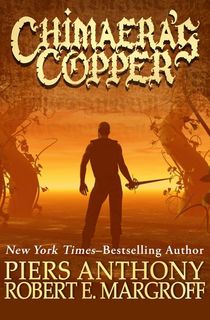 Chimaera's Copper
Anthony's Kelvin of Rud series, also known as the Roundear Prophecy, spirits you away to a dark and wondrous realm of sorcerers and golden-scaled dragons.
In this, the third entry, Kelvin must defend his kingdom from two vengeful foes: former witch-queen Zoanna and deposed king Rowforth. To make matters worse, Kelvin is trapped in a distant frame world with the Chimaera—a ferocious three-headed creature with a taste for blood. Can Kelvin escape in time to save all that he holds dear?
RELATED: 13 Science Fiction Books That Will Tickle Your Funny Bone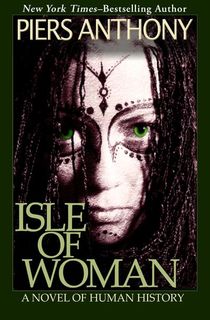 Isle of Woman
Anthony has never had an issue tackling ambitious projects, but Isle of Woman might be his most ambitious work of all.
In this first book of the Geodyssey series, Anthony paints a fictionalized portrait of the rise of our species—beginning with a single man and woman who must come together to spark the rise of human history and civilization. It's Anthony's own creation myth and also delivers an important message.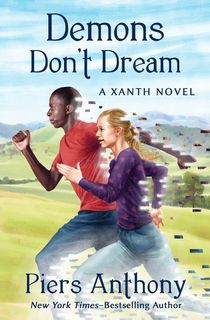 Demons Don't Dream
Anthony is in fine form here in this pun-packed novel, which follows Doug and Kim as they play the Companions of Xanth computer game (or 'Com Pewter,' as the case may be).
Like Ready Player One, Demons Don't Dream is set both inside and outside of the 'game,' and "contains plenty of the punningly named animals, vegetables, people and things (such as the Ice Queen Clone and the Censor-Ship) that have become the series' raison d'etre" (Publishers Weekly).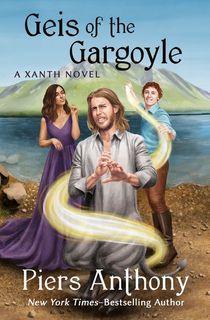 Geis of the Gargoyle
Gary Gar the gargoyle has a difficult task ahead of him: protecting the Swan Knee river from the pollution of Mundania.
He'll need to rely on the Good Magician and a mischievous human to protect the river — but when they're all transported back in time, they find themselves up a creek without a paddle.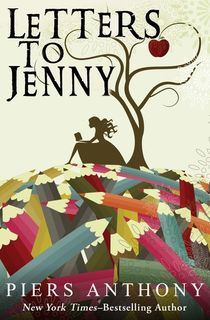 Letters to Jenny
This moving collection speaks to the power of connection and the lasting magic of the written word. In February 1989, Anthony received a letter from the mother of a twelve-year-old girl.
The girl's name was Jenny; she was severely injured and in a coma after a drunk driver hit her on her way home from school. Jenny was also a fan of Anthony's Xanth series. Jenny's mother hoped the author could write her daughter a letter—perhaps reading it aloud would elicit a response from the hospitalized girl. Anthony obliged, and proceeded to write a series of warm and encouraging letters to Jenny throughout the year.
Those letters are reproduced here, along with the author's commentary. Together, they offer a glimpse into the big heart of one of sci-fi's greatest writers. Jenny eventually emerged from her coma and now uses a wheelchair. Anthony named a Xanth series character after her in her honor.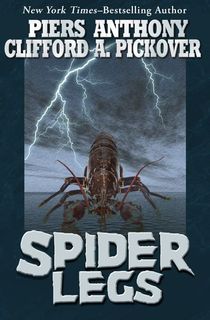 Spider Legs
Piers Anthony is known the world over for his stellar space narratives. In this eerie eco-fantasy, the author plunges into our oceans and imagines the uncanny creatures that lurk deep beneath the waves.
Written with non-fiction author Clifford A. Pickover, Spider Legs takes us to a not-so-impossible moment in time when humankind has laid waste to Earth and choked its waterways with pollution. But our callous indifference to the natural world awakens something monstrous from the deep—and it bites back.
RELATED: Uncharted Waters: A Few of Our Favorite Sea Monsters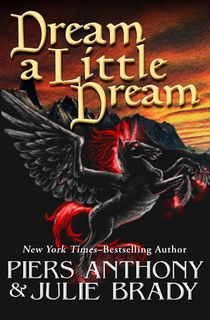 Dream a Little Dream
Anthony combined forces with debut author Julie Brady on this foray into the fantasy world of Kafka. Nola and Tina, two normal mortals, live miserable waking lives.
But during their dreams, they're Creators, capable of transforming the world of Kafka during their sleep. When Kafka starts to fall apart at the seams, two mysterious messengers intervene in Nola and Tina's difficult lives, to save the future of the dream world.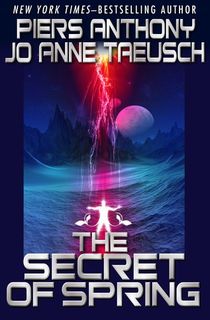 The Secret of Spring
This charming tale of leafy love is sure to make your heart blossom. Herb Moss is a part-plant, part-human hybrid on the planet New World. He's got a good job, a good life, and is engaged to marry his childhood sweetheart, Lily. But something worries his roots—the thirst for adventure.
Meanwhile, on the planet New Land, Spring dreams of a break from her enchanted life with her sorcerer father Gabriel. But when Gabriel dies under suspicious circumstances, it soon becomes clear that the old man possessed secrets—secrets he magically locked away inside Spring's mind.
With the dark wizard Zygote in pursuit of Spring's arcane knowledge, Spring has just one person she can trust: her new pen pal from New World, Herb. Ripe with humor and adventure, The Secret of Spring is a fantasy romance for wizards and botanists alike.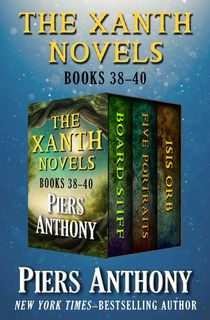 The Xanth Novels Books 38–40
It's not necessary to read the Xanth novels in order, so fans should feel free to skip to the more recent installments in the series. This set includes Board Stiff (2013), Five Portraits (2014), and Isis Orb (2016). As with the other books in the saga, these three novels are filled with magic, adventure, and—perhaps best of all—puns.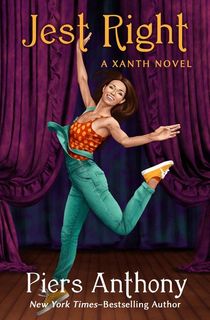 Jest Right
The 43rd Xanth novel Jest Right is just as punny as its predecessors. The story follows a woman named Jess, who is cursed to never be taken seriously. When she meets the fast-talking performer Magnus and the couple start an unconventional found family, Jess realizes that her curse can also be a gift.
As Jess and Magnus undertake an epic journey to visit the Good Magician, they uncover a winged threat to the land—and endure the typical Xanth quirks and quips along the way.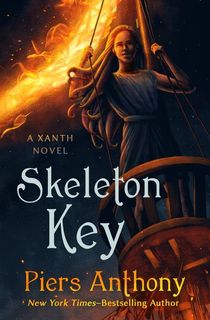 Skeleton Key
In Anthony's latest novella, extraterrestrial cuttlefish, demons, and a traveling dance troupe come together in a fight to protect Xanth from invading forces.
Filled with shapeshifting shenanigans and unlikely alliances, this latest addition to the Xanth series is brimming with Anthony's trademark humor and hijinks.
This post is sponsored by Open Road Media. Thank you for supporting our partners, who make it possible for The Portalist to continue publishing the stellar stories you love.