Halloween is the time of year when we invite a little bit of magic into the real world. We let our imaginations loose by bringing our favorite characters to life, reviving historical figures, or creating entirely new creatures. No matter who or what you decide to be this Halloween, we know you'll have some free time this Halloweekend. So we've used some of the most popular Halloween costumes to help you find your next favorite read.
If you're dressed as a witch...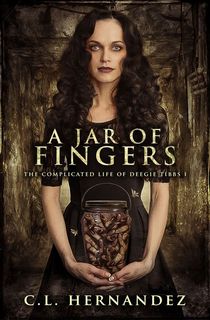 A Jar of Fingers
Deegie Tibbs is a complicated young witch. She prefers her spells a little off the wall, and her boyfriend to not hook up with her neighbor. So when a whole series of bad decisions forces her to live in the back of her bus—again—she jumps at the chance to buy a house on the other side of town. Too bad it comes with some ghosts, a jar full of fingers, and a demon. It's going to take all her creative spellcasting and some help from unexpected places to appease the ghosts and send the demon back to Hell.
Witches have always represented the misfit outcast women of society, those who don't quite fit the mold, and Deegie Tibbs embodies these characteristics wholeheartedly. This novel seamlessly weaves magical witchy lore into interesting, new facets of what it takes to be a modern witch.
If you're dressed as a rock star...
Metal Angel
When you want to be a rock star, even heaven is boring. At least, it is for Volos. Ditching his halo but keeping his wings, he sets out to live his dreams. But he doesn't have any experience with mortal existence, so he borrows his lyrics from Angie, a lonely daughter of a tyrannical preacher in the heart of the Bible belt.
When Angie hears her words on the radio, she's convinced heaven is calling her to Los Angeles. But when she gets there, both she and Volos are forced to face their inner demons and change in ways they never imagined.
Just like rock and roll, Metal Angel is a ton of fun. The characters are as flawed as the real-life rock stars we love, and there's plenty of melodrama. This is a book that struts onstage, plucking our emotions and exploring human nature. But by the end, the most important thing is that you enjoyed the show.
If you're dressed as a vampire...
Empire of the Vampire
27 years ago, the sun set for the last time and vampires began their war with humans. Gabriel de León is the last Silversaint. The brotherhood was once all that stood between the Empire and the monsters determined to make it their own. Now, at the mercy of the vampires, Gabriel is forced to divulge his life's story as the vampires aim to find and destroy humanity's last hope: The Holy Grail.
It doesn't matter if you like your vampires sparkling, mutating, or downright gory, this epic fantasy will satisfy all your vampire dreams. With four warring vampire houses, half-breed slayers, mercenary nuns, and rotting underlings, there are monsters aplenty within these pages. If you love vampires who swish their capes with endless drama while somehow managing to be utterly terrifying, this book is for you.
If you're dressed as a skeleton...
Gideon the Ninth
Gideon Nav was raised to be cavalier for the necromancer nun of the Ninth House. She doesn't intend on sticking around to live the rest of her life in servitude, but Harrowhark Nonagesimus has no intention of letting her go. Each house has been summoned by the Emperor to be tested. If she survives the deadly trial, Harrow will rise to become an immortal servant with endless power. To win, Harrow needs Gideon. But victory may be just as deadly for them all.
Whether you want to be a bone-covered necromancer nun, one of the skeleton minions conjured to do her bidding, or a bone-clad swordswoman, Gideon the Ninth has you covered. This book is one-part mystery, all parts mayhem, composed of bad decisions, nefarious deeds, and skeletons running amok through space.
If you're dressed as a pirate...
The Sin in the Steel
When Buc and Eld are hired to investigate a series of missing ships, they quickly learn that the trade routes are being targeted by a ruthless pirate queen. But getting them back is going to take more than sinking one pirate ship, because dead gods are watching—and they have plans of their own.
This book is a little bit Sherlock Holmes with a touch of Jack Sparrow and lots of genius disaster. There are mysterious puzzles layered within this plot, and Buc and Eld will delight fans who enjoy action-packed, smart and swashbuckling tales.
If you're dressed as a ghost...
Nothing But Blackened Teeth
Abandoned since the Heian era, the historical mansion seems like it's the perfect wedding venue for a group of ghost-loving friends. Or so they think. But the foundation sits on the corpse of a forgotten bride, and the walls are filled with girls who died to appease her. An evening of celebration turns into a surreal nightmare as the group realizes there's more than one bride waiting to be wed that night.
Short but brutal, this book will sink its blackened teeth into you, lingering and festering long after you close the cover. Not all ghosts are friendly, and this one will definitely make you want to sleep with the lights on.
If you're dressed as a princess...
Blood Heir
Anastacya Mikhailov is an Affinite. She can control blood, making her deadly and one of the most terrifying Affinites in Cyrilia. She's also the crown princess, and her family has kept her ability secret. But when her father is murdered, she's the only suspect.
Determined to find her father's killer, Anastacya escapes her palace prison only to find herself enmeshed in a conspiracy that extends far beyond the palace walls. With only a crime lord to help, Ana has to find the truth before forces turn her into the monster she's always feared herself to be.
Blood Heir is perfect for princess fans who like their royalty a little on the empowering side. This princess doesn't need a prince to save her, and instead learns how to love herself while embracing her power.
If you're dressed as a superhero...
Chosen Ones
Five ordinary teenagers with superhuman abilities were prophesied to defeat the Dark One. And they did. Now, 15 years later, they're all living in the aftermath of that trauma. But when one of them dies on the tenth anniversary of the Dark One's defeat, they discover that their old nemesis had a plan far more nefarious than anyone ever imagined.
With a slightly different take on the chosen one trope and the superhero story, Chosen Ones asks what happens after you save the world. Fans of gritty characters and a supernatural plot that explores adult themes of addiction, PTSD, grief, and fame will find plenty to love within these pages.
If you're dressed as a zombie...
The Living Dead
What starts with one body that won't stay dead quickly spreads across the country. Pockets of humans fight against their friends and family as they rise. But the dead aren't the only ones survivors have to watch out for.
The Living Dead is more than a sequence of mindless zombies running through a series of jump-scare scenes. The story spans fifteen years, has multiple character perspectives in various locations, and is loaded with heart. Come for the zombies, stay for the survival, but scream at the people.
If you're dressed as a cowboy...
The Six-Gun Tarot
Golgotha, Nevada is known for strange events. The town hides plenty of secrets, like half-coyote humans, a secret order of assassins, and mythical treasures. But when a primordial darkness wakes in an abandoned silver mine on the outskirts of town, it's going to take the combined effort of everyone who lives in Golgotha to save not just the town, but the world.
Within a few pages you'll feel the dust on your skin and the sun on your back. This vivid book captures the rogue, lawless essence of the Wild West. A group of misfits hiding from their pasts form a town and protects it with everything they have. This book is action-packed, nuanced, and just like the desert, it's filled with plenty of surprises.
If you're dressed as a cat...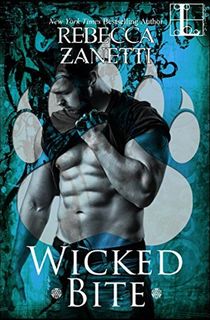 Wicked Bite
Nessa Lansa is hunting down the drug lord who killed her fellow witches. And everything is pointing her to a shifter biker gang. She plans on seducing the alpha and then betraying him, but Bear is more than just the strong and silent type. And he doesn't trust Nessa at all. They both want something from each other, but getting what they want has a higher price than either may be willing to pay.
This sexy shapeshifter book cover all the bases. It's action-packed, thrilling, and has plenty of smoking-hot moments to make even the sexiest costume blush.
This post is sponsored by Open Road Media. Thank you for supporting our partners, who make it possible for The Portalist to celebrate the sci-fi and fantasy stories you love.