Whether discovered through the books, the video games, or the Netflix adaptation, The Witcher has amassed quite a following. For decades, fans have eagerly followed the adventures of Geralt of Rivia.
If you're new to the world of The Witcher or perhaps just need a refresher, we have a breakdown of everything you need to know to jump right in. There's lots to love about the world of the series, from its well-developed medieval fantasy setting to its overarching plot of magic, monsters, political intrigue, and questions of morality.
If you've been missing Geralt's world or just want to gear up before the second season of the Netflix adaptation drops on December 17th this year, here are 12 books like The Witcher.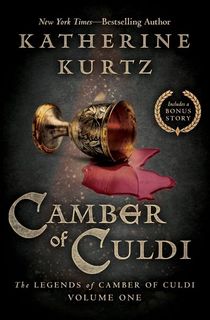 Camber of Culdi
In the kingdom of Gwynedd, the Deryni are a magical race whose skills set them apart from regular humans. For the past 100 years, the kingdom has suffered under the iron fist of the Festils, a group of Deryni who used black magic to usurp the throne.
Camber, a respected Deryni noble, abandons his servitude under the evil King Imre when the tyrant causes the death of his son. Driven by a thirst for vengeance, he sets out on a quest to find the last descendant of the Haldanes, the usurped rulers of Gwynedd.
Camber will have to convince this reluctant heir to take on the mighty Festils before Gwynedd falls into turmoil for good.
RELATED: Sword and Sorcery Fantasy Books to Lose Yourself In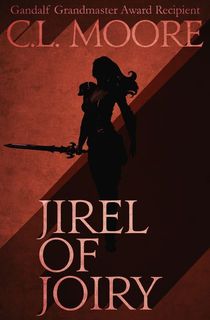 Jirel of Joiry
This collection of stories follows the adventures of one of fantasy's original female warriors, Jirel of Joiry. Honor-driven, fearless, and occasionally arrogant, Jirel is the ruler of her own domain and is not afraid to fight her own battles.
Author C. L. Moore was a pioneer in the world of women-written fantasy, who was not afraid to shy away from violence in her work. In her stories, Jirel regularly faces off against magic, monsters, and even gods.
Moore introduced the character to the world by having Jirel fight through the most perilous terrain of all, Hell itself.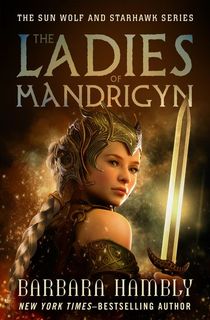 The Ladies of Mandrigyn
When the town of Mandrigyn falls to the expanding empire of the powerful wizard Altiokis, its women are determined to fight back.
In need of training to face the unmatched power of their foe, the women turn to the infamous mercenary Sun Wolf. Although he too has laid waste to many towns, Sun Wolf knows fighting Altiokis and his magic is a fool's errand, and refuses the women's request.
However, Sun Wolf will soon find that the ladies of Mandrigyn are much more determined than he thought.
RELATED: 36 Must-Read Fantasy Book Series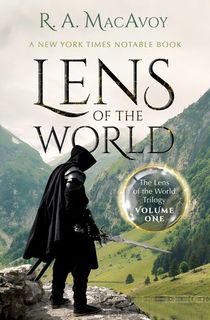 Lens of the World
After being kicked out of the military Royal School of Soralding, Nazhuret finds himself without a place in the world. He never knew his parents and has lived his entire life as an outcast. Then everything changes when he finds a mentor in the mysterious Powl.
An eccentric master of optics, Powl trains Nazhuret physically while also teaching him astronomy, languages, and swordsmanship. Equipped with his new skills, Nazhuret sets off on a dangerous journey to take his destiny into his own hands in this fantastical coming-of-age story.
RELATED: The Best Completed Fantasy Series, As Chose By Our Readers
Black Leopard, Red Wolf
Tracker, a man with the nose of a wolf, has been tasked with finding a boy who has been missing for the past three years. In his quest, he is joined by Leopard, a shape-shifter and Tracker's ex-lover. As they follow the boy's scent from city to city, Tracker, Leopard, and the rest of the group looking for the boy are routinely attacked by mysterious creatures that seem to be set on stopping them.
In this story inspired by African history and mythology, what begins as a search for a missing child evolves into an adventure that calls power and truth into question.
RELATED: Black Science Fiction and Fantasy Authors You Need to Read
The Traitor God
Exiled from his home for 10 years, dangerous magician Edrin Walker returns to the city of Setharis with vengeance on his mind. His friend Lynas has been murdered, filleted alive by a mysterious man, and the magical connection between him and his friend forced Edrin to feel every cut.
Lyras had seemingly fallen victim to a secret he had recently discovered that now threatens the whole city, and it's now up to Edrin to find his friend's killer and save the city that rejected him.
RELATED: Epic Fantasy Book Series That Deserve to Be Discovered
The Chronicles of the Black Company
The Black Company is a mercenary group in service of an entity known only as the Lady. She is the only thing standing between humanity and evil, except many worry that she herself has dark motivations. The members of the Company have their doubts about the Lady as well, but see no other option than to do what they are asked.
Until word reaches the company that the White Rose, who once led a successful rebellion and overthrew the empire ruled by the Lady, has been reborn. With the long-promised prophecy seemingly fulfilled, the Black Company sets out to find the legendary hero.
The Poppy War
In this fantasy adventure inspired by multiple eras of Chinese history, one girl's recently discovered shamanic powers may be her people's only hope, but victory may come at a terrible price.
It shocks nearly everyone when Rin, a dark-skinned, orphaned peasant girl from the south, aces the Empire-wide test to find the most talented youth and is given the chance to enroll in the most elite military school in the country.
Quickly made an outcast at school, Rin finds a distraction in her newly-discovered powers, gifted to her by a god once thought to be dead. With war brewing on the horizon, Rin must face a choice between defending her home and losing her humanity.
Assassin's Apprentice
The illegitimate son of the prince, Fitz has been an outcast his whole life. In addition to his royal blood, Fitz was born with the Wit, a mysterious and dangerous magic that allows him to talk to animals. Having been raised by his father's stableman, Fitz enjoys a quiet life communing with nature, until his grandfather King Shrewd secretly selects him to train as a royal assassin.
While raiders attack the coasts leaving their victims in a bizarre state that renders them more animal than human, Fitz juggles his training with the many secrets of the court. As he faces his first mission as an assassin, this bastard threat to the throne finds himself his kingdom's only hope.
Spinning Silver
When her family falls on hard times, Miryem takes over her father's money-lending business. After she boasts that she can turn silver into gold, she unwittingly attracts the attention of the king of the Staryk, a group of fey who have slowly been encroaching on human lands. In order to save herself, Miryem must figure out how to do the impossible along with two unlikely allies.
Inspired, likeThe Witcher, by Eastern European folklore, Spinning Silver is a thrilling story of magic led by three powerful female protagonists.
RELATED: Author Naomi Novik on the Importance of Female Friendship in YA
Incursion
Anskar DeVantte has been training to become a knight-sorcerer for years, and he is now ready to face their brutal initiation trial. Seventeen years prior, the knights overthrew and killed the Necromancer Queen, but her fanatical followers still remain.
Soon, tension grows between Anskar and the knights as his concerning, dark powers begin to manifest. When the queen's followers take an interest in him, Anskar must decide who he really is, and where his loyalties lie.
The Blade Itself
Barbarian Logan Ninefingers' many escapades have left him with more enemies than friends, and the number of people hot on his tail has increased.
Then he meets Bayaz, a mage who is either a legendary wizard or a complete liar, who draws Logan into a deep conspiracy that ties his fate to a selfish nobleman officer and ruthless inquisitor. Together, the men must navigate a world on the brink of war where the line between good and evil is murkier than ever.
This post is sponsored by Open Road Media. Thank you for supporting our partners, who make it possible for The Portalist to celebrate the sci-fi and fantasy stories you love.