What is it about heist stories that make them wildly, gloriously addictive? Perhaps it's the goosebumps-inducing thrill of high stakes, risks, and danger. Perhaps it's the careful plotting and attention to detail that are needed to develop grand schemes while skirting around sophisticated security systems. Or perhaps it's the endearing ensemble of ragtag misfits and unlikely allies.
Whatever the reason, the enjoyment that comes from these stories remains undeniable and unparalleled! On that note, here are 13 of the best science fiction and fantasy heist books that are bound to excite the adrenaline junkie and thrill-seeker inside every reader.
Among Thieves
Within the five kingdoms of Thamorr, Ryia Cautella's deadly blade is infamous.
When unexpected circumstances force her to team up with a crew of smugglers and murderers fueled by their own self-interests, she must protect her secret as they set off on a perilous quest to steal the corrupt Guildmaster's source of power.
This high fantasy novel is great for readers who are fond of sharp-tongued, quick-witted characters always looking for a chance to betray each other.
The Black God's Drums
Set in an alternate history New Orleans, this novel follows a desperate thief with a god-gifted secret, and a tough-minded captain with a coveted airship. The pair must work together to foil a treacherous plot involving a deadly weapon that may endanger the entire city.
In contrast to most books on this listicle, this steampunk novella is a fantastic read if you're interested in stopping a heist instead of planning one. I personally recommend listening to its audiobook format for a more immersive experience.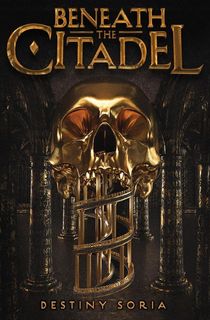 Beneath the Citadel
In a city steeped in tradition, five teens attempt to expose government corruption among oppressive high priests through the ultimate heist. However, they soon find themselves trapped by an impossible choice: destroy the wicked, monstrous entity dwelling underneath the citadel, or help it destroy the corruption above.
Told through multiple perspectives, this YA fantasy standalone offers queer representation, political intrigue, and a gripping exploration of moral complexities, destiny, and predestination.
Deal With the Devil
Marketed as Orphan Black meets post-apocalyptic Avengers, Deal with the Devil follows an ensemble cast of mercenary librarians and rogue super-soldiers who must secure a treasure trove of lost 21st century data. All this is set against the backdrop of a crumbling society wrecked by solar flares.
Teeming with action, romance, and potential betrayal, this near-future dystopian is an engaging and gripping ride—with an incredibly unique premise to boot! Who wouldn't be interested in a story with libraries, genetic engineering, and two found families?
The Disasters
Following a shocking terrorist attack on Ellis Station Academy, a team of school dropouts is framed for atrocious crimes and forced on the run. Desperate to clear their names, they must pull off a perilous heist to share the truth throughout the galaxy.
True to its title, this book offers a disastrously fun space romp filled with messy queer characters, high-stakes adventure, and interstellar shenanigans.
Mistborn: The Final Empire
The Skaa have been hopelessly enslaved by a powerful tyrant for centuries. When Kelsier acquires magical abilities, he sees an opportunity to achieve his ultimate dream of freedom for his people. This vengeful thief and his elite criminal crew must attempt to overthrow the Lord Ruler and end his reign of terror.
The Final Empire is a masterful fantasy saga from highly acclaimed author Brandon Sanderson, who is lauded for his epic worldbuilding and incredible writing style.
The Gilded Wolves
When the dangerously powerful Order of Babel coerces Séverin Montagnet-Alarie into finding an ancient artifact hidden somewhere in the glamorous heart of 1800s Paris, he and his dynamic crew of unlikely experts just might alter the course of history altogether.
Aside from offering incredibly atmospheric storytelling, this YA urban fantasy offers much-needed nuances regarding colonialism, historical revisionism, and cultural erasure.
The Last Magician
Within a city depleted of its magic, Esta is a valuable resource. Her ability to manipulate time and unparalleled skill in stealing magical artifacts makes her the perfect candidate for a dangerous quest: traveling back in time to protect an ancient book from being destroyed by a fearsome enemy.
The Last Magician is a good pick for readers who enjoy time travel stories, slow-burn romance, and secret societies.
Little Thieves
Vanja leads a double life as princess and jewel thief, until an attempted heist goes terribly wrong. Now cursed by a god as punishment for her greed, she must pull off the most ambitious grift of her life to save it.
For fans of reimagined fairy tales and morally complex protagonists, this YA fantasy novel is sure to become an instant favorite!
Want
In futuristic Taipei, a group of frustrated teens seeks to infiltrate and expose an intimidating, influential corporate giant for intentionally producing pollution.
Want is perfect for readers who prefer their dystopian books with thoughtful dissections of socioeconomic divides, capitalism, and man-made environmental degradation.
The Lies of Locke Lamora
Locke Lamora was born to be the world's greatest thief. A liar from birth, orphaned at a young age, Locke is raised and taught by a gifted con artist. Years later, Locke and his Gentleman Bastards have made a reputation for themselves in the island city of Camorr. They are not afraid to take on the most hardened criminals, or even the most powerful rulers. Anyone and everyone can find themselves the victims of his elaborate cons—even Locke, who must choose between his morals and his ambitions.
There are currently three entries in the Gentleman Bastard series, which is currently on hiatus.
Six of Crows
The Portalist has covered Leigh Bardugo's Six of Crows and the popular Netflix adaptation Shadow and Bone, but if you haven't experienced the underworld of Ketterdam, here's one more reminder. The story follows antihero Kaz Brekker and his crew of extraordinary young adults: A convict who seeks revenge, a spy known as the Wraith, a sharpshooting prodigy, and more.
Every single member of the crew gets a chance to shine, and the relationships between the protagonists will keep you as riveted as the heist caper plot.
The Legend of Eli Monpress
Typically, thieves spend their time thinking about the money they're going to steal. Eli Monpress, a thief who can sweet-talk even locked doors and solid walls into his schemes, doesn't think that way. While Eli has stolen plenty of valuable treasures, his real goal is to increase the bounty on his own head and grow his own legend.
What better way to do that than to steal a king? With the help of his two partners—a warrior with a talking sword and a demonseed girl who can step through shadows—Eli will sneak, bribe, and charm his way into your heart.