Lots of fantasy readers — and writers — got their start reading Mercedes Lackey, who published her first novel, Arrows of the Queen, in 1987.
And once someone becomes a Mercedes Lackey fan, well, there's no shortage of other books to choose from. Lackey has been called one of the most prolific sci-fi and fantasy writers of all time by io9, and since 1987, she has produced a little over five books a year, on average, for a total of more than 140 novels to her name.
That's a reassuring thought, for someone afraid they might run out of new works by their favorite author. But it can also be extremely daunting for new readers to know where to start with Mercedes Lackey's work. Fortunately, there are lots of different entry points and avenues into the celebrated author's oeuvre—and we've got a guide to 10 Mercedes Lackey books that will leave you spellbound.
Arrows of the Queen
Mercedes Lackey's first novel is also the beginning of her longest-running and most popular fantasy series, set in the world of Valdemar.
This is where it all began, in the simple story of Talia, a young woman who is chosen by her equestrian Companion Rolan and eventually becomes one of the Queen's Heralds. Talia's adventures continued in two sequels forming the "Arrows trilogy," but readers' exposure to the world of Valdemar had just begun, and would continue in dozens more books over the years.
RELATED: 18 Fantasy Books for Teens: Magical Tales of Adventure and Adolescence
Foundation
Though Lackey has continued to regularly write new Valdemar novels throughout her long and prolific career, there have been breaks.
One such occurred between 2003 — when she published Exile's Valor, the last of a trilogy of prequels to her 1987 Arrows of the Queen — and 2008, when she released Foundation, the first novel in a new series. It was also the first Valdemar novel in five years, the longest the series had lain fallow since 1987.
The order in which the novels were published doesn't always reflect their internal chronology, either. Foundation introduces readers to Magpie, a new inductee into the Heralds in a time before the days of Talia from Arrows of the Queen.
RELATED: Impactful Female Science Fiction and Fantasy Authors
Spy, Spy Again
Magpie would go on to star in most of the Valdemar books published after 2008 — nearly a dozen, in all. That includes the most recent, Spy, Spy Again, the third in the "Valdemar: Family Spies" series, which was published in 2020.
By this point in the story, Mags has a family of his own, and his children — including Tory, who has the Gift of Farsight — are learning the family business.
RELATED: 11 Young Adult Fantasy Books to Cast a Spell on Readers of All Ages
The Black Gryphon
Many of Mercedes Lackey's novels are co-written with her husband, Larry Dixon, including this first installment in the "Mage Wars" trilogy, which takes place in the prehistory of her popular Valdemar setting.
Set thousands of years before the events of most of the other Valdemar books, this series gives readers a window into what life was like before the formation of the Heralds.
Burning Water
Just two years after the publication of her first novel, Mercedes Lackey introduced readers to Diana Tregarde; a witch in a modern-day world populated by vampires, werewolves, dragons, elves, and other fantasy creatures.
When Burning Water was first released in 1989, positive depictions — even fantastical ones — of the beliefs of Wiccans and neopagans were rare, and the Diana Tregarde books had the distinction of making their way onto the recommended reading list of the Covenant of Unitarian Universalist Pagans.
Hitting before the big boom of urban fantasy, the Diana Tregarde universe was later folded into some of Lackey's other series, including the Bedlam's Bard and SERRAted Edge series, the latter of which is about elven stock car racers.
RELATED: 20 Fantasy Books Featuring Teens with Magical Abilities

Sacred Ground
This standalone novel follows Jennifer Talldeer, a Native American private investigator who looks into a case concerning missing tribal relics while also learning magic from her grandfather.
Legacies
In addition to dozens of solo novels, Mercedes Lackey is known for her innumerable co-writing credits with some of the biggest names in science fiction and fantasy.
In 2010, she and co-author Rosemary Edghill co-created the Shadow Grail series, which follows a group of teens who are made wards of a combination school-cum-orphanage in Montana. There's a twist, of course, in that the students there all have magical gifts, making the setting something of a cross between X-Men and Harry Potter, but as only Mercedes Lackey could do it.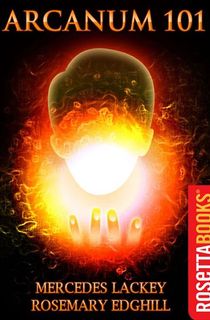 Arcanum 101
Not to be confused with a Diana Tregard novella of the same name, Arcanum 101 is a previously-unreleased novel co-written by Lackey and Rosemary Edghill, occupying a similar space in their popular Shadow Grail series.
In it, readers meet Tomas Torres, who can start fire with only his will. After being arrested for arson, Tomas finds himself sentenced to a school for people just like him — students of all ages with unique gifts, ranging from precognition, to witchcraft, to healing and teleportation.
Jolene
One of Mercedes Lackey's most popular newer series is the "Elemental Masters." It's set in an alternate-history version of 20th century Earth, where magic exists and some fictional characters — including Sherlock Holmes — are real.
While many of the stories intermingle, each one is based on a different fairy tale. The most recent, Jolene, is a retelling of "The Queen of the Copper Mountain." While most of the "Elemental Masters" books are set in England, Jolene takes the action to the coal country of Tennessee.
The Fairy Godmother
The first book in the "Five Hundred Kingdoms" series, The Fairy Godmother introduces readers to the Tradition. In essence, this is a magical narrative force that makes stories play out a certain way. Those with an understanding of it can affect the narrative to shape the stories of their lives in ways either subtle or significant.
While based on fairy tales, like many of Lackey's stories, The Fairy Godmother takes an unexpected route, resolving the fairytale heroine's story partway through when she becomes a fairy godmother herself, and then must contend with the perils and pitfalls of the job.