Even though science fiction is somewhat a male-dominated field, the genre was founded by and continues to be shaped by women.
At the age of 18, Mary Shelley penned Frankenstein (1818), often considered to be the first SF novel. In 1908, Bengali feminist thinker Begum Rokeya wrote Sultana's Dream, set in a utopian world ruled by women. Over the years, prominent women writers in sci-fi, including Ursula K. Le Guin, Octavia Butler, James Tiptree Jr., and Joanna Russ have explored different ways to dismantle or negotiate with patriarchy in their works.
Associated with the New Wave in American science fiction, Russ wrote several thought-provoking novels, short stories, essays, and books of criticism. She also championed slash fiction, authored many pieces about feminist readings of pornography, and even came out as a lesbian in 1975. Her critical pieces are often incisive and angry, but tempered by a wry humor. Fearless in challenging male hegemony in the field and beyond, Russ carved out an important space for feminist sci-fi and scholarship.
The Joanna Russ books and anthologies listed below provide a useful entry point to one of the most important female SF writers of the last century.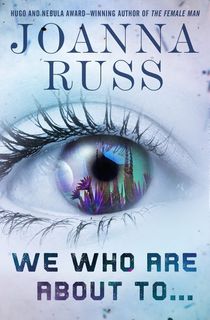 We Who Are About To . . .
We Who Are About To is a feminist philosophical novel that details the predicament of a group of people stranded on an empty planet. When the male members decide to perpetuate the human race by raping and impregnating the women, one female tourist categorially rejects that decision and vows to kill herself.

Via a protagonist faced with the possibility of extinction and imminent death, Russ skillfully untangles how human motivations and survival instincts are often influenced by gender roles.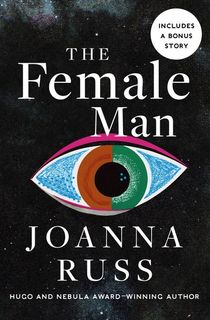 The Female Man
The most famous and ambitious of Russ' novels, The Female Man is set in a multiverse. It tells the stories of four women (often theorized to be different aspects of the author herself) living in four parallel realities.
In The Female Man, not only does Russ try to imagine a world without men, she also highlights how sexist ideology often defines and limits a woman's imagination and her place in society.
The Adventures of Alyx
Nowadays, both fantasy and science fiction are populated with strong-willed female protagonists, but back in the day this was a rarity.
Yet throughout the late 1960s Russ wrote several short stories about Alyx, a clever female assassin who journeys across time and space. The Adventures of Alyx collects five of these stories in a definitive volume.

Interestingly, the character of Alyx also makes a cameo appearance in many of Fritz Leiber's Fafhrd and the Gray Mouser tales.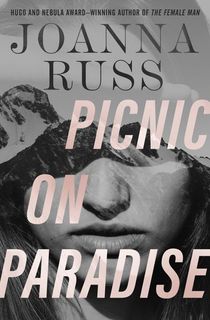 Picnic on Paradise
Russ began her illustrious career in science fiction with a short story sale to the Magazine of Fantasy and Science Fiction in 1959. She published her first novel, Picnic on Paradise, almost a decade later in 1968.
The novel is actually a continuation of her 'Alyx' stories, and is included in the anthology mentioned above. In Picnic on Paradise, Alyx is an agent of the Trans-Temporal Authority and has to guide a group of tourists across an alien landscape.
A multi-layered story, Picnic on Paradise challenges normative ideas about gender and technology, despite being couched in an action-packed pulp fiction vein.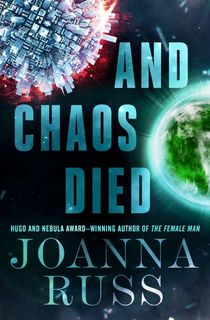 And Chaos Died
Published by Ace Books in 1970, And Chaos Died is a dystopian book that explores the ramifications of over-population and government control.
The novel contrasts two planets—one ravaged by over-population and under bureaucratic control, and another where humans live in harmony with the natural world and have even developed powers of telepathy, telekinesis, and teleportation.
However, modern readers are advised to read the novel with some reservations, as there is a plot point about "curing" the main character's homosexuality.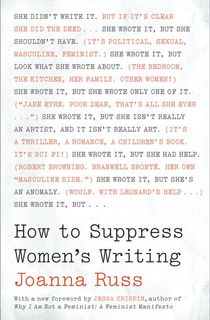 How to Suppress Women's Writing
A must-read feminist classic, How to Suppress Women's Writing is written in the form of a guidebook. As the title suggests, it highlights all the ways female voices have been erased or belittled over the years.
With the tongue-in-cheek cover art, this book is a lovely introduction to Russ' acerbic writing style, and is a scathing commentary on how patriarchal and other systemic forces have conspired to silence women's voices, not just in fiction but in other media as well.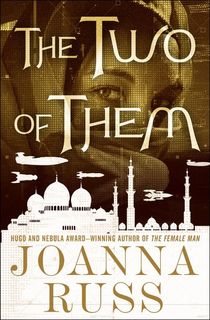 The Two of Them
The Two of Them is a powerful exploration of female solidarity, filled with characters who are angry, flawed, and convincing.
Set in a future sexist society, the novel has received some flak for being bleak and pessimistic. Yet the cynical tone also emphasizes the oppression that is the lived reality for so many women, across cultures, even today.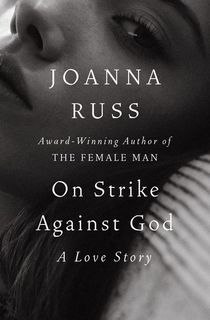 On Strike Against God
Russ' novels reflect the patriarchal world she lived in, and her characters search for different ways to question normative beliefs, challenge the system, and reclaim their agency.
The trend continues in On Strike Against God, a novella that also tackles queer themes with its humorous and insightful lesbian love story.
Kittaninny: A Tale of Magic
In 1978, Russ also published the children's book Kittatinny: A Tale of Magic, featuring a quaint cast of characters that includes a satyr and a mermaid, among others.
The quest narrative offers a revisionist take on several fairy tale motifs in a charming and refreshing way. So, if you're in the mood for a coming-of-age feminist fantasy, give this one a read.
To Write Like a Woman
Throughout her career, Russ wrote essays and reviews in leading journals and magazines about feminism and science fiction. Not only did she criticize masculine modes of writing, her careful citations and documentation hugely influenced the next generation of feminist scholarship.
To Write Like a Woman collects some of her popular essays in a single, introductory volume. The opening essay, "Towards an Aesthetic of Science Fiction," draws a parallel between science fiction and didacticism in medieval literature. It also argues that science fiction is "fundamentally a drastically different form of literary art" that needs to be judged using a different set of critical tools, unlike other forms of literature.
Moreover, since much of her critical writing is in a lucid and accessible tone, this collection is sure to appeal to casual fans of the genre as well as readers who may not be familiar with academic jargon or theory.
This post is sponsored by Open Road Media. Thank you for supporting our partners, who make it possible for The Portalist to celebrate the sci-fi and fantasy stories you love.