As a child, I was a quick reader, finishing several books in a week. Fed up with my demand of buying more books, my parents got me a library membership. The local library, with its long row of shelves that seemed to stretch on indefinitely, felt like a magical space—a portal that could transport me to not one, but multiple wondrous universes.
Even though the internet brings all the knowledge in the world to our fingertips, it is no match for a library's old-world charms. A public reading room is not only a safe space for kids and adults alike, but it (and the lovely librarians within!) also expands one's reading tastes, prompting a person to explore different genres or check out unfamiliar authors.
From the Restricted Section in the Hogwarts library in the Harry Potter series to the Cemetery of Lost Books in Carlos Ruiz Zafón's The Shadow of the Wind, encountering fictional libraries in books often brings back that childlike sense of awe and magic.
Stuffed with secret bookcases, ancient grimoires, and all the books never to be found in the real world, you'll absolutely love getting lost in the magical libraries of these fantasy novels!
Sandman Vol. 1: Preludes & Nocturnes
Neil Gaiman's acclaimed comic series, The Sandman (illustrated by various artists) masterfully straddles myth and magic, in both historical and modern-day contexts. With several stories carefully woven into the frame narrative, graphic novels tell the story of Dream/Morpheus of the Endless and his six dysfunctional siblings.
In Morpheus's realm (known as the Dreaming) there exists a wondrous library filled with every book ever imagined or dreamed up—even if they have never been written or published in the real world.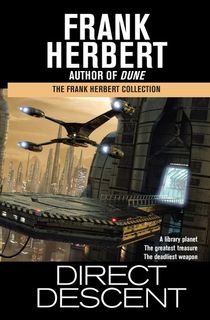 Direct Descent
Frank Herbert is perhaps best known for his iconic novel Dune. But in 1980, he published Direct Descent, a short book, filled with lovely illustrations, in which Earth has been turned into a library planet.

A group of Archivists, sworn to obey the government, is tasked with protecting the vast and esoteric knowledge that has accumulated on Earth over the centuries.
Divided into two stories, Direct Descent plays around with a few concepts and can be finished in a single evening.
The Starless Sea
The Starless Sea is a phantasmagorical novel. It unfolds the story of one Zachary Rawlins—a student who comes across a strange book in the library that contains stories about him, including an incident from his childhood. It sets him off on a magical quest.
From secret societies and literary masquerades to stories-within-stories, and an underground magical library that is under threat—this book has everything, including a queer romance, to make it an unforgettable read.
The Midnight Library
In the 19th-century religion Theosophy, the concept of the Akashic Records—a compendium of all events, experiences and thoughts, in the past, present and future—is pretty popular.
Matt Haig's feel-good book riffs on that idea. The 'Midnight Library' (which exists between life and death) is filled with books, each containing a story of what happens in a parallel reality. Thus, there exists a book for every choice one has (or has not) made.
Nora Seed, the novel's protagonist, stumbles upon the library during a failed suicide attempt. Filled with regret and heartbreak, Nora gets multiple chances to relive her life, to eventually find peace and contentment.
The Library of the Unwritten
It isn't uncommon for writers to leave behind unfinished drafts or abandon novels for a new project. In A.J. Hackwith's brilliant imagination, these unfinished books end up in the Library of the Unwritten in Hell.
The librarians, here, have the special task of tracking down restless characters who might escape the realm in search of their writers. As such, chaos and hijinks ensue.

The first book in the author's promising Hell's Library trilogy, The Library of the Unwritten is fun, innovative, and hugely entertaining.
Jonathan Strange & Mr. Norrell
Set during the Napoleonic Wars, Susanna Clarke's debut novel offers an alternate and detailed imagining of English history—if magic existed in England.
Written in a Dickensian style and filled with footnotes, the story focuses on the relationship between two men—Mr. Norell, a "practical magician" with his own private library of magical tomes that he has slowly collected over the years, and his pupil, Jonathan Strange.
The Name of the Wind
Lovers of high fantasy are sure to adore The Name of the Wind, the first book in The Kingkiller Chronicle.
In a series of flashbacks recounted by a mysterious innkeeper of Waystone Inn, the book narrates the misadventures of one Kvothe—right from when he was a child, traveling with a troupe of performers and the years he spends living in the slums as a pickpocket, and to his escapades at university where he trains as a magician.
In fact, Kvothe enrolls in the university to get access to the Archives that are filled with all sorts of magical and esoteric knowledge—and is later banished from it.
The Strange Library
Some of us may have nursed a fantasy of being trapped overnight inside a library (alone, or with a special someone).
Murakami's novella sort of deals with this premise, wherein a young boy is imprisoned in a labyrinthine library and meets a variety of strange characters.
Although intended for children, The Strange Library is written in the vein of his trademark whimsy, magic realist style, and makes for an enriching (if a little unsettling) read for adults, too.
The Library at Mount Char
If you're in the mood for some fantastical horror, Scott Hawkins's debut novel, The Library at Mount Char is worth checking out.
After the death of her parents, Carolyn and her adopted siblings have been raised by a figure called the 'Father', who has a library filled with supernatural secrets. But when 'Father' goes missing, it falls to Carolyn to prepare for a fierce battle.

Filled with suspense, visceral horror and macabre details, The Library at Mount Char is a thrilling page-turner.