The Sandman, written by Neil Gaiman and illustrated by various artists, is an ambitious series of graphic novels that straddles the genres of dark fantasy, myth, science fiction, horror, folklore, and Americana. It tells not one but multiple interconnected stories about the gods, common people, and the mysteries of the universe.
While the frame narrative is the tragic tale of Morpheus/Dream (who is also the Prince of Stories) and his six dysfunctional siblings (Destiny, Death, Desire, Destruction, Delirium, and Despair), other characters from history and myth also make an appearance. This includes William Shakespeare, Lucifer, fairies, and even the Norse trickster god, Loki.
If you've read and loved the series and you're on the lookout for similar storytelling, then these comics and books like The Sandman will be a dream come true.
The Starless Sea
After the stupendous success of The Night Circus, Erin Morgenstern returned to enchant her fans with The Starless Sea, which is a love letter to storytelling, portal fantasies, and puzzles. Like The Sandman, it uses a frame narrative. TSS' frame story follows Zachary, a graduate student who sets off on an unforgettable journey after finding his own childhood story inside a book.
But the novel is so much more than that—with masquerade parties, secret societies, riddles, vignettes, literary allusions, and shorter fables—all carefully embedded within the text, alongside a lovely queer love story.
Fables
The Sandman breathed life into certain historical and folkloric figures, and Bill Willingham in his graphic novel series Fables takes that concept even further.
Within the comic pages, characters such as Snow White, Rose Red, Prince Charming, and the Big Bad Wolf live in a secret community called Fabletown, somewhere inside New York City.
But their lives are far from the happily-ever-after of a fairy tale, as numerous conflicts (both from within and outside) threaten their existence.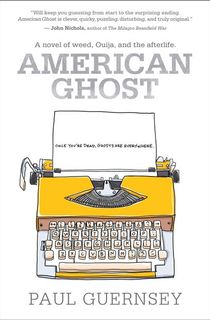 American Ghost
In the mood for a murder mystery that also offers a very metafictional take on the afterlife? Paul Guernsey's American Ghost has got you covered.
It tells the story of Thomas Rivera, a drug-dealing college dropout and aspiring writer whose life is already going to shit when he suddenly gets murdered. As a ghost, he tries to solve the mystery of his violent death by communicating with Ben, a ghost hunter. Ben later tells the story to Fred, who conveys it to the reader.
Clever, poignant, and written in a YA tone, this novel is an enthralling ride.
The Unwritten
What happens when characters from a bestselling series come to life, and the fantasy realm collides with the real world?
That's the basic premise of The Unwritten, a spellbinding series that explores coming-of-age narratives, fame and celebrity culture, and how fiction and pop culture shape our community, all with a thinly-veiled nod to the Harry Potter phenomenon.
At times, the series gets extremely meta. For instance, in one issue, the reader is invited to fill in the character's backstory by playing a "choose your own adventure game" within the comic itself.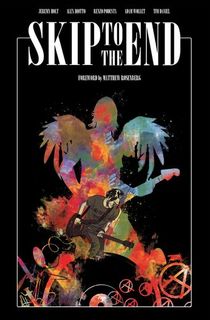 Skip to the End
Jonny is the bassist of a breakout '90s punk band, and he's struggling with heroin addiction. Desperate to find a way back to his past, he uses a mysterious guitar that lets him make trips to his glory days.
Filled with music references and '90s nostalgia, Skip to the End is a slice-of-life comic that is sure to hit you with the feels.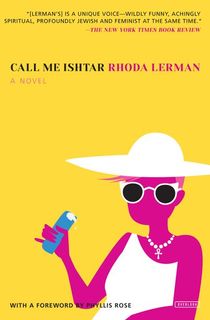 Call Me Ishtar
In The Sandman series, the Mesopotamian goddess Ishtar makes a short appearance as the former lover of Destruction. In Brief Lives, she is seen working as a dancer in a nightclub—far from the glory and adulation that her former patrons would bestow her with.
If you've ever been curious about her story, then pick up a copy of Rhoda Lerman's Call Me Ishtar. It is a gorgeous, sensual rollercoaster ride that tells the deity's long story across various incarnations and notorious escapades.
The Ten Thousand Doors of January
If you love the concept of a story-within-a-story (which is something The Sandman does extremely well), you'll definitely enjoy Alix. E. Harrow's The Ten Thousand Doors of January.
Written in lush and evocative prose, this portal fantasy follows the adventures of one January Schaller, who learns about hidden doorways and magical universes from a mysterious book. In January's journey to find her true family, the author also offers a scathing critique of the violence wreaked by colonialism.
The Wicked and the Divine
The main storyline of The Sandman is a family drama of sorts, dealing with the seven Endless (Dream and his siblings) who aren't gods exactly but anthropomorphic personifications of concepts that shape the human consciousness.
Similarly, The Wicked + The Divine explores the teenager Laura's encounter with the Pantheon—a group of twelve people who discover that they are reincarnated deities. If you love mythology, pop music, and neon colors, you'll adore this series. Plus, it features a diverse cast of characters!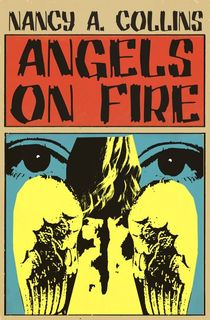 Angels on Fire
Lucy Blackford is a struggling artist whose suicide attempts are foiled by the appearance of a naked angel. Then, they later fall in love.
If you're up for a good paranormal romance featuring angels, demons and creation myths, set against a contemporary urban fantasy backdrop, Angels on Fire is an escapist but thoughtful read.
RELATED: 16 Stirring Neil Gaiman Quotes
Alice in Sunderland
One of the things I enjoyed about The Sandman was its keen attention to detail. Alice in Sunderland is a similarly detailed work that explores the life of Lewis Carroll and contextualizes his work against the local geography, mythology, and folklore of Britain.
Given that Bryan Talbot was one of the artists who worked on The Sandman, it is no surprise that the work is deeply contemplative and filled with gorgeous art. It is a careful and curious blend of fact and fiction that will appeal not just to fans of Alice's Adventures in Wonderland or scholars studying Lewis Carroll's life, but to anyone interested in a deep dive into the art of storytelling.
This post is sponsored by Open Road Media. Thank you for supporting our partners, who make it possible for The Portalist to celebrate the sci-fi and fantasy stories you love.