Superheroes have often been referred to as modern fantasy—analogues to the gods, monsters, and titans of ancient myth. Yet, despite a few forays by the likes of Conan and his various contemporaries, it's rare for comic books to explore traditional fantasy tropes.
Rarely isn't never, though. If you're a fan of swords and sorcery, dragons and wizards, giants and goblins, there are plenty of titles out there that can take you to whole new worlds brought to life with the thrilling combination of words and pictures, with a canvas far more vast than even the most ambitious, big budget epic movie would ever allow.
Whether you're new to fantasy in sequential art form or are just looking for a new favorite world to get lost in, these graphic novels are the perfect portal to your next adventure…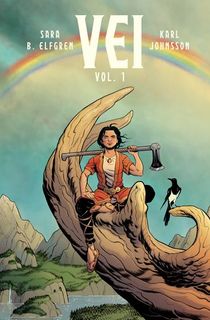 Vei, Vol. 1
Already a bestseller in its native Sweden, this rousing story of gods, giants, Vikings, and the warrior caught between all three is set to take Anglophone readers by storm.
Vei devoted her life to becoming the strongest warrior in Jotunheim, but then she was betrayed by the god she had pledged her life to.
Now, she'll have to pit herself against the deadliest warriors in Midgard, Jotunheim, and beyond in this "Hunger Games-meets-Norse mythology" graphic novel, the first in an epic series.
RELATED: 9 Groundbreaking Graphic Novels and Comic Book Series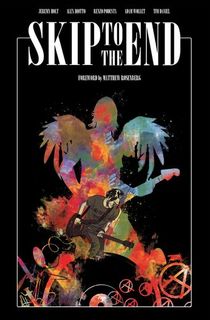 Skip to the End
Already a hot name in indie comics, Jeremy Holt's Skip to the End has been called "a master class on beauty and style" by Comic Crusaders, and described as "a slice-of-life comic, an adventure comic and a music comic all rolled into one, born out of a love for all three" by Paste Magazine.
The story follows Jonny Wells, the bassist of a breakout punk band who struggles with heroin use in in the wake of his friend and bandmate's suicide. With the help of a magic guitar, he finds that he can relive better days—but can't change them, and he may be stuck in a loop that is even more addicting, and dangerous, than the one he is familiar with…
Fafhrd and the Gray Mouser: Graphic Novel
Originally published by Marvel in 1990, Howard Chaykin and Mike Mignola's comic book adaptation of several of Fritz Leiber's classic sword-and-sorcery stories of Fafhrd and the Gray Mouser were out of print for years until Dark Horse Comics brought them back in graphic novel form in 2007.
The series features Mignola doing some of his best pre-Hellboy work, while adapting some of the most legendary stories of one of classic fantasy's most beloved duos.
Mouse Guard: Fall 1152
A New York Times bestseller and multiple Eisner Award-winner, David Petersen's Mouse Guard has been a massive hit since it first premiered.
If Brian Jacques' Redwall series is what most people think of when they see rodent heroes in a fantasy property, Mouse Guard is to Redwall as Game of Thrones is to Lord of the Rings—showcasing mouse heroes who struggle valiantly to survive and thrive in a harsh and often unforgiving world filled with larger animals who frequently treat them as prey.
Highlighted by Petersen's detailed artwork, the comics have also given rise to a variety of tie-ins including roleplaying games, board games, coloring books, and even a Lego display that premiered at Emerald City Comic-Con in 2015.
Head Lopper: The Island or a Plague of Beasts
Beginning as a self-published series, Andrew MacLean's Head Lopper was quickly picked up by Image and soon became a sensation.
Trading in the classic tradition of the lone barbarian hero established since the earliest days of sword and sorcery, Head Lopper follows the exploits of a Viking warrior named Norgal, who is accompanied by the severed (but still talkative) head of Agatha the Blue Witch.
Together, the duo get into all sorts of misadventures, such as ridding the island of Barra of the minions of the Sorcerer of the Black Bog, as they do in this first installment in their ongoing adventures.
RELATED: 5 Comics So Perfect We Hope They Never Get a Movie Adaptation
Hillbilly
Speaking of classic sword and sorcery heroes, Eric Powell (of The Goon fame) recently did his own take on the subject, transferring the trappings of the sword and sorcery subgenre to the mountains of Appalachia.
It draws on tales from regional folklore to tell the story of Rondel, the eponymous Hillbilly who is armed with a cleaver stolen from the Devil's own supper table, or so the stories go. With Powell at the helm, you can expect plenty of pathos and offbeat humor, not to mention lots of weird monsters, all with a sword and sorcery feel mixed with a distinctly Appalachian vibe.
The Tea Dragon Society
Not every fantasy story has to be an epic tale of warfare and monster slaying, dungeon crawling and saving the world.
Take, for example, K. O'Neill's all-ages fantasy saga that introduces readers to Greta, an apprentice blacksmith who comes to learn about—and appreciate—the art of caring for tea dragons after finding one lost in a marketplace.
BookList called this "gentle fantasy" from the Eisner Award-winning artist and writer, "perfect for introducing young readers to graphic novels," while Kirkus called it, "undeniably whimsical and extremely cute."
Nimona
Winner of the Eisner Award, Nimona began as a webcomic by writer and artist Noelle Stevenson while they were still a student at Maryland Institute College of Art.
The project eventually became their senior thesis, while also already selling to HarperCollins before she had even graduated.
The resulting comic has achieved massive critical success, and was even optioned for an animated feature film that, unfortunately, never got off the ground. Luckily, we still have the comic.
RELATED: 7 Day-Saving Female Superheroes from Independent Comics
Mooncakes
Nominated for a Hugo Award in 2020, Mooncakes tells the story of a blossoming relationship between a young witch and a werewolf in their New England town.
Of course, things aren't that simple, and one of the pair is pursued by dark forces intent on stealing the magic of wolves, while both are caught up in their own lives, pursuits, and family bonds.
The result, according to the School Library Journal, is a "sweet, spellbinding story" that will "appeal to fans of magic and romance."
RELATED: Horror Fantasy Graphic Novels to Keep You Up at Night