Tamora Pierce—famous for her Tortall series with over twenty novels and short stories—is a paragon of fantasy world building. Pierce's fantasy world of Tortall and its bordering countries is based on a medieval setting, inspired by an age where only men could seek knighthood. However, in Pierce's magical world, women and girls rise to legendary heroes as anything from mages to spies. With threats like military forces, pirates, giant spiders, and icy lizards, Tortall is in need of as many of these magnificent heroes as it can get.
The debut novel in the Tortall series was Alanna: The First Adventure, published in 1983. Following that, several books in the series were New York Times bestsellers, with Pierce also taking home career awards like the Edward E. Smith Memorial "Skylark" Award (2005) and the Margaret A. Edwards Award (2013). The series is still ongoing, with the most recent book, Tempests and Slaughter, released in February of 2018.
Fortunately for fans of the Tortall Universe, Lionsgate and Playground Entertainment have teamed up to adapt the series for TV. While there's no showrunner or premiere date as of yet, this sprawling universe is sure to come to life on the screen in striking and staggering ways. But what are we supposed to do in the meantime?
The obvious answer is to catch up on the Tortall series! However, if you've already burned through all of the Tamora Pierce books you can get your hands on, then fear not. Here's what to read if you want more fantasies like Tamora Pierce books.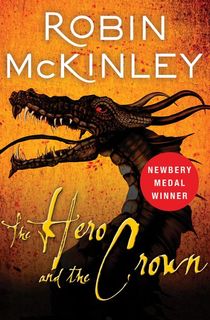 The Hero and the Crown
Aerin is a princess who is rejected within her own kingdom—the daughter of the king and the rumored witch who enchanted him into marriage. After years spent healing her father's lame horse, Talat, and experimenting with a secret and forgotten recipe for fireproof ointment, Aerin has a chance to prove herself a hero. In this age, dragons have devolved into small creatures, who, while still dangerous, bring no large scale threat. However, the ancient Maur—the last great dragon—has awakened, and Aerin's father and kingdom stand in his path.
For those readers who followed eagerly along with Alanna in The Song of the Lioness as she fought to prove her worth as a knight, this book is a great follow up.
RELATED: 9 Sci-Fi and Fantasy Books Featuring Powerful Women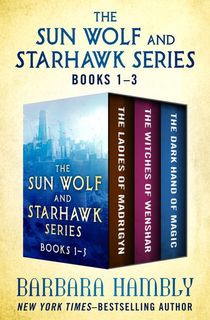 The Sun Wolf and Starhawk Series Books 1–3
This series by New York Times bestselling author Barbara Hambly is a sword and sorcery fantasy from the 80s. It follows a mercenary company, primarily the captain, Sun Wolf—gifted with courage, strength, and intelligence—and his first lieutenant, Starhawk—a formidable warrior woman. Sun Wolf and his crew are bloodthirsty, and they have wrought destruction upon innumerable cities, but they're about to be pulled into a world of magic they never signed up for.
In the first book, The Ladies of Mandrigyn, Sun Wolf and his crew are tempted with riches to take on a mad and powerful wizard. The Witches of Wenshar brings Sun Wolf and Starhawk to a perilous desert in search of a wise witch. In the third installment, The Dark Hand of Magic, Sun Wolf must save his crew from a wizard's evil curse.
RELATED: 50 of the Best Fantasy Books Ever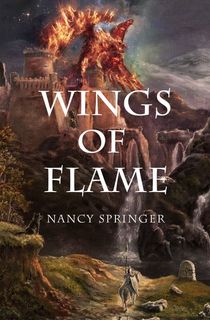 Wings of Flame
The kingdoms of Vashti and Deva have been at war for years. When Deva's prince, Kyrem, travels to Vashti in search of peace, he finds himself under attack by a group of bandits. Seda, a lonely orphaned outcast girl, comes to the prince's rescue in the disguise of a stable boy.
Unbeknownst to them, a demonic force gathers within a mountaintop, waiting to exact revenge upon the kingdoms. Together, Kyrem and Seda are all that stands in the way of a dark and terrible curse threatening both of their homes.
RELATED: 8 Fantasy Books with Heroic Women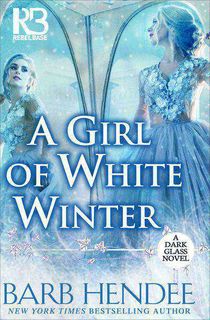 A Girl of White Winter
A Girl of White Winter is a part of The Dark Glass series, which follows the truths bestowed by a magic mirror. In this novel, a striking ward named Kara is sold to a visiting noble as a concubine. However, before Kara can even make it to the nobleman's home, she is kidnapped by a group of raiders.
Alone and with the world against her, Kara gazes into a mystical mirror that shows her three potential paths her life may take. However, every choice presented has a consequence, and Kara must decide which fate is hers to keep.
For fans of the action-packed kidnapping plot and glimpses into the future we got in Pierce's novel Trickster's Choice, this is bound to be a winner.
RELATED: Action-Packed Sword and Sorcery Books to Lose Yourself In
Fire and Hemlock
Polly Whittacker is a perfectly normal girl. Or so she thinks. She has a normal school life, a normal home life, and a normal social life—she just also happens to have a second set of memories full of magic and mystery.
In her other life, Polly has gone on enchanting and incredible adventures with a man named Tom Lynn. Now, as her secondary memories start to consume her, Polly realizes Tom's life may be at risk. Jones's novel is packed with intrigue and fantasy, delivering a fascinating and compelling love story.
Green Rider
In this first novel of the Green Rider series, Karigan G'ladheon's journey through the thick Green Cloak forest is interrupted by the frantic clopping of hooves. Through the trees a horse carries a dying young man—a legendary Green Rider who serves as a messenger to the king. He imparts to Karrigan a life or death message for the king, making her swear to deliver the message at all costs. Karigan's life is turned upside down by her promise to a dying man as she becomes immersed in a world of danger and dark magic.
The Arrows Trilogy
Mercedes Lackey has penned dozens of books set in the epic fantasy land of Valdemar, but the Arrows Trilogy started it all. This story arc follows Talia, a runaway who is Chosen by a magnificent horse-like creature with mystical powers—the Companion Rolan. Talia rises to become a Herald of Valdemar, one of the members of the Queen's elite guard and a protector of the realm. As Talia struggles to gain control over her magical abilities, she faces off against evil magic and treasonous plots.
RELATED: 16 Fantasy Books Featuring Teens With Magical Abilities
Graceling
As the first of the Graceling Realm trilogy, this is a great read for fans of Tamora Pierce books. In Cashore's fantasy world, Graces are incredible skills gifted to people at birth, often used for ill and feared by society. Katsa is a woman burdened with the Grace of killing, forced to do the violent, gruesome dirty work of her uncle and King of the Middluns, Randa. Eyes set on a life beyond her wicked existence, Katsa forms a secret council to take on the power-hungry rulers of the Seven Kingdoms.
The Rose Legacy
The first of an ongoing trilogy, The Rose Legacy follows the orphaned Anthea Cross-Thornley. When she reconnects with a long-lost uncle, Anthea is shocked to discover he is a breeder of horses—animals which have been outlawed in their kingdom for hundreds of years. Even more strange is Anthea's discovery of an ancient gift called The Way which allows her to sense the thoughts and feelings of horses. When Anthea tries to flee back to her normal, lonely life, she finds she may be the only one who can rescue her family and kingdom from the dangers that await them.
For fans of Pierce's Wild Magic and its heroine Daine—gifted with the magical ability to speak to animals—this is a great book to pick up.
Dragon's Milk
Dragon's Milk is the first of Susan Fletcher's series Dragon Chronicles, which follows different women and their remarkable connections to dragons. In this book, Kaeldra must venture up a mountain to procure dragon's milk to cure her ill foster sister. It's a dangerous and deadly task, but Kaeldra is the only one who can communicate with dragons and pull off the feat. In her quest to save her sister, Kaeldra finds her path twisted up with that of a would-be dragon slayer and a trio of draclings.