Few things capture our collective imagination quite like dinosaurs. They've been in many stories, books, and movies over the years, but no media has been as impactful as Michael Crichton's Jurassic Park.
In his stunning hard sci-fi thriller, Crichton wove together the magic of seeing a dinosaur in real-life with the sheer terror that would inevitably follow. And when Steven Spielberg adapted the movie, audiences were mesmerized by the stunning visual impact of this story brought to life.
Now, two-plus decades, a sequel novel, and six films later, audiences are still obsessed with Drs. Alan Grant, Ellie Sattler, and Ian Malcolm. Oh, and the dinos. We dug up 11 thrilling dinosaur books like Jurassic Park that will captivate, terrify, and entertain you.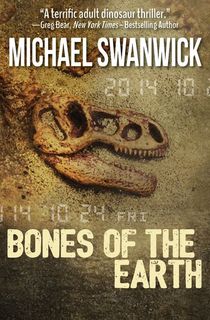 Bones of the Earth
This Locus, Hugo, and Nebula Award-nominated novel marries time travel and paleontological adventure.
When an unexpected visitor brings the head of a recently-killed dinosaur to the office of Dr. Leyster, the paleontologist agrees to join an impossible expedition to the Cretaceous.
RELATED: Wanted, One Paleontologist Willing to Travel Through Time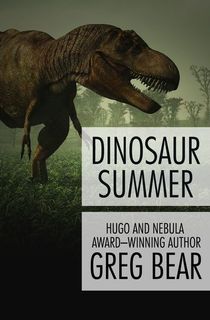 Dinosaur Summer
When the Lothar Gluck Circus goes bankrupt, it offers a unique opportunity for Peter Belzomi. He'll get a summer job, a byline for National Geographic, and a trip to South America. All he has to do is help the circus trainer return a dozen dinosaurs to the wild.
Getting the dinosaurs out of the Lost World was nearly impossible, and no one ever dreamed they'd have to bring them back. The logistics alone are a nightmare, and along the way the team is besieged by robbers and soldiers looking for their one shot at glory. But when they face being stranded in the middle of the dangerous land, it's going to take everything Lothar has to make it back alive.
While facing a gigantic dinosaur with a mouth full of teeth would not be our idea of a good time, let's face it—humans are always the scarier species. Get ready to "hold onto your butts" as this action-packed thriller rockets to the end.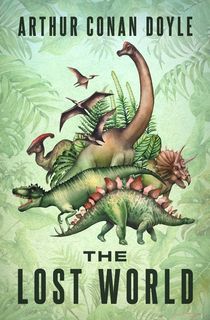 The Lost World
An Arthur Conan Doyle classic that inspired other books on this list, The Lost World follows an expedition into the Amazon Basin.
The team of explorers and paleontologists were ridiculed before departure for their mission to find the dinosaurs rumored to still exist in the remote locale. But what they discover in the lush jungle will change the world forever.
Claw: A Canadian Thriller
After a massive earthquake triggers a series of animal attacks, the small town of Lawless, British Columbia is on edge.
Conservation Officer Christine Moon is new to the area, and calming the residents is her top priority. But as much as she wants to dismiss their fears, it's obvious something is stalking the town. As Christine tries to track the animal, she exposes corruption leading all the way to the highest levels of her agency. Alone with a target on her back, Christine has to find the creature hunting them before it kills everyone in town, and the truth dies with them.
Dr. Ian Malcolm warned everyone that "life finds a way," and sometimes that includes seismic events waking up creatures who should have stayed asleep.
Raptor Red
Raise your hand if the velociraptors were your favorite part of Jurassic Park! These "clever girls," with their terrifying intelligence and cunning problem-solving skills, are far more frightening than the gigantic T-Rex.
In this novel, paleontologist Bakker takes readers 120 million years into the past and onto the plains of prehistoric Utah. Raptor Red, a female velociraptor, is the heroine and protagonist. The book follows Red as she struggles to survive when she's pushed lower down the food chain.
This story is a stunning combination of scientific fact and imaginative fiction that Robert Muldoon would likely dub required reading for anyone interested in working with these intelligent creatures.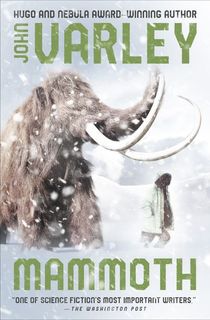 Mammoth
In Jurassic Park, Crichton made the science of cloning, genetics, and chaos theory accessible to readers. Similarly, John Varley's Mammoth marries gripping action and adventure with real-life science.
When a full, frozen mammoth is found in the tundra, wealthy eccentric Howard Christian becomes obsessed with cloning it. But Howard and the scientists he hires get more than they bargain for in this novel that's "H. G. Wells meets Jurassic Park" (The Best Reviews).
Footprints of Thunder
When an accident blurs the line between prehistory and modernity, ancient forests sprout in cities and humans are no longer at the top of the food chain.
The government has a plan to protect its citizens—but their proposal may be even more deadly than the dinos.
The Mystery of Ireta: Dinosaur Planet & Dinosaur Planet Survivors
Dinosaurs existed on our planet millions of years ago, so it could be argued that they might exist on a different planet right now. That's not exactly what Kai and Varian set out to prove when they embark on a mission to explore the flora and fauna of the planet Ireta. But that's what they find.
Then their rescue ship disappears without a trace, and some of the crew members start to act erratically. As they struggle to survive, Kai and Varian grapple with the fact that this prehistoric life might be their only future, in this fascinating duology by Anne McCaffrey.
The Great Zoo of China
40 years ago, the Chinese government discovered a shocking animal. Now, they're ready to unveil their discovery to the world.
A select group is invited to se the magnificent zoo, including journalist and reptile expert, Dr. Cassandra Jane 'CJ' Cameron. What could possibly go wrong?
While the zookeepers may not be repeating how they "spared no expense," the overconfidence that nothing can go wrong gives us nonstop John Hammond vibes. It's only a matter of time before disaster strikes and you'll be holding your breath all the way to the end.
Extinction Island
Oakley Laveua knows reptiles and is so close to getting the promotion of her dreams as a swamp tour guide when disaster strikes. She's charged with murdering her best friend—a crime she can't remember committing.
Sentenced to life in seclusion, Oakley is taken to an island filled with genetically-modified dinosaurs and violent criminals. But deep in the rainforest, hiding from criminals and dinosaurs alike, is someone who may have all the answers Oakley needs to prove her innocence. She just has to survive until she can be absolved.
A fearless heroine and a touch of romance blends into a novel that even Ellie Sattler would stay up all night reading.
Don't Move
Megan is trying to mend her broken heart after a family tragedy, and joins a local church group's annual camping trip.
But a navigation accident takes the group to an unknown canyon deep in a West Virginia National Park. As members of their party disappear, seemingly snatched by an invisible creature stalking through the trees, the campers make a terrifying discovery: a species of prehistoric arachnids lives in this area. They're calculating. They're cunning. And they're hungry.
Megan Forrester may not be an expert in paleontology, but she would make Dr. Alan Grant proud with her survival skills. A tense, fast-paced showdown between human and spider, Don't Move is a creep-tastic thriller that just might give you arachnophobia.
RELATED: Alleged Megalodon Sightings That Will Make You Want to Believe
This post is sponsored by Open Road Media. Thank you for supporting our partners, who make it possible for The Portalist to celebrate the sci-fi and fantasy stories you love.