One of the best parts of summer is the summer read. They may not always be considered classics, but their bingeable storylines and entertaining characters make them perfect for devouring on a vacation or even a single pool day.
If you're looking for a new book to throw in your beach bag, try one of these six titles, which range from middle-grade to adult fiction and all focus on space exploration.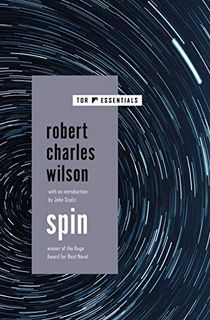 Spin
Tyler Dupree's life changed when he was ten years old. One fateful night in October, Tyler and his best friends, Jason and Diane Lawton, watched the stars blink out in an event that became known as the Big Blackout. Even the moon is gone, though the tides remain.
Years pass before anyone discovers the truth of why the stars seemed to vanish and every satellite fell back to earth: Alien artifacts have begun interfering on Earth. The effect is perhaps the strangest part of all, because time outside the Earth's atmosphere has sped up drastically, until a hundred million years pass for every one day on earth.
Now, the sun only has about forty years left. How the characters choose to either accept or fight against the oncoming apocalypse defines their journey in this Hugo Award-winning novel by Robert Charles Wilson.
Old Man's War
Old Man's War by John Scalzi tells the classic sci-fi story of warfare between humans and aliens in a new way. The novel centers around 75-year-old military recruit John Perry and his fellow Old Farts, who must survive two years in the Colonial Defense Force if they want to earn a homestead stake on a colony planet.
The book hits everything you want, from an engaging narration to great action and comedy without skimping on emotion. Perhaps best of all for the purposes of this summer reading list, Old Man's War is a tidy 320 pages despite its epic themes. We're betting you'll be sold based on the blurb alone. You can devour the entire book in a solid afternoon if you have the inclination.
We Dream of Space
This Newbery Honor book by Erin Entrada Kelly takes a unique place on this list. Firstly, while many of the books here are for adults, this one is aimed for a middle-grade audience. Secondly, We Dream of Space is not strictly science fiction.
Rather, the novel details how real space exploration can be simultaneously awe-inspiring and nightmare-inducing. begins with three siblings in seventh grade who are awaiting the Challenger space shuttle launch. Cash worries about whether he is going to fail his classes again, Fitch loves the arcade, and Bird dreams of being NASA's first female shuttle commander.
When their science teacher, Ms. Salonga, assigns them into artificial spacecraft crews, the day of the launch takes on new meaning. The tragic events of the day itself changes all of their lives in unexpected ways.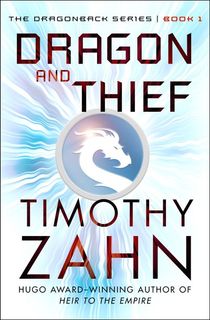 Dragon and Thief
It's really all in the title. A dragon and a thief in space, what more do you need to know?
Timothy Zahn's first entry in the Dragonback series follows con artist Jack Morgan, who is accused of a crime he did not commit and forced to flee to a remote planet. When a spaceship crashes near Jack's hideout, however, he finds himself in the position to save the sole survivor: a warrior called Draycos who stems from a reptilian race. Best of all, Draycos might be able to help Jack clear his name.
The only catch? Draycos requires a host, and in order to save him, Jack must agree to bond the odd creature both physically and mentally.
Stowaway
There's a war going on, and Leo and his brother are stranded in the middle of space. Their best chance of survival is in being a stoway on the ship of mercenary space pirates, which of course brings up a whole new set of problems.
The road is dangerous in this coming-of-age novel, which is the first of a duology. From rare minerals to alien invasions, Leo learns how dangerous the world can be, how wide the galaxy is, and how few trustworthy people there are in the universe.
Leviathan Wakes
Need to cool down after a hot summer day? Well, Jim Holden runs an ice mining rig that makes runs around the rings of Saturn. When Jim and his crew stumble upon a dangerous secret, they're forced to unravel the clues to find out the mysteries behind a derelict ship.
Simultaneously, Detective Miller is looking for a single lost girl in the cosmos. How his story intertwines with Jim's may change the fate of the universe.
Not only does Leviathan Wakes begin Corey's classic series of The Expanse, but the page-turning mystery is a great book to start this summer. In a review for Gizmodo, Annalee Newitz writes that Leviathan Wakes is "as close as you'll get to a Hollywood blockbuster in book form."