Love at first sight may work out nicely for some people, but a good slow-burn romance is a match made in heaven.
Give me an epic, page-turning novel, filled with angst, pining and delicious romantic elements that unfold at an achingly slow pace and yet manage to build up to a breathtaking climax, and you will have won my heart. But the trouble in paradise is that, these days, a lot of books are marketed as 'slow-burn' where the characters simply hit it off from their first meeting or start having graphically detailed sex less than halfway through the novel. And that's all well and good—but it soon gets very boring for me.
Below is my curated list of books with slow-burn love stories that I found very satisfying. From enemies to lovers who slowly transition from murdering to making out, or best friends who take a ridiculously long time to confess their feelings for each other, you can take your pick!
The Queen of Attolia
I first binged Turner's young adult fantasy series, The Queen's Thief, during the pandemic and I haven't been the same since. The books deal heavily with court intrigue, with secret missions, skirmishes and political alliances, and the romantic elements are quite subtle.
In fact, in my favorite book, The Queen of Attolia (where a young queen must make tremendous sacrifices and difficult choices to save her reputation and her kingdom), so much of the romance is spelled out only through subtext that it might come as a surprise when things start getting heated up. But that's the beauty of it—and going back to reread certain scenes and spotting the cues is part of the fun.
Reading the ambitiously plotted follow-up, The King of Attolia, feels like a richly rewarding treat.
The Traitor Baru Cormorant
Very few books made me feel the way Queen of Attolia did when I read it for the first time. But then Seth Dickinson came along and turned things up a notch.
His debut, Traitor Baru Cormorant, is a sprawling, anti-colonial fantasy that follows the adventures of Baru, our ruthless protagonist who is striving to bring the empire down from within at any cost. She has to pay a heavy price of course, and the price is the very subtle, very slow romance that blossoms between her and one of the nobles, Tain Hu.
Along with some heavy world-building, the book also tackles neurodiversity and queer themes, so if you're secretly a little masochistic and a tragic, sapphic love story seems up your alley, Traitor Baru Cormorant will break your heart in the best way possible.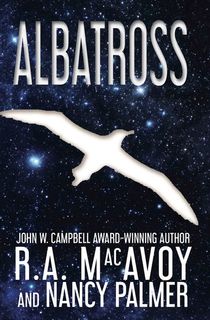 Albatross
Those in the mood for a love story set in a dystopian future might be interested in Albatross by R.A. MacAvoy and Nancy Palmer.
It unfolds the story of Dr. Rob MacAulay, a quantum physicist who is wrongfully accused of being a terrorist, and thus, is on the run. He's pursued by Thomas Heddiman, a wealthy consultant with the police and karate champ. Their paths cross, and the readers are in for a surprising roller-coaster ride.
Like Traitor Baru Cormorant, this one also features a neurodivergent protagonist and a queer love story.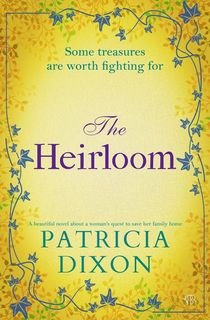 Birthright
If you have a weakness for historical fantasy and romance, you'll definitely enjoy Patricia Dixon's Birthright. It narrates the story of Fabienne, a young heiress to a French chateau who must fight to save her inheritance with the help of her best friend.
It's a slow-burning, brooding tale of family secrets, legacies, and facing the ghosts of the past. Packed with mystery and action, Birthright promises to tug at your heartstrings.
The Jasad Heir
The Star Wars sequel trilogy may have concluded on a disappointing note, but it introduced me to a lot of well-written fanfiction. While The Jasad Heir is unrelated to Star Wars, the dynamic between the main characters, Essiya/Sylvia and Arin, the enemy Nizahl Commander, reminded me of the chemistry shared between Rey and Ben/Kylo Ren from the films.
So, if your emotional cravings include a deliciously slow, enemies-to-lovers romance, filled with political machinations and unexpected twists, you're sure to savor this.
Homebound
Another action-packed romance for fans of science fiction, Homebound by Lydia Hope is set in a future where Earth is suffocating and the wealthy have fled for better climes.
Gemma is a janitor at a prison. She has seen and experienced her fair share of tragedies. But then she's reassigned to the alien ward and tasked with taking care of Simon, a misanthropic and traumatized alien. Soon, Gemma becomes increasingly invested in his well-being and decides to help him escape the planet, putting herself at risk.
Fire and Hemlock
Diana Wynne Jones was a writer of versatile talents, and each of her novels are unique in their own ways. In Fire and Hemlock, a personal favorite, she weaves the story of a young girl named Polly who befriends a mysterious stranger, Tom Lynn, at a funeral.
Over the years, as Polly goes through the ups and downs of school life and her parents' divorce, her friendship with Tom remains the only constant, even as she senses that his life is under supernatural risk and she must figure out how to save him from the Queen of Fairies. A slow love story, a coming-of-age tale, and a testament to the power of the imagination and fairytales, Fire and Hemlock is loosely styled as a Tam Lin retelling of sorts but has plenty of original flavor.
And of course, if you enjoy works by Jones and you're in the mood for another whimsical love story, you must check out the more well-known Howl's Moving Castle (which has also been made into a Studio Ghibli film) and its lovely sequels.
Sunshine
Robin McKinley's prose brims with evocative magic. Her fairytale retellings, such as Deerskin or Spindle's End, were some of my cherished books while growing up. In her adult novel, Sunshine, McKinley takes things further and crafts a world where the mundane and the magical live side by side.
Set in an alternate America where humans live alongside vampires, werewolves, and other supernatural creatures, the novel follows the exploits of Sunshine, a young woman who works at her family's restaurant and bakes the best cinnamon rolls. One day, she is kidnapped and imprisoned by a group of vampires. Later, she escapes with the help of Constantine, a fellow prisoner and vampire. But the injuries she sustained do not seem to heal, and as her relationship with Constantine deepens, she realizes that her life will never be normal again.
Cheerful and dark and incredibly seductive, Sunshine offers an unconventional and refreshing take on the vampire romance novel.
The Cruel Prince
If you're a sucker for faery stories, you can't go wrong with Holly Black's young adult fantasy novels.
In the series that begins with The Cruel Prince, Jude Duarte and her sisters are whisked into the faery realm of Elfhame after watching their parents murdered by her fey kin. She has a tough time adjusting to this new world, but her grit and determination eventually see her through. When she finds herself at the center of fairy politics and a coup, Jude learns to take power into her own hands, complicating her love-hate relationship with Cardan, the youngest heir to the throne, whom she makes the puppet king.
Each book in The Folk of the Air series deepens the world-building and builds upon their enemy-to-lovers romance in a thoroughly satisfying way.
Featured image: David Tomaseti / Unsplash