Science fiction is the gateway to a whole galaxy of reading, and there's nothing that quite captures a child's imagination as traveling through time or shape-shifting aliens.
These science fiction books for kids will set them up for a lifetime of reading. Plus, these titles offer exciting adventures that will appeal to older readers, too!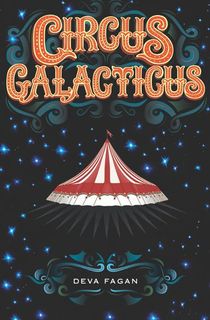 Circus Galacticus
Trix is used to ignoring bullies. As an orphan at a boarding school filled with privileged kids, she's learned to hold her own. Plus, when your parents entrust you with protecting a strange meteorite, you toughen up pretty quickly.
But then the Circus Galacticus comes to town, and everything changes. The ringmaster offers Trix the chance to join the circus, and change her life forever.
The circus opens the universe up for Trix, revealing interstellar leeches, alien artifacts, exploding desserts, and more adventures on her path to realizing who she really is.
Deva Fagan thrills with another science fiction book for middle grade readers. If you love everything fairy tales, swords, and spaceships, step right up and get your tickets for the Circus Galacticus.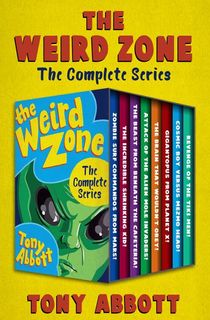 The Weird Zone
Tony Abbot zips into this list with his wacky series, The Weird Zone, set in the super-wacky town of Grover Mills.
In Zombie Surf Commandos from Mars, Liz, Holly, and Jeff decide go to Lake Lake for some summer swimming, and run into the undead hanging ten.
The kids must conjure all their quick-thinking to battle the zombies and rocket them back into space. And this is only the first in a series of strange events in their little town!
A mad scientist moves in and starts shrinking kids. A ravenous dinosaur invades the school's cafeteria, though given how gross the school's lunches are, that might not be such a bad thing. And a science project starts to develop a mind of its own...
All these adventures and more await the students of W. Reid Elementary in this adventurous series. If you're a fan of the Sideways Stories from Wayside School, Abbott's weird world wants you to visit next.
Fortunately, the Milk
Going out to buy some milk for breakfast should be routine, right? Well, not if you take one father's word for it. This story is a dashing tale full of dinosaurs and aliens, volcano gods and pirates.
The only question, for both readers of Fortunately, the Milk and its narrator, is whether a single word of the story is true.
The Animorphs Series: The Invasion
Animorphs, the '90s sci-fi series from KA Applegate (the pen name of the writing duo, Katherine Applegate and her husband Michael Grant) pulls no punches.
His name is Jake. Just Jake. He can't tell you his last name, see, because they're everywhere. Who are 'they'? The Yeerks – alien slugs that crawl through your ear and take over your brain. It's impossible to tell the difference between a free human and a person under Yeerk control. The Yeerks have already taken over numerous other planets, and now they've come to earth.
But hope is not lost! One night, Jake and his friends have a surprise meeting with a benevolent alien, Elfangor. He gives the five kids the power to morph into any animal they touch, just before the Yeerks kill him. Now Jake and his friends must find a way to save the world, without ever being able to tell anyone that they're doing so.
Don't be deceived – this pulpy series is one of the most harrowing war epics ever constructed, but told in a way young kids can understand. Jake and friends, naming themselves the Animorphs, fight the Yeerks at deep cost to their familial relationships, but they also form bonds stronger than family among each other.
Applegate explores the hardships of war through her diverse rotating cast. Along the way, she gives kids a scientific exploration of animal minds. Any animal-loving, tree-hugging child will be sure to devour this series. (Plus, it's going to be a movie!)
The Giver
Lois Lowry's Newbery Medal–winning classic wins new hearts every year, and it only gets better with age.
Twelve-year-old Jonas seems to live in the ideal world. There's no hunger, no poverty, and no injuries in his community. All he has to worry about is his life assignment, coming up at the year-end ceremony, where he will be assigned the job he'll hold for the rest of his life.
But when the community leader skips over his name, Jonas finds out he's not in for an ordinary life anymore. Jonas is to be the new Receiver of Memories. His mentor, the Giver, transmits memories of when the world was different – when the world even had difference. Jonas learns about strange things like sunlight, color, sledding, and love.
In the process of receiving these new memories, Jonas understands that his seemingly-idyllic community harbors dark secrets. It's up to him to make it right, and teach his community how to feel again.
Lowry's understated story has enriched the minds and souls of young readers for generations. Adult readers can love this book too, as its suspenseful exploration of what makes a person whole resonates with each passing year.
A Wrinkle in Time
Young Meg Murray, a thirteen-year-old girl, misses her father. He disappeared one day while conducting mysterious physics experiments. Then she meets an eccentric neighbor, Mrs. Whatsit, who refers to something called a tesseract — the concept Meg's father was trying to understand when he disappeared.
Mrs. Whatsit, along with her strange friends Mrs. Who and Mrs. Which, are beings who travel on fifth-dimensional foldings of space — tesseracts. Meg brings her child-genius brother Charles Wallace and her friend Calvin to visit other planets in an effort to find her father.
The children meet centaurs, stars, and psychics as they learn how to travel through space. They also discover that their world is covered in a darkness, one that religious figures, philosophers, scientists, and artists all fight. In order to save Meg's father, they must travel to the darkness' heart, and hope that theirs aren't taken over in the process.
A Wrinkle in Time, published in 1962, was often rejected because of its female protagonist. However, it went on to win the 1963 Newbery Medal, the Sequoyah Book Award, the Lewis Carroll Shelf Award, and was the runner-up for the Hans Christian Andersen Award. And it kicked off a quintet of stirring science adventures for its characters!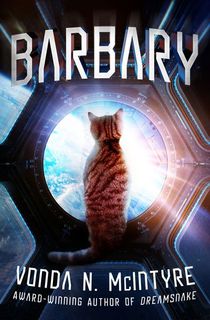 Barbary
Vonda N. McIntyre's Barbary takes the old saying that "curiosity killed the cat" to a whole new level. The story follows the titular Barbary, a 12-year-old girl who has dreamed of going to space for most of her life. When she finally gets her chance, however, she can't help but bring along her best friend: a tabby cat named Mickey.
Mickey's mischievous nature gets them both into trouble when they reach Einstein, the distant research station. More to the point, the cat is distracting from the real risk, which is that alien ship that keeps coming closer all the time ...
Mrs. Frisby and the Rats of NIMH
This classic science-fantasy book has captivated readers of all ages since the 70s. It went on to win a Nebwery Medal, and be adapted into a cult hit animated movie.
The book follows Mrs. Frisby, a widowed mouse with a sick son and a house that's scheduled to be destroyed by the farmer's plow. When she learns that the rats who live in the farmer's rosebush may be able to help, Mrs. Frisby meets a group of highly-intelligent rodents who've escaped from a research lab.
Their highly-advanced society offers Mrs. Frisby hope, but also conceals dark secrets.
When You Reach Me
Another Newbery Medal winner, When You Reach Me is an emotional time travel tale that will captivate young readers.
Six-year-old Miranda doesn't know what to do now that she and her best friend aren't talking. Things get even more confusing when someone starts sending Miranda anonymous notes telling her she needs to write a secret letter about her own life.
Even stranger, this note-writer seems to have a talent for predicting the future — and what they predict for Miranda will change everything.
Dragon Pearl
Min feels stuck on the planet of Jinju. After all, she's a fox spirit — she should be having adventures and shape-shifting, not hiding out in a boring desert.
Min's brother, Jun, has plenty of adventures in the Space Forces. And when he goes AWOL, Min knows she has to follow in his footsteps to find him.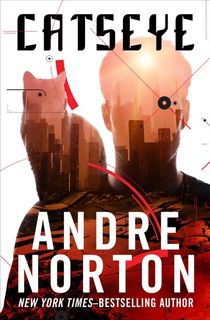 Catseye
From the moment Troy Horan began work at Kyger's pet store on Korwar, strange things started to happen.
The animals telepathically warn him that he's in danger, but it's too late — Troy is already enmeshed in a perilous adventure. Soon, he goes from being just another kid from the "Dipple," a poor part of a human colony on Korwar, to the master and captive of an extraordinary band of warriors.
Catseye is the first of Andre Norton's Dipple tetralogy. It features a young protagonist, and will be enjoyed by young readers, but also appeals to adults.
With breakneck pacing and a plot full of wild twists and turns, this classic read will be sure to intrigue.
This post is sponsored by Open Road Media. Thank you for supporting our partners, who make it possible for The Portalist to celebrate the sci-fi and fantasy stories you love.
Featured photo: Johnny McClung / Unsplash
Skyward
Spensa has always wanted to be a pilot. But since her father was a pilot and a deserter, she knows it's unlikely that she'll be selected. In fact, most people do their best to remind her of her father's betrayal.
But fate has other ideas, and a mistaken discovery may just offer Spensa the future she's always wanted.