In the history of laughter, The Hitchhiker's Guide to the Galaxy by Douglas deserves a special place.
Originally broadcast as a radio play in 1978, Adams later expanded and reworked his fictional universe into novels, stage shows, comics, and other mediums. The 1979 novel introduced readers to Arthur Dent, a hapless Englishman whose life is turned upside down even as Earth is invaded by the Vogons, an alien race masquerading as the galaxy's civil servants. Furiously funny and bristling with imagination, satire and wit, the novel is regarded as a sci-fi classic and numerously referenced in pop culture.
Whether or not you already celebrate Towel Day, chances are that you're reading this list because you're looking for similar books to tickle your funny bone. From light-hearted space adventures to absurd comedy and black humor, these sci-fi books have got you covered.
Our Favorite Sci-Fi Comedies Like Hitchhiker's Guide to the Galaxy
Chilling Effect
Valerie Valdes's debut novel is a space opera that mashes up clever pop culture references, and found family narratives, with fast action and a lot of queer drama. It follows the misadventures of Captain Eva Innocente, who delivers cargo all across the universe; when her sister is kidnapped, she and her motley crew must risk everything to save her.
Shortlisted for the 2021 Arthur C. Clarke Award, Chilling Effect by Valerie Valdes is a deliciously funny road trip through multiple planets and star systems, filled with aliens, amorous feelings and charming wit.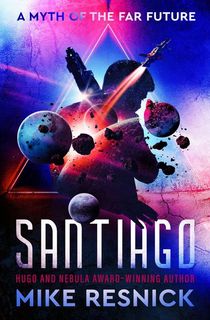 Santiago
Mike Resnick is a beloved name in science fiction. His 1986 novel, Santiago is a gorgeous space western, concerned with the search for the titular outlaw and told through multiple perspectives.
We follow a bounty hunter, a freelance reporter and even an art thief—all of whom are searching for Santiago for their own ends. But Santiago refuses to be found.
If you're in the mood for a fun and thrilling Wild West kind of story set in space, you'll love Santiago and its sequel, The Return of Santiago, which was published in 2003.
Gideon the Ninth
Muir's debut novel is a darkly humorous tale set in space, filled with necromancers, lesbians and more skeletons than you can count. Tired of how the afterlife has so far turned out, Gideon has decided to pack her bags and escape. But getting her freedom isn't going to be so easy.
Irreverent, compelling and thoroughly refreshing, Gideon the Ninth manages to pack in a lot of dense worldbuilding in the early chapters and rewards the reader with a stunning pay-off later.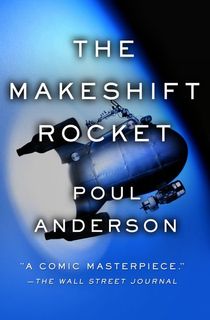 The Makeshift Rocket
If you've ever wondered whether beer can power a spaceship, you might find your answer amidst a lot of laughs in Poul Anderson's The Makeshift Rocket.
Knud Axel Syrup is an engineer currently stranded on a planetoid where war is brewing on the horizon. While getting drunk on his favorite beer, he realizes that alcohol might be his way out.
In fact, the novel's original editor titled the story "Bicycle Built for Brew", which certainly has an alliterative lilt to it. For those with a soft spot for pulp fiction, Poul Anderson's humorous sci-fi novel The Makeshift Rocket is well worth revisiting.
Dirk Gently's Holistic Detective Agency
Although I had read The Hitchhiker's Guide to the Galaxy as a kid, I didn't know that Douglas Adams had written a humorous detective novel set in space until a friend pitched the book to me as being better than Doctor Who.
I later learned that Adams was inspired to write Dirk Gently's Holistic Detective Agency while working on some Doctor Who serials himself. A whimsical novel brimming with mystery, puzzles, ghosts, time travel and a lot of pizza, this book is a one-of-a-kind witty ride.
Year Zero
Rob Reid's Year Zero is a delightful and satirical sci-fi comedy set in a universe where humans are the only species with musical talent.
This has attracted the attention of aliens who are so obsessed with American pop music that they have violated human copyright laws on illegal file-sharing and (by their own estimation), are very much in debt to the humans.
So, when Nick Carter, an entertainment lawyer (who coincidentally shares his name with a Backstreet Boys band member) is brought in to clean up this intergalactic mess, he's in for a huge shock.
Space Opera
Another novel on the music theme, Catheryne Valente's Space Opera was originally written (according to the author) on a Twitter dare.
It unfurls an utterly extravagant intergalactic version of the Eurovision competition. Instead of wars, the galactic civilizations instead settle their scores with their contenders singing, dancing and/or performing on a talent show. The stakes are pretty high, especially since the human representatives do not exactly inspire a lot of confidence.
Wildly funny and chaotic, Space Opera promises to be a memorable read.
All Systems Red
If you haven't yet read Martha Wells' excellently-written and uproariously funny novella series The Murderbot Diaries, you're doing your existence an enormous disservice.
The first book, All Systems Red, introduces us to an artificial construct that calls itself Murderbot and has a soft spot for soap operas. Even though it is technically an independent unit (having hacked its "governor" unit), it ends up getting invested in human affairs.
If you're still not convinced about the series' brilliance, head over to Wired and read this prequel short story, "The Future of Work: Compulsory". I'm willing to bet that just the first paragraph will be enough to change your mind.
The Martian
Andy Weir's debut novel The Martian focuses on the plight of an astronaut who is stranded in Mars and must rely on his own wits to survive. With only limited supplies at his disposal, he must draw upon his inner strength, scientific knowledge and cleverness to stay alive until a rescue team can come for him.
No doubt, he faces a lot of challenges, but the story is narrated with a lot of heart and humor, making the reader commiserate with his roadblocks and cheer for his every small win.