At the age of 15, I didn't know anything about asexuality. But I knew I was more interested in exploring fantastical worlds than wondering whether certain boys (or girls) liked me.
Love stories bored me unless they were slow-burn, with a heavy focus on friendship, healing, and reckless adventure. Even while reading fanfiction, I either cringed at or entirely skipped the erotic scenes.
I often found myself returning to high fantasy novels like Tolkien's The Lord of the Rings or C.S. Lewis' The Chronicles of Narnia, because the the characters were more interested in saving the world and remaining loyal than in having sex with each other.
A decade later, characters on the aro-ace spectrum are still a rarity in mainstream fantasy and science fiction. But thankfully, visibility is slowly on the rise. The books featured here all contain protagonists who are either explicitly stated to be on the ace spectrum, or whose experiences strongly resonate with aro/ace-identifying readers like me.
The Cybernetic Tea Shop
A common misconception about asexual people is that they hate sex or do not care about love. But sex and romantic love do not necessarily go together, and there's nothing wrong with being sex-repulsed or sex-neutral (or even wanting sex without an emotional attachment).
In fact, plenty of ace individuals are die-hard romantics at heart, and if you're one of them, Meredith Katz's short novella about an A.I. technician slowly falling in love with a robot is surely going to make your heart flutter.
The protagonist is Clara, an asexual Latina woman who travels from place to place with her mechanical hummingbird until she encounters Sal, a sapient autonomous robot at a teashop. For the first time, Clara wishes to settle down and build a new life with someone.
Clariel
Clariel is the fourth book in Garth Nix's award-winning The Old Kingdom series. As a prequel of sorts, it is filled with the familiar dark magic and intricate worldbuilding.
The main character Clariel is canonically ace and possibly aromantic as well. The daughter of one of the most powerful families, Clariel is pulled toward political conflict and has limited freedom.
Clariel feels trapped, is disinterested in marriage/dating, and the book does a remarkable job at detailing how she negotiates with fate to live on her own terms.
Every Heart a Doorway
Seanan McGuire's prose is evocative and wistful, and if you're wondering where to start reading her work, the novella Every Heart a Doorway is a good place to begin.
It's a reverse portal fantasy of sorts, dealing with disenchanted children who have returned to the real world after formerly getting lost in a magical realm.
It is the first in her much-beloved Wayward Children series, and the main protagonist Nancy is explicitly stated to be asexual.
The Perfect Assassin
The Perfect Assassin by K.A. Doore is the perfect book for fantasy lovers for many reasons. It has lovely worldbuilding inspired by Islamic culture, a magic system derived from scarce water resources, and several queer people of Color as leads.
The main character Amastan is asexual and gay, and tasked with solving a murder mystery.
Quicksilver
If you love a fast-paced sci-fi ride, check out Quicksilver, the second book in R.J. Anderson's Ultraviolet series.
The teenage main character Tori Beaugrand has escaped the aliens and returned to her hometown. She thinks she's finally put her old life behind her. But when a face from her past— Sebastian Faraday—reappears, Tori knows that she must put her hacking and engineering skills to good use and face her unresolved issues.
Tori's asexuality also features heavily in the book. She even contemplates her one attempt at a sexual relationship, which later evolved into a close friendship built on mutual understanding and respect.
The Art of Saving the World
The Art of Saving the World is a good fit for readers who are looking for some YA fun with doppelgänger shenanigans.
When Hazel is born in her small Pennsylvania town, a mysterious interdimensional rift opens up. As a result, if she leaves, the very world may collapse. On her 16th birthday, she encounters three other Hazels from different dimensions. Together, they must save the universe from falling apart.
If you're up for a fresh take on the Chosen One trope with anxious, asexual lesbians, this book will not disappoint.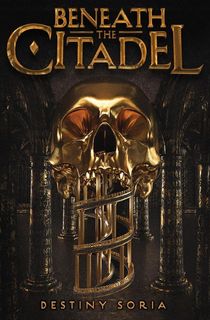 Beneath the Citadel
In the ancient city of Eldra, prophecies hold sway over the minds of the people. When the story begins, orphan Casa decides to fight back against the system, aided by a rag-tag group of teen rebels.
With found family dynamics, and a diverse representation of characters who are fat, asexual/queer, disabled, or otherwise marginalized, Beneath the Citadel is an engaging ride.
The Faerie Godmother's Apprentice Wore Green
There's a dragon problem in the village of Styseville. But instead of getting a brave and ruthless warrior, the townspeople have to contend with a stranger in a ragged cloak.
This novella features a friendship between a lesbian and an aro-ace woman, and Kyle's writing is delightful and entertaining. It bestows fairy godmothers, princesses, and dragons with agency.
Among Others
A personal favorite, Among Others by Jo Walton is a love letter to sci-fi and the pulp fiction of yesteryear. The story is told with the help of journal entries by Morwenna (or Mori), the 15-year-old disabled protagonist who is sent to boarding school after her sister dies in a magical accident.
Mori is shy and introverted, and stays alive sorely to read more SFF books. Her diary details her daily life, traumatic incidents, and her commentary on the novels she is reading. In one hilarious section, she even talks about the lack of sex in the Lord of the Rings.
Mori's adolescent experience resonated strongly with many queer readers who thought she was on the aro-ace spectrum. The writer Jo Walton vaguely confirmed this in a Goodreads comment.
The Black Veins
Urban fantasy? Check. No-romance road trip? Check. Queer characters? Check.
The Black Veins by Ashia Monet is the first book in a promising series. Blythe is 16-years-old and one of the most powerful magicians in the world, but she is far happier making latte art at her family's coffee shop. However, when magician anarchists kidnap her family, Blythe is forced to embark on a road trip and enlist the help of six other similarly-powerful magicians called the "guardians."
With seven lead characters who are all very likable, the author does a brilliant job at portraying Black, trans, and ace/queer representation.