Halloween time is finally here, but just because it's spooky season doesn't mean you have to set aside your sci-fi book in favor of a horror novel. Some of the best science fiction is downright terrifying, in part because the scientific inspiration behind these reads makes them feel all-too-plausible. From books about the future to those with horrifying monsters, there's never a shortage of scary-good fiction.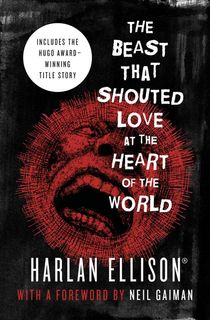 The Beast That Shouted Love at the Heart of the World
Hugo and Nebula Award-winning short stories and novellas populate this volume of work by Harlan Ellison, a master of short science fiction. First published in 1969, this collection features Ellison at the height of his career and represents a memorable moment in a storied (sorry) and ongoing writing career that dates back to the late 1950s.
RELATED: 10 Must-Read Works by Harlan Ellison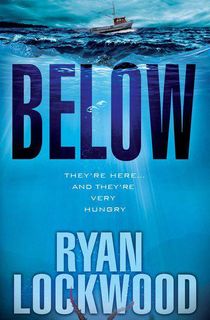 Below
Fans of Jaws or Steve Alten's Meg will eagerly dive into this story of a mysterious sea monster terrorizing the California coast. Divers are missing. Fishing boats have been capsized. The culprit, according to the lone survivor of one attack, is "los diablos rojos."
Oceanographer Valerie Martell and pro diver Will Sturman realize that the terror lurking in the Pacific is an evolutionarily perfect predator with speed and strength that makes it the ideal killing machine. And now, these mysterious creatures are heading for the easy hunting grounds provided by shallow water...
RELATED: 20 Fascinating Sea Monsters from Mythology and Fantasy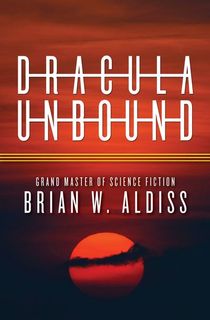 Dracula Unbound
If you liked Bram Stoker's Dracula but felt that it could've benefitted from a bit more time-travel, then Dracula Unbound is for you. In this novel, the inventive and talented Aldiss spins a tale of a man who discovers a way to move through time: backwards, to when the dinosaurs shared the planet with an ageless threat; and forwards, to a grim future populated by an enslaved human race. In between, he finds author Bram Stoker, who he teams up with to battle Dracula and save mankind. Yeah, it's as wild as it sounds.
RELATED: 15 Bloody Good Vampire Books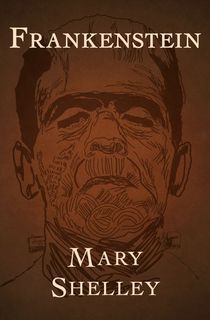 Frankenstein
Bram himself didn't make our list (sorry, Mr. Stoker, not enough sci-fi), but we'd be remiss if we didn't cover any of the literary classics. You may have heard of this little book called Frankenstein, which Shelley developed after a night of telling scary stories with her future husband Percy and other literary luminaries. Mary's work is a classic, of course, and has spawned all manner of adaptations–some more faithful to the source material than others. The seminal novel follows Victor Frankenstein, a mad scientist obsessed with the secret of life, who creates a deadly monster and sparks a tragedy that spans the globe.
Related: Mary Shelley: Fascinating Facts About the Sci-Fi Pioneer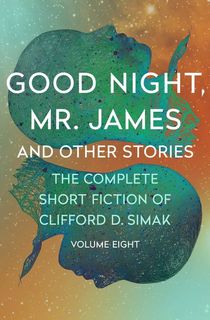 Good Night, Mr. James
Clifford D. Simak was a giant of science fiction. Just ask Isaac Asimov or Robert A. Heinlein, both of whom respected and emulated Simak. The author was as prolific as he was talented, which is why you can now find volumes upon volumes of his short stories. This, the eighth volume of a superb collection, is as good a place as any to start.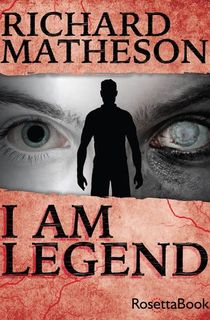 I Am Legend
Sci-fi horror writer Richard Matheson wrote for The Twilight Zone and Star Trek in addition to penning influential novels like The Incredible Shrinking Man and I Am Legend. The latter went on to win the Bram Stoker Lifetime Achievement Award for Best Vampire Novel of the Century. This disturbing read follows Robert Neville, the only survivor in his family of an apocalyptic plague which transforms the living into nocturnal bloodthirsty beasts. At night, Robert survives by barricading himself in his vampire-proofed home and drowning out the jeers of his undead neighbors by drinking and listening to records. During the day, Robert drives around his major urban city and exterminates the undead while they sleep. He also makes frequent visits to the library, where Robert attempts to uncover the science behind the pandemic, and how it can be cured.
A tense and terrifying depiction of a man desperately researching a cure to save his species, I Am Legend has been adapted into three different movies, most recently a 2007 film in which Will smith played Robert Neville. The book also continues to be very influential in the apocalyptic plague subgenre of sci-fi.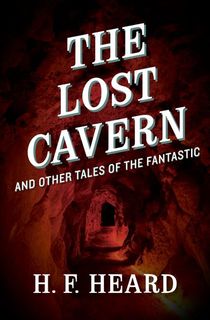 The Lost Cavern
H.F. Heard is the pen name of Gerald Heard, who also worked as a historian, philosopher, and was an all-around interesting guy. With a passion for science and knowledge of the occult, Heard was uniquely qualified to write creepy sci-fi horror stories of the sort that this collection brings together.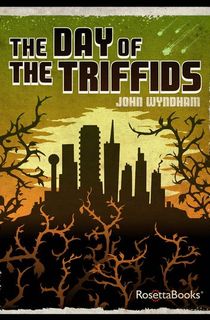 The Day of the Triffids
This 1951 horror classic has gone on to inspire a movie, two TV series, and three radio dramas. British biologist Bill Masen knows more about triffids than anyone. Tall, carnivorous, ambulatory plants, triffids are believed to have been created as part of a biological experiment in the U.S.S.R.. While examining a triffid, Bill is temporarily blinded by its venom and must spend days convalescing in the hospital. When he emerges, London is very different than the last time he saw it. Nearly everyone has gone blind after staring at a mysterious green meteor shower. Worse, the shower seems to have transformed the triffids from relatively-docile plants to ferocious predators roaming Britain and terrorizing the blind. Bill and a small group of sighted Londoners join up and attempt to create a semblance of order amidst the chaos, but Bill soon finds his fellow survivors may be even more dangerous than the triffids themselves.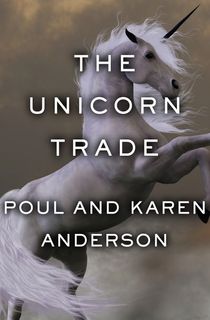 The Unicorn Trade
This multi-disciplinary collection features a little bit of everything. It runs the gamut from poetry to short stories and from fantasy to (appropriately enough, for our purposes) science fiction and horror. It's the Plastic Ono Band of literary collections, a creative collaboration that has a little something for everyone. Fans of Poul Anderson's famous science fiction will not be disappointed.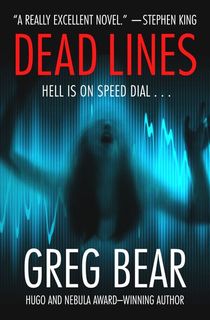 Dead Lines
Greg Bear is known for hard sci-fi like his Arthur C. Clarke Award-nominated Eon series, but in Dead Lines he brings his science fiction talent to a spookier story. A former adult filmmaker in Los Angeles, Peter is still devastated two years after the murder of his ten-year-old daughter. Now, the death of a close friend has made Peter even more respondent. When a surprising new opportunity with a startup called Trans comes along, Peter is thrilled to be working with the new tech. Trans is a single device poised to disrupt the phone industry, capable of giving its users unparalleled communicative abilities from anywhere in the world. Just when he thought his career was over, Peter has the ability to get in on the ground floor with an incredible new technology. Now, if only he could stop seeing his dead loved ones everywhere he goes...
The Girl With All the Gifts
The Girl With All the Gifts is a haunting zombie book with plenty of biology-inspired body horror. Ten-year-old Melanie is one of a number of young 'hungries' — children infected with the devastating Ophiocordyceps unilateralist fungus who don't show the ferocious symptoms usually associated with the fungal affliction. Melanie doesn't know much about the world outside the army facility where she goes to school; for her, the world revolves around the teacher she adores, Miss Justineau. When their facility is overrun and Miss Justineau helps Melanie evacuate, Melanie begins the painful transformation of realizing who—and what—she really is.
Aliens Omnibus, Vol 1.
You can't talk about sci-fi horror without talking about Aliens—not even when the subject is books. Verheiden was the man behind the first comics in Dark Horse's Aliens series, which picks up after James Cameron's blockbuster Alien sequel (the graphic novel adaptation of the first film—which came earlier and was not a Dark Horse project—is also worth reading, by the way). You can pick up the earliest Aliens comics stories—Outbreak, Nightmare Asylum and Female War—in various collections, including the first volume of Dark Horse's Aliens Omnibus.
RELATED: 8 Scary Creatures from Sci-Fi Books
Annihilation
Though Annihilation got the big screen treatment in 2018 from director Alex Garland, VanderMeer's Nebula Award-winning sci-fi horror novel is cinematic in its own right. Annihilation follows the twelfth expedition into Area X, a mysterious place abandoned by civilization and overrun by nature. Past expeditions have resulted in little data and lots of mental and physical illness, and it's frighteningly unclear what's going on in Area X, or how it even came to be in the first place.
RELATED: 14 Heart-Pounding Books Like Jeff VanderMeer's Annihilation
World War Z
Max Brooks' World War Z is written in a unique style. A fictional oral history, the book tracks the horrors, drama, and surprises of the war between humans and zombie-kind. Brooks' vision is fiercely imaginative and full of fresh ideas that made this novel stand out even in the heady days of the 2000s zombie media craze.
Swamp Thing
Plucked from relative obscurity in the U.K. comics scene, Alan Moore debuted on a larger stage as the re-inventor of Swamp Thing. Under Moore's stewardship, Swamp Thing became a deep and dark series that was willing to tangle with weird moral questions and confront the pathologies of its Louisiana setting. DC has republished Moore's entire Swamp Thing run, and it's all worth reading.
This post is sponsored by Open Road Media. Thank you for supporting our partners, who make it possible for The Portalist to continue publishing the stellar stories you love.