The coronavirus pandemic has made our daily lives scary and uncertain. Many people face boredom, loneliness, depression, and anxiety during this stressful and traumatic period, and it's important to find safe ways to stay connected and motivated.
Here are some thoughtful and comforting suggestions for a geeky quarantine care package that will help the sci-fi or fantasy fan in your life keep their spirits up and find healthy ways of coping. This list isn't exhaustive, and doesn't include essentials such as masks, toilet paper, or Clorox, all of which are valuable components of any care package in this new coronavirus era.
RELATED: 35 of the Best Geek Gifts Ever
Instead, it offers additional treats to brighten the recipient's day and provide them with some healthy, geeky coping options during a time when they may be feeling particularly alone.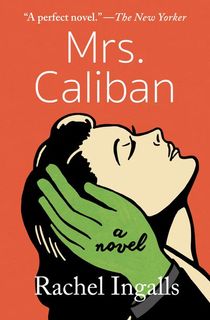 Mrs. Caliban
Sometimes the best gift you can give someone is way to take their mind off of everything. So why not include an e-book or paperback that transports them into a world of wonder? Mrs. Caliban is a gripping, transportive novella that can be read in a day.
The story follows a housewife named Dorothy, who begins a passionate and loving affair with an escaped seven-foot-tall sea monster. This story of healing and hope is great for any fan of Guillermo del Toro's The Shape of Water, and certainly keeps the mind off of pandemics and global politics.
There's an endless selection of comforting or cathartic e-books out there for every kind of science fiction and fantasy lover. A good story is the perfect place to start on a care package.
RELATED: 9 Comforting SFF Books to Read When You're Sick or Self-Isolating from Coronavirus
Geek Knits
There's nothing better to get your loved ones through hard times than keeping their hands and brains occupied with some crafting!
This knitting pattern collection contains more than 30 geek-tastic designs. From fantasy to science fiction, easy patterns to advanced patterns, and scarves to pillows, this book has a little something for everyone.
A dip in the tub could soothe anyone's worries away—with the right supplies, that is! This fun set of galaxy bath bombs include four colorful and cosmic options that fizz and dissolve into moisturizing bubbles.
The moon, earth, star, and shooting star bombs all have different grounding fragrances, from lavender to lilac. This paraben and cruelty-free gift is also great for sensitive skin, containing Shea butter and Vitamin E.
Star Trek: The Original Series Adult Coloring Book
Coloring is not only a nostalgic pastime, but a surefire way to calm down and relax. This adult coloring book features 45 images from the beloved Star Trek: The Original Series. On the back of every illustration is a quote, so colors won't bleed through from double-sided images!
This coloring book features great paper quality that is suitable for crayon, marker, pencil, and watercolors.
RELATED: Explore the Final Frontier With These 10 Stunning Star Trek Books
Harry Potter House Chocolate Frogs
Tasty treats are a great gift to show someone you love that you're thinking about them, and chocolate is always a hit.
Nerdy-noms.com has created some charming and delightful fandom-centric delicacies. These Harry Potter house chocolate frogs come in boxes of six, and contain a colored inside corresponding to Gryffindor, Hufflepuff, Ravenclaw, or Slytherin.
This site also features other great treats, like chocolate dragon eggs filled with cinnamon Imperials, and chocolate 20-sided die.
An Unexpected Cookbook: The Unofficial Book of Hobbit Cookery
On the topic of comfort food, what better way to support a friend than to help them liven up their meals?
This hobbit-inspired cookbook includes over 50 recipes that will make anyone feel like they're tucked away in The Shire.
The book is thematically organized into groups based on the traditional hobbit meals—breakfast, second breakfast, elevenses, luncheon, afternoon tea, supper, and dinner. The book also features recipes which cater to paleo, gluten free, vegetarian, and vegan diets.
RELATED: 7 Must-Read Tolkien Books for The Lord of the Rings Fans
Sometimes all someone needs to get through the day is a hug—but that's easier said than done in quarantine. Luckily, there's a wonderful array of soft, fuzzy plushies to offer snuggles and love whenever it's needed!
This squeezable Chewbacca plush is great company, even when the rest of the world feels like it's in a galaxy far, far away. And if your loved one prefers Yoda or a stuffed friend from an entirely different franchise, the plush options are infinite online, making them the perfect care package centerpiece.
Captain America Pajama Pants
One upside to being stuck inside is that we don't have to stuff ourselves into presentable work clothes every morning.
Still, staring at the same pair of ratty sweatpants can get monotonous. Spice up your loved one's lounge wear by sending them a pair of comfy pajama pants brandishing their favorite characters.
These Captain America pants are dashing and bold, and will remind your loved one that they're a hero to you.
Staying indoors all day can get stuffy, and many of us are yearning for adventure.
A gift from EpicAdventureCandles is the perfect solution, bringing vivid scents and exciting fantasy together in one soy wax-filled tin.
These wood wick candles come in a variety of Dungeons & Dragons themes, from character classes to spells. However, this Etsy seller also offers an array of fandom scents, from Lonely Mountain to Vulcan.
RELATED: How to Play Virtual Dungeons & Dragons: 4 Essential Rules for Remote Campaigns
Does your loved one have a green thumb and a great sense of humor? A chia pet is the perfect thing to give that restless someone a little joy during the stretching days.
These sweet little sprouts come in creative planters, from the classic E.T. to The Mandalorian's The Child (aka Baby Yoda), which is coming soon. These unique gifts are easy to use and infinitely reusable!