Sometimes, a comic book writer or artist can become pretty famous within certain circles. Even then, though, they are unlikely to become a household name. On the other hand, people who are already famous for something else sometimes parlay that fame into a gig writing or (more rarely) drawing that comic book that they've always wanted to create. Hence, novelists, movie stars, singers, and athletes can sometimes be found in the bylines of comic books, whether penning characters of their own creation or writing new adventures for established heroes.
These 10 comic book and manga projects by actors, musicians, and even politicians show that comic-book superstardom can come from some of the most unlikely places.
The Umbrella Academy
Best known as the lead singer of My Chemical Romance, Gerard Way's award-winning comic book project has become such a hit that it may almost threaten to eclipse his fame as a rock star. Written by Way and illustrated by Gabriel Bá, The Umbrella Academy has spawned numerous issues, spin-offs, even toys and merchandizing, not to mention a TV series adaptation on Netflix starring Elliot Page, Tom Hopper, and others that managed to pull in six Emmy nominations across three seasons.
Count Crowley
Lately, David Dastmalchian has made appearances in films like Oppenheimer, Suicide Squad, Dune, The Last Voyage of the Demeter, Late Night with the Devil, and many others, but his impressive filmography goes back more than 20 years. A longtime comic book fan, Dastmalchian has also been adding his talents to that field, co-creating the cult hit Count Crowley: Reluctant Midnight Monster Hunter, which is about an alcoholic reporter who lands a gig as a horror host for the local late night Creature Feature, only to discover that there's more to the job than meets the eye.
Get Jiro!
Set in a dystopian future Los Angeles, this bizarre comic from celebrity chef and travel documentarian Anthony Bourdain concerns rival gangs of chefs who battle over the opportunity to make the most amazing meals in a violent and surreal future. Caught in the middle is the eponymous Jiro, a sushi chef who is in over his head—and also has a nasty habit of taking the heads off some of his more unpleasant customers. Of course, it showcases Bourdain's love of food, while also interspersing that with gory, over-the-top, samurai-style comic book battles and a biting satire of foodie culture.
March: Book One
A legendary former congressman and civil rights activist, John Lewis was also the co-creator of the only graphic novel ever to win the prestigious Robert F. Kennedy Book and Journalism Award, not to mention the National Book Award and many other accolades. This nonfiction graphic novel depicts moments from Lewis' own experiences as part of the civil rights movement, focused on the historic march from Selma to Montgomery in 1965. It's a story that continues to have important resonances in our modern world and also, it's not everyday that a former U.S. congressman pens a comic book.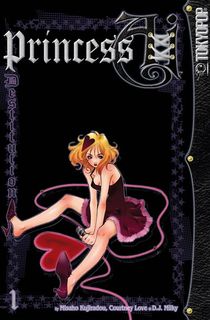 Destitution
Courtney Love's hit manga is based (extremely) loosely on her own life as a major musical superstar. Princess Ai takes place across three volumes—Destitution, Lumination, and Evolution—which were first published in Japan in the shojo manga magazine Wings and later brought to the States by Tokyopop. Along with Love, the manga is also written by movie producer Stuart Levy and drawn by Ai Yazawa and Misaho Kujiradou.
Music Box
"The chance to create my very own comic, and a horror/thriller at that, is like a very fun nightmare come true."
That's what Jennifer Love Hewitt had to say about co-creating this five-issue comic series for IDW, along with veteran comic writer Scott Lobdell and a roster of different artists. The anthology series features five different stories, each centered around the eponymous music box, all of them exploring different avenues of the horror and thriller genres. Of course, while Hewitt may not be the first name that comes to mind when we think horror, she's no stranger to the field, either, having starred in I Know What You Did Last Summer and several seasons of the TV show Ghost Whisperer.
George Takei on They Called Us Enemy
They Called Us Enemy
Winner of the Eisner Award, They Called Us Enemy comes from the pen of acclaimed Star Trek actor George Takei as well as co-creators Justin Eisinger, Steven Scott, and Harmony Becker. Another autobiographical graphic novel, They Called Us Enemy focuses on Takei's childhood in the internment camps where Japanese Americans were sent during World War II. Publishers Weekly called this New York Times-bestselling book "a testament to hope and tenacity in the face of adversity," while Booklist called it "important reading, particularly in today's political climate."
Spider-Man: The Short Halloween
Bill Hader and Seth Meyers are both Saturday Night Live alums who are famous for being funny—and they brought their comedy chops to a one-shot Spider-Man story in which Peter Parker is knocked unconscious on Halloween night and gets mistaken for a drunk guy who wore a Spider-Man costume to a party. Of course, this mix-up of identities could be perilous for both, as Spider-Man has some powerful enemies in this jokey, punchy little story from a couple of famous funnymen.
Occult Crimes Taskforce
Right now, Rosario Dawson is playing the title role in the Disney+ Star Wars series Ahsoka, but even before that, she was no stranger to geek properties. She was the connective tissue in three Netflix MCU series, starred in Men in Black II and Sin City, voiced Wonder Woman in numerous DC animated movies, and much more. She also co-created her own comic book series, called O.C.T. or Occult Crimes Taskforce. The series stars an NYPD officer (who happens to look an awful lot like Dawson herself) who is a member of the eponymous task force, who are charged with investigating and bringing in supernatural criminals.
BRZRKR
You may have noticed a tendency for characters in comic books by celebrities to look a lot like the celebrities themselves. That's certainly true in this bestselling comic by Keanu Reeves and veteran comic book scribe Matt Kindt. Besides looking a bit like Mr. Reeves, though, the comic also cashes in on one of his most popular characters, starring an immortal antihero who "makes John Wick look like Mr. Rogers." Upon its launch, the comic proved so popular that it immediately began to spin out into a proposed feature film and an anime series set to debut on Netflix.