New York Times bestselling author Brent Weeks has more than 4 million copies of his books in print, and none quite as beloved as the titles in his epic high fantasy series Lightbringer.
The saga came to an end in 2019, so you might be looking for similar fantasy stories of conflict, love, and triumph. If that sounds like you, don't miss these books like Brent Weeks' Lightbringer series.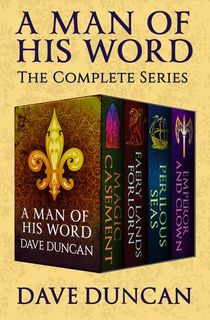 A Man of His Word
From Dave Duncan, one of the "leading masters of epic fantasy" (Publishers Weekly), comes this high fantasy series filled with passion and adventure.
The love of childhood friends Inos and Rap is tested at every corner. Magical forces beyond their control conspire to keep the two apart, but they are determined to remain steadfast and true to each other. Forced into a world of magic, they must face abduction, imprisonment, and dangerous entities. But despite these obstacles, their love always conquers all.
For fans of Lightbringer looking for heart among the battlefields, this is a must-read.
RELATED: 14 Fantasy Romance Books That Are Sure to Satisfy Your Longings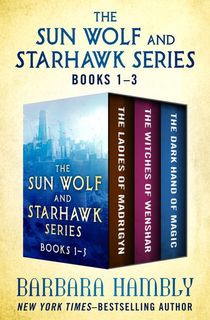 The Sun Wolf and Starhawk Series Books 1–3
These three fantasy novels of war and wizardry will transport you to the magical worlds of your imagination.
In The Ladies of Mandrigyn, meet Sun Wolf, the best mercenary in his land. Ravaged by war, Sun Wolf and his right-hand woman Starhawk conquer city after city.
When an emissary from Mandrigyn offers Sun Wolf riches beyond his wildest dreams in exchange for the use of his army, he refuses. But the ladies of Mandrigyn know how to convince a man, and unbeknownst to him, Sun Wolf is about to face the most powerful wizard alive…
Discover war, intrigue, and a hefty dose of magic fill each book in this brilliant series.
RELATED: 10 Must-Read Adult Fantasy Books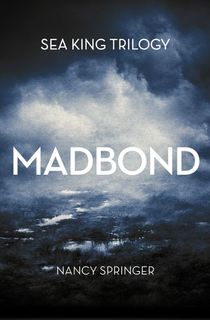 Madbond
The first book in the Sea King trilogy, Madbond follows Rad Korridun, king of the Seal Kindred tribe, and his journey to save his people. Along the way, he joins forces with a madman accused of murder and Tassida, a beautiful and enigmatic warrior.
Once a beautiful kingdom filled with life, the cities now stand in ruins and the woodlands have gone silent. At the end of their journey, the three heroes discover their destiny—and a new nightmare to face.
The Warded Man
When night falls, the corelings rise.
Once, humans battled demons on equal terms. But now, the corelings have overrun the land and grow stronger every night. As men and women dwindle in number, all hope lies with three young survivors. They must venture outside the world they know to discover the past—and safeguard the future.
The first book in The Demon Cycle, fans of Brent Weeks' Lightbringer series will love this epic high fantasy series.
RELATED: Action-Paced Sword and Sorcery Books to Lose Yourself In
The Blade Itself
Barbarian Logen Ninefingers is only one step ahead of death. Captain Jazal dan Luthar dreams of glory on the battlefield, but war is brewing—and in war, rules fly out the window. Inquisitor Glokta, torturer extraordinaire, cares only for cutting rebellion out of the heart of the government he loves.
But the wizard Bayaz changes everything. Logen, Jazal, and Glokta may not know exactly who he is or where his allegiances lie, but he's about to make their lives infinitely more complicated.
In this murderous tale of conspiracy and magic, heroes and villains are put to the test in an epic fantasy to end them all.
The Way of Kings
Mankind once lived among the heavens. But when the Voidbringers came, assaulting and casting out all humans and taking the realm for their own, they were forced to rebuild on Roshar, world of storms.
To defeat their destroyers, mankind was gifted powerful armor and weapons, Shardblades, so they could stand valiantly against the Voidbringers. Led by angelic forces, they finally won over their new land—once and for all.
Now, the only reminder of these battles are the legendary Shardblades. In a world at war with itself, ravaged by a deteriorating ecosystem, such weapons would be invaluable. But how much of this world's past is true?
The Shadow of What Was Lost
Twenty years have passed since the war. The Augurs were overthrown, and those with the Gift who ruled under them were forced to submit to a new societal order. All those Gifted were made obedient.
A student of the Gifted, Davian's life is defined by those who came before him. Feared and reviled by those outside the walls of his school, he struggles to gain control over his Gift before his final exams.
But when Davian discovers a new ability, world-changing ability, he sets into motion a series of events that will change everything he knows. And all around him, the world begins to wake up.
RELATED: 20 Notable Fantasy Books Starring Teens with Magical Abilities
Promise of Blood
Tamas' coup against his king executed corrupt politicians and fed the hungry. But it also incited war with the Nine Nations, provoked greed from allied institutions, and led to vicious and constant attacks from within.
Tamas relied heavily on his few remaining powder mages (and true allies). Now, the people whisper about gods, omens, and imminent destruction—things no educated person would believe in.
But they are right to believe.
This post is sponsored by Open Road Media. Thank you for supporting our partners, who make it possible for The Portalist to celebrate the sci-fi and fantasy stories you love.