Though Scottish-Canadian author Dave Duncan published over 60 novels during his lifetime, he didn't actually publish his debut, A Rose-Red City, until he was 53-years-old. It was the start of a prolific career that earned him two Aurora Awards and the distinction as one of Canada's top fantasists. But Duncan had been devoted to a different discipline before he transitioned into writing full time: geology. He often applied his 31 years of scientific experience to his fiction—from West of January's hostile Vernier to the quarantined planet of Pock's World. But whether he was writing sci-fi and fantasy tales set in alternate pasts or dystopian futures, all of his work featured thought-provoking ideas, memorable characters, and universes so intricate, it's no wonder he was considered a master storyteller.
Related: In Memoriam: Author Dave Duncan
If you're looking to dive into his work, check out some of our favorite Dave Duncan books below! Game of Thrones fans and epic fantasy lovers—you won't be disappointed.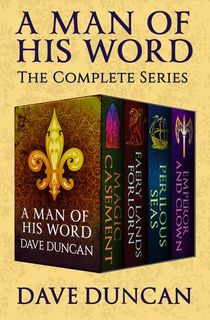 A Man of His Word
This five-book series follows the exploits of two friends-turned-lovers as they navigate a world populated by imps, elves, gnomes, and other human-like fantasy creatures. We first meet Princess Inos in Magic Casement, throughout which her not-so-platonic feelings for stable boy Rap both excite and confuse her. But she has little chance to puzzle out her emotions, as they're both sent off on their separate paths—she, to a finishing school befitting of a noblewoman; he, to the discovery of his own magical powers. What follows is an adventure set in the magical realm of Pandemia, where Rap must use his lern to properly wield the Word, thwart his enemies, and save Inos from the dangers that threaten her. The rest of the series follows a similar pattern—with both lovers, now grown, fighting their own battles to return to one another—but Duncan always manages to keep things fresh, fun, and thrilling.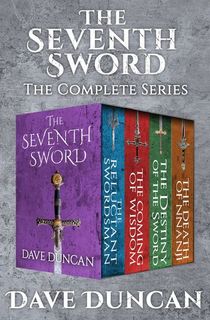 The Seventh Sword
One of Duncan's most popular series, The Seventh Sword is high fantasy at its best and most action-packed. We open just when Wally Smith is approaching death's door—but instead of entering "the other side," he finds himself in a realm where slavery is still de rigueur. He's also no longer the Wally he once was, but a barbarian swordsman named Shunso who didn't complete a task assigned by the meddlesome Goddess. Now, Wally (or Shunso 2.0) must make up for his predecessor's failings or else risk Her wrath—though his 20th-century sensibilities may threaten his progress. His story continues in three other novels as he comes face to face with more demanding goddesses, romance, the fabled Sapphire Sword, and an ongoing war with evil sorcerers.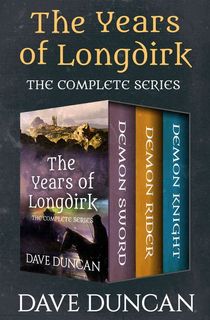 The Years of Longdirk
While 11th-century Scotland bucks against their English enemies, Toby Strangerson longs to be free of his status as a bastard with half-Sassenach blood. But there are great things in store for him: A powerful demon has taken over half of his body, and he'll soon find himself pitted against the king—who also happens to be a malevolent sorcerer. By wielding a mighty sword, Toby will become the formidable Longdirk—capable of saving the continent and himself from a terrible fate. Originally published under the pseudonym Ken Hood, this three-book saga is full of demons, warriors, and magic as Toby and his sidekick, Hamish, set out on many a hero's quest.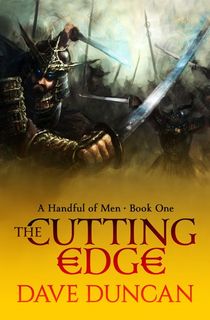 The Cutting Edge
The Cutting Edge is a spin-off of the Man of His Word series, set 15 years after Inos and Rap become the rulers of the small nation of Krasnegor. Their reign has been a peaceful one, though rumblings of war in the borderlands and a dying "imperor" have set everyone on edge. But the most frightening omen is yet to come: Just after the birth of his fourth child, Rap receives word that he'll soon confront the consequences of his past mistakes. The treaty with the warlocks of Pandemia will soon expire—leaving everyone at the mercy of their malevolent magic. And now that Rap has given up sorcery for the sake of his wife and family, will he be able to save their world before disaster strikes and destroys all? Stick around to find out—and then read the three follow-up novels.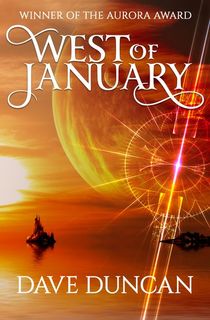 West of January
This 1990 Aurora Award winner is a dystopian novel unlike any you've ever read before...A single day on Vernier would be an eternity on any other planet. Civilizations are born and then die in a relentless cycle of destruction that only the Angels have the ability to stop. It's within this world that we find Knobil, a young man who lives in a brutal, male-dominated tribe. But with his blond hair and blue eyes—the markings of his Angel parentage—it's clear that Knobil is meant for things much greater than his people's barbarism. Instead, he sets out to reach Heaven, where he can learn the Angel's ancient knowledge and help save all of Vernier. But as he experiences the many cultures of his world and finds danger around every corner, can Knobil manage to fulfill his destiny before it's too late?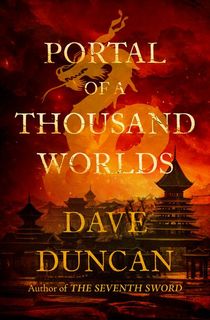 Portal of a Thousand Worlds
Duncan's most recently published book takes readers into an alternate Imperial China, where some say that the power-hungry Emperor Mother has covered up the death of her son. While her dishonesty and a series of natural disasters inspired rebellion, The Man of a Thousand Lives comes to The Good Land to relay news of the imminent reopening of a mystical portal. This does not bode well for the Emperor Mother or the other members of the ruling class, who fear that the Portal will bring great change and jeopardize their reign. But out of everyone, only the continuously reincarnated Firstborn knows what the nature of that change will be—and he's one of the several protagonists through which Duncan chronicles The Good Land's swift descent into chaos.
Related: Audio Excerpt: Fantasy Epic Portal of a Thousand Worlds by Dave Duncan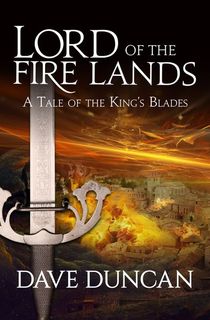 Lord of the Fire Lands
As Blades, Raider and Wasp are more than just talented swordsman fortified by magic—they're lifelong protectors of their world. So when they turn down the honor to serve as the king's guards, they're immediately branded as traitors. Now they have no choice but to flee the kingdom of Chivial for the Fire Lands—an enemy territory rumored to be full of monsters, pirates, and barbarians just as dangerous as their pursuers. The ensuing adventure is complete with a unique magic system, lots of action, and a shocking final twist, which all come together to form a compelling fantasy novel that can be read as a standalone or as a sequel to The Gilded Chain.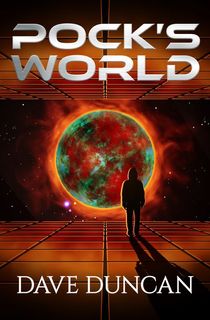 Pock's World
With rumors of humanoid aliens hiding in plain sight, the fate of Pock's World lies in the balance. Now quarantined, its millions of inhabitants wait with baited breath as five people try to reach one monumental decision: Will they let the planet be, or will they sterilize it entirely? But the people tasked with making this choice all have their own agendas: There's the ruthless Father Andre, bureaucrat Millie Backet, and a reporter whose only aim is to nab the best story. Meanwhile, politician Athena Fimble and tycoon Linn Lazuline can't be trusted either—in fact, they're secretly in a relationship. But once the group arrives in Pock's World, they'll quickly realize that nothing is what they believed...and survival will take precedence over their other concerns.
This post is promoted by Open Road Media. Thank you for supporting our partners, who make it possible for The Portalist to celebrate the sci-fi and fantasy stories you love.