Everybody loves a good novel-length escape from their everyday lives, but sometimes the human problems of fiction just don't cut it. There's nothing more enchanting than immersing yourself in a fantasy world from the perspective of the magical creatures that live in it. Why worry about taxes when there are dragons on the horizon?
In the ever-growing fantasy genre, there's an endless list of species from myth and folklore to step into the shoes of. So if you love creature feature fantasy, then strap in! From perceptive golems to vicious sirens, here are 11 fantastic fantasy books about magical creatures.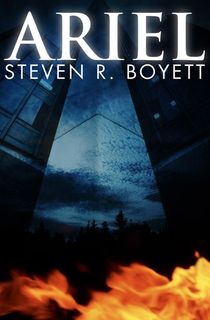 Ariel
In this fantasy adventure, civilization has abruptly come to a halt—technology has stopped working, 90% of humans have disappeared, and magic and its creatures fill the cities left abandoned. Pete Garey is one of the few survivors of the Change. He keeps a low profile as he adjusts to his new and mysterious world, until one day Pete meets a sassy talking unicorn whom he names Ariel. With a dangerous price on Ariel's horn, the two unlikely friends navigate the desolate world together.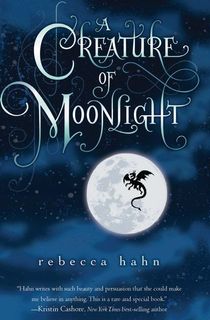 A Creature of Moonlight
This rich, engaging story from Rebecca Hahn follows Marni, a princess who stands as the sole heir to the throne of her kingdom. Unfortunately, while the throne may be her birthright, that doesn't mean the king of her realm doesn't want her dead. As the father she has never met—a wild dragon—sends his enchanted woods on a mission to capture her, Marni must decide if she wants to stay with a kingdom which despises her, or step onto a path which is mysterious and unknown to her. After all, self-discovery is complicated when you're a half-dragon.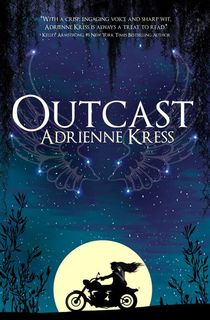 Outcast
This deep South coming-of-age fantasy embraces a new and interesting mythology about angels. At sixteen years old, Riley Carver is already fed up with the angels swooping in and stealing humans from her town. One night, Riley takes matters into her own hands and shoots one of the creatures from the sky.
She thinks she's going to get answers. What she gets instead is a man who's alive and breathing, but has no idea what's going on. In fact, he's so out of the loop that he thinks it's 1956.
The Golem and the Jinni
Wecker's work beautifully winds Yiddish and Middle Eastern folklore together in this enchanting fantasy romance. Chava—the golem—is a clay creature given life to marry a man who ultimately dies at sea. Ahmad—the jinni—hails from the Syrian desert, birthed from flames and trapped in a copper flask. When the two of them meet in late 19th century New York, they strike up a companionship full of discovery and meaning.
Both philosophical and fun, The Golem and the Jinni is a fantastic read for anyone looking for fantasy stories with extra depth.
Tithe
Kaye is sixteen years old—self-sufficient and formidable, she follows her mother's rock band through innumerable cities. However, when Kaye is attacked by a mysterious malicious force, she flees back to the industrial New Jersey city she calls her hometown, realizing she might not be as untouchable as she thought. As two faerie kingdoms rage in an ancient rivalry, Kaye is trapped in the middle. Will what Kaye doesn't know hurt her?
The first of the popular beloved Modern Faerie Tales series, Tithe is followed by and .
Wintersong
Wintersong features a sprawling goblin mythology and a deep love of music. Dark and seductive, this novel follows the eighteen-year-old Liesl as she starts to lose her grip on "childish" things and help her family run their inn. As a young girl, she used to fantasize about the striking and terrifying Goblin King, a mysterious figure who inspired her music. She had thought he was a fantasy of her past, but when her sister is taken to the Goblin King's Underground, Liesl must navigate the bizarre world to bring her back.
However, the Goblin King is not what he seems. And with a ticking clock counting down her fate, Liesl discovers surprising revelations about who she is and what she wants.
Succubus Blues
This book is the first in a series of six following the Seattle-based succubus Georgina Kincaid. For most, being a succubus is a pretty sweet deal—they can change their appearance any way they want to, and sustain themselves on the souls of others through sexual encounters. However, Georgina—who works a normal bookstore job by day—just wants to be able to touch her crush, writer Seth Mortenson, without taking anything from him.
When an impossible murder and a force outside of the control of Heaven and Hell stirs up trouble in Seattle, Georgina has to put on her big girl succubus pants and investigate. With a demon crime world in one hand, and an unfulfilled romantic life in the other, Georgina's plate is full.
To Kill a Kingdom
A siren princess, Lira, is regarded as a lethal hero—the killer of seventeen human princes. When Lira finds herself in a position where she must kill another siren, her punishment is to be exiled to land as a human until she can return to the sea with the heart of Prince Elian. If she cannot complete her task before the winter solstice, Lira must remain a human permanently.
Prince Elian is heir to a powerful kingdom on land, and the best siren-hunter anyone could find. When he stumbles across a drowning woman with a promise to help him destroy the entirety of the siren race once and for all, how can he refuse?
Fireborn
Emberly has lived countless lifetimes as a phoenix, rising from the ashes and sensing the deaths of others from her prophetic dreams. She should know better by now than to interfere with the dreams that haunt her, but when the love of her lifetime—her ex Sam—is fated to die, she gets wrapped up in more trouble than she imagined by saving him.
Soon, the ex-lovers are thrown together to investigate the fallout of a failed government experiment. With a trail to follow of murders, virus-ridden humans, and missing research, Emberly's problems just keep mounting.
Fantastic Beasts and Where to Find Them
Straight from the Hogwarts curriculum, this encyclopedia of wizarding world creatures is written from the perspective of the celebrated magizoologist Newt Scamander. A fantasy book essential, Fantastic Beasts and Where to Find Them comes with beautiful illustrations by Olivia Lomenech Gill. Featuring both beastly favorites from the Harry Potter series and monstrous surprises for even the most die-hard of fans, discover the quirks and dangers of magnificent magical beasts across five different continents!
The Bone Mother
David Demchuk's outstanding horror fantasy book features some eerie and lesser-known magical creatures. Focusing on Slavic folklore, Demchuk delivers a collection of short stories that come together as a chorus of mythical creatures on the brink of extinction before World War II. Among these refugees are the Rusalka, malicious water sprites; the Strigoi, bloodthirsty Romanian spirits that were the original basis for modern-day vampires; and the Drevniye, ghostly creatures who disguise themselves as their victims. Intense and interconnected, these stories deliver stomach-twisting chills.
This post is sponsored by Open Road Media. Thank you for supporting our partners, who make it possible for The Portalist to continue publishing the fantasy stories you love.
Featured photo: Wikimedia Commons