Vampires and werewolves have had their moment alongside any number of other mythical creatures in fantasy in the past two decades, but mermaids have (forgive me) floated along under the radar. But no longer—here are 10 of our favorite sci-fi and fantasy mermaid stories.
The Deep
The experimental hip-hop group Clipping was already on the radar of many sci-fi and fantasy fans when they were nominated for a Hugo for their 2017 album Splendor & Misery. "The Deep," a song from that album, imagined an aquatic world where the children of enslaved pregnant African women thrown overboard from slave ships were born breathing water instead of air. From that indelible track came this gripping novella about Yetu, the mermaid historian tasked with being her people's memory-keeper. But with memory comes pain, and when that pain becomes too much, Yetu ventures up to the surface world, where she learns more than she ever could have imagined about her people's history - and their future. It's a touching and elegant story about diaspora, inherited trauma, and culture.
Skin of the Sea
As a Mami Wata (or mermaid), it's Simi's job to serve her deity Yemoja by collecting drowned souls and blessing them. When she dares to defy the Gods by saving a boy thrown overboard, Simi's life becomes more complicated than she ever thought it would be. Not only must she travel to the Supreme Creator in order to make amends, but the boy she saved now knows more than he should and something seems to be following Simi. Something dark that wants to see her fail.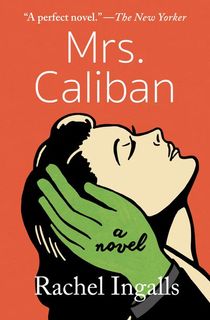 Mrs. Caliban
If you loved The Shape of Water, you'd be remiss not to seek out Mrs. Caliban, a surreal gem of a novel first published in 1982. In mid-century America, Dorothy is languishing. Her pregnancy ended in miscarriage, her dog was struck and killed by a car, and her husband is cheating — again. Enter Larry, a tall, dark, and handsome seven-foot-tall frogman. Larry's escaped from the local oceanographic institute, where he was imprisoned and tortured after being kidnapped from his home deep within the Gulf of Mexico. Both healing from trauma, Larry and Dorothy fall for each other immediately, recognizing in each other the same pain and longing they feel themselves. But Larry is wanted for murder — how long can Dorothy hide him before the world comes calling?
The Mermaid of Black Conch
While fishing off the coast of Black Conch, a group of American tourists make an unexpected catch: Aycayia is a mermaid, cursed by jealous women to live beneath the sea. David manages to rescue Aycayia and hide her in his home, but this has unintended consequences. Aycayia begins to revert to her human form and must remember what it's like to be a woman again.
As David begins to fall for Aycayia, one question remains ever-present. Can she ever really escape her curse, or does humanity lie beyond her reach?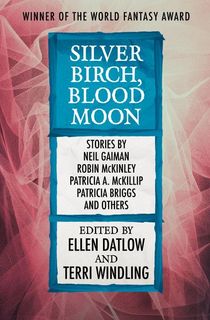 Silver Birch, Blood Moon
Ellen Datlow is a towering figure in the dark fantasy and horror world, curating the best of the best of short fiction into themed anthologies that are surprising, haunting, and engrossing. In Silver Birch, Blood Moon, the fifth in a series, Datlow and co-editor Terri Windling turn their attentions to fairy tales, those oft-sanitized and Disneyfied stories we think we know so well. While the original stories were often quite dark, the reimaginings in this volume are darker still. Contributors include Neil Gaiman, Patricia Briggs, Nalo Hopkinson, Tanith Lee, and Robin McKinley, but it's Melissa Lee Shaw's "The Sea Hag" that will catch any mermaid enthusiast's attention — it's a retelling of The Little Mermaid, from the sea witch's perspective, which, as you might imagine, is not what they wrote down in the story books.
The Mermaid's Sister
All her life, Clara has been told by her guardian, Auntie, that she was brought by a stork. But then, Auntie told all sorts of fairy tales about faraway lands. She even said that Clara's sister, Maren, arrived in a seashell.
When Clara discovers the scales beneath Maren's skin, however, things change. Not only must they find their way to the sea before Maren's transformation into a mermaid becomes complete, but they must avoid an evil troupe of traveling performers and persevere through innumerable hardships.
The Shape of Water
This is so much more than just a novelization of Guillermo del Toro's acclaimed movie. When Daniel Kraus told del Toro his idea for a story about a monster in a lab, the director was immediately interested. The pair came up with a novel approach to telling this story: they agreed on the basic beats and plot points, and then each developed their own version independently, Kraus for the page and del Toro for the screen. The result is a book with a plot that will be recognizable to fans of the film, but with significant differences: the villain of the film is a hero in the novel, many secondary characters have expanded roles here, and the creature's backstory is explored in a way the film didn't really touch. It's a fascinating approach and an object lesson in how different people tell the same story.
Into the Drowning Deep
A terrifying, sci-fi take on mermaids from Seanan McGuire, writing as Mira Grant. Years ago, the research ship Atargatis was lost at sea, leaving behind only some deeply disturbing video footage (the doomed voyage of the Atargatis is the topic of the prequel novella Rolling in the Deep, which fans of this novel will want to seek out). Now, a new crew is setting out in search of answers: what happened to the Atargatis? What did they find in the endless waters above the Mariana Trench? And, most importantly for scientist Victoria Stewart, what happened to her sister, who was aboard? But truth comes at a price in this underwater sci-fi book, and these sailors may not like what they find waiting for them out in the vast Pacific.
The Mermaid
Christina Henry has made a name for herself writing very dark reimaginings of traditional fairy tales, but The Mermaid is a bit lighter than her usual fare. This fantasy-inflected historical romance features Amelia, an adventurous mermaid who falls in love with a fisherman and gives up her life at sea to live with him on land. When he doesn't return from a fishing trip one day, Amelia finds herself alone again—until P.T. Barnum arrives at her door, having heard the stories of the mermaid who lives on the hill by the sea. Amelia agrees to join his show as his star mermaid, but what she sees of the world makes her reconsider her participation. Barnum, however, won't let go of her that easily. This is an entrancing and romantic story, perfect for anyone who loved The Golem and the Jinni.
The Penguin Book of Mermaids
If you're in the mood for more of a mermaid sampler platter (sorry), seek out The Penguin Book of Mermaids. It's an anthology of folk tales about mermaids from around the globe, many of which are published here in English for the first time. These stories span continents and oceans and centuries, from Greek sirens and Scottish selkies to the indigenous Hawaiian m'o and both sirenas and litao from the Philippines. Through these 60+ stories, readers can discover how different cultures and peoples have approached mermaid stories throughout history—of particular note here is the way in which neighboring societies tell the same story with their own peculiar touches.
This post is sponsored by Saga Press. Thank you for supporting our partners, who make it possible for The Portalist to continue publishing the fantasy stories you love.