Retellings let readers examine the familiar in a fantastical new light. And there is a steadily-growing genre of stories that reimagine and reinvent popular classics and well-loved fairy tales. In recent years, more and more BIPOC authors—authors who are Black, Indigenous, and people of Color—have brought their own unique twists to well-known narratives.
If you're hungry for some excellent SFF, here are twelve incredible sci-fi and fantasy retellings by BIPOC authors. Happy reading!
Briar Girls
For fans of immersive magical worlds and plot-driven narratives, consider this queer retelling of "Sleeping Beauty", which follows a fiery anti-heroine who is cursed with a deadly touch.
Desperate to break her curse and gain freedom, Lena allies with a mysterious and compelling stranger. Together they embark on a dangerous mission to wake a princess hidden in a mysterious forest.
Cinderella Is Dead
In this novel set two centuries after Cinderella found her prince, the Annual Ball is held to pair up the kingdom's men with young girls as their wives.
Refusing to take part in a barbaric system that strips away their freedom, Sophia teams up with Constance—Cinderella's final surviving descendant—and her stepsisters to change the kingdom for the better.
If you've ever wanted to see queer Black girls overthrow patriarchy with their bare hands, this feminist YA fantasy is right up your alley.
The Forbidden Witch
Zahra is the most powerful Jinni. In a world where magic is illegal, her mere existence puts her in grave danger. But can she save herself if that means turning her back on the man she's beginning to love?
Told in beautiful and evocative prose, this refreshing spin on "Aladdin" offers endearing characters and an awe-inspiring story.
Gingerbread
In this story told in two timelines, mother-daughter duo Harriet and Perdita Lee are known for the gingerbread that they make, especially in Druhástrana.
With parallels to "Hansel and Gretel", Gingerbread blends literary fiction and magical realism together, serving an imaginative story about family and the African diaspora experience.
Hunting Monsters
Perfect for readers who love short stories, this novella offers a sapphic feminist mashup of beloved fairy tales, namely "Little Red Riding Hood" and "Beauty and the Beast".
Led by East Asian characters and set in a world teeming with human-cursed grundwirgen, Hunting Monsters is fun, thrilling, and delightfully subversive.
Legendborn
Desperate to uncover the truth behind her mother's death, Bree sets out to infiltrate the Legendborn, a secret society of demon slayers descended from King Arthur's knights.
With the threat of a magical war looming on the horizon, this YA Arthurian retelling is bound to keep readers on the edge of their seats.
The Star-Touched Queen
Forced into a marriage of political convenience, a cursed girl discovers a plot that may destroy the realms. Navigating her new roles as queen of Akaran and wife to the secretive Amar, 17-year-old Maya must solve an enduring mystery to save the world and those she loves
Told in gorgeous prose and drawing inspiration from Indian culture, The Star-Touched Queen offers a loosely-based retelling of the Hades and Persephone mythology that is absolutely spellbinding.
Scavenge the Stars
This gender-swapped retelling of The Count of Monte Cristo begins when a slave girl on a debtor ship goes out of her way to save a mysterious stranger from drowning.
When she accepts his suspicious offer of unimaginable wealth and a unique chance to exact revenge against the man who destroyed her life, Amaya unknowingly becomes entangled in a grand game of deception.
If you're in the mood for angry protagonists driven by revenge, this is the book you need to read.
RELATED: Asian Sci-Fi and Fantasy Book Releases to Read in 2022
Six Crimson Cranes
Following the vein of "The Wild Swans" tale, in Six Crimson Cranes Princess Shiori's six brothers are transformed into swans by her stepmother's dark magic. And to make matters worse, she cannot tell a single soul; otherwise, her brothers will die.
Pick up this stunning fairy tale reimagining if you like complicated families, political conspiracies, and atmospheric writing.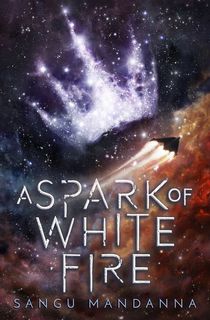 A Spark of White Fire
Inspired by the Mahabharata, this space opera follows a stubborn, cunning princess who dreams of reuniting with her family.
But first, she must beat her widely-loved brother in an impossible competition, win a sentient warship, and take back the throne from the uncle who betrayed them.
Prepare to be sucked into a universe of meddlesome gods, blessed celestial weapons, and dysfunctional families.
Where Dreams Descend
Pitched as Moulin Rouge meets Phantom of the Opera, this fantasy debut is set in a ruined city where the widely-accepted reverence for male magicians is about to be challenged by an ambitious, unstoppable showgirl.
For fans of atmospheric storytelling and unapologetically fierce heroines, Where Dreams Descend needs to be on your radar.
Within These Wicked Walls
In this Ethiopian-inspired Jane Eyre retelling, an exorcist is hired to cleanse a castle of Evil—only to learn that this job is more than what meets the eye, and the same can be said about the handsome young heir who hired her.
Fans of horror and paranormal fantasy are sure to eat this novel up.