I read Narnia when I was in sixth grade, and I've been looking for the right wardrobe to Narnia ever since. The idea of magic hiding in plain sight appealed to me as a young girl, and it's never left. There's nothing better than sitting in a meeting and imagining a magical war happening in the next office over. A train that goes to a fantastical land. A hidden door in a coffee shop leading to an entirely new world. So, when I discovered An Unkindness of Magicians by Kat Howard, I devoured it. Filled with magic, revenge, and a strong female protagonist in Sydney—I was hooked.
Book two in the duology, A Sleight of Shadows, takes us right back to the magical world hidden within New York City. Once again, corrupt, power-hungry magicians threaten to destroy not just magic, but the entire Unseen World. With sharp prose and devious characters, Kat creates a world within our own, using places we know and people we might recognize. I was delighted to sit down and talk with Kat about magic and magicians as we explored nine books with unseen worlds we'd love (and hate) to visit.
When did you start writing?
I always loved to read, and I loved the idea of writing. But I had this completely backwards, strange idea of how the writing process worked for an embarrassingly long time. I thought if you were a writer, that you basically started at "Once upon a time" and wrote your entire book perfectly until you got to, "and they all lived happily ever after". Maybe you'd do a couple of small changes, but if you couldn't do that, I thought you couldn't be a writer. The entire revision process did not occur to me.
Around 2007 or 2008, my life was going through a lot of changes, and I wanted to try writing again. There was a workshop called Clarion and I decided I was going to apply. I got accepted and quickly learned there was a lot about how to write that I didn't understand, but it made me realize that I could pursue writing. That was about 15 years ago, now, but that was where it all started for me.
Your first novel, An Unkindness of Magicians, has magic in modern-day New York, but it was largely unseen. Only people with a certain amount of magic could realize what they saw. What is the appeal of an unseen world to you as a writer?
One of the things I really had to think about when I was starting the novel was how someone wouldn't notice these things. I needed to find ways to explain the magic away. There's actually a couple of places where I play with that in the book. Where people already think it's one thing instead of questioning that it could be something else.
I think it's very much like watching Christopher Reeve as Clark Kent when he turns into Superman. It's easy to say, "How does no one notice that all he's doing is putting on and taking off his glasses?" But if you watch the film, when he turns into Superman, his entire being changes, from his body language and posture … everything else about him. We joke that it's the glasses, but it's not just the glasses. It's how he interacts, how he carries himself, and it's also the context of the interaction and what that person expects to see.
If you aren't expecting magic, even if it happens right in front of you, you won't see it. You might think it's special effects, even if you don't see any cameras. As you start going back over your memories, you'll reinforce the logic. We like things to make sense. We like them to follow our known stories. It's very easy to talk ourselves out of believing the impossible, believing in magic. So I think we could have those worlds, right next to our own, because people will ignore them. It's easier. It makes more sense than believing the impossible.
When it comes to magical worlds, there are a lot of ways to tackle how they're separate from our world. Some, you travel to where others, like yours, exist all around the normal reality. Do you think there's a difference?
I love The Night Circus a tremendous amount, but I do wonder if The Starless Sea feels a bit more like an unseen world. The circus shows up, and while we don't see behind the scenes, people can go and walk through the circus, and even see the magic to some extent. Where in The Starless Sea, it's more secretive, where there are guardians of the books and stories.
I feel like I'm putting my academic hat on here, but it comes down to what do we mean when we say unseen world.
There is a portal aspect to The Starless Sea, but there's also an aspect of our world in the novel, as well. And that's really interesting because that mix of magic in our world versus only magic in the unseen world is sort of an unseen along the sides. I feel like that blending is a really interesting aspect of what is unseen and from what perspective.
For me, I feel like the combination increases the fantastic feeling of a book. Because it blurs the lines between where the secrets are and makes things potentially even more expansive. You're not sure where the magic is or if you're going to be able to access it. Will we be able to open the next door or not?
And that makes it fun to wonder, would I ever want to actually walk into the door to this world? The London underworld in Neverwhere is one where I absolutely would not. I would maybe survive for half a chapter in that world. But it's still so cool. One of my favorite things about that world is how the names of the underground stations turned into reality. Like, there really are shepherds in Shepherds Bush and you really don't want to meet them. That was such a delight.
If you lived in an unseen world, what would your magical power be?
I think it would probably be one that would allow me to be even more secret and unseen. Something like invisibility, the kind of magic that tucks itself into shadows and corners and observes things. I feel like that's a natural outcropping for me.
Would you ever visit an unseen world?
Yeah, I think so. That was one of the pleasures of choosing to write in a contemporary setting instead of doing magic in a secondary universe. I love the idea, the possibility that if you know what door to go through, if you what street to go down, if you know what person to talk to, all of a sudden there is going to be this amazing world that's been right next to you the entire time.
I think though, if I could choose, I'd choose something like the doors in The Starless Sea, where you can walk through your door. I think I probably would. I do like my life here, but I feel like I would like the chance to see something new. Of course, it depends on if I'm having a day where I'm convinced that if I open the door, it's going to be the world where writers get eaten by monsters and I should have just stayed home with my cats.
OK, you're throwing a magical dinner party. Which magicians do you invite and how are you entertaining them?
I'm definitely going with Merlin because I love the King Arthur story. If I can have two from that world, I would really like to have Merlin and Morgan le Fay in the same room just to see what happens … even if the room might not be standing after. I would love to also include a different kind of magician, so I'd invite Harry Houdini. First, I'd love to see his reaction when he realizes some magic is real because he was so interested in debunking fakes. Perhaps by the end of the evening, he'll be locking everybody into escape proof devices and experimenting with how far they can go. And then Celia from The Night Circus because she's such a wonderful character.
This has been an absolute delight. Before we let you go, tell us what you're reading, watching, and listening to right now.
Okay, let's see. I am mostly reading for research right now. I'm reading this amazing, gorgeous, illustrated tarot book by Laetitia Barbier. There's a new Florence and the Machine single out right now, "Mermaids". It is gorgeous and dark and wonderful. Her songs are so cinematic and beautiful, so she's always on playlists for me. And then, I am relaxing by watching the shenanigans of Ted Lasso. Roy Kent is a delight. Trent Crimm, The Independent. How do you now love Trent Crimm? And Rebecca is just astounding. Also, I want everything in her closet.
We know your book, A Sleight of Shadows, just came out, but can you tell us anything about what's next for you?
I am really superstitious about talking about what I have as far as works in progress. I have some short fiction coming out soon, but the next thing I'm working on is another novel. It's not part of the Unseen World. That was a duology, so it's complete, and Sydney really needs a vacation. But I am working on something very different that's due in June, so hopefully there will be more information coming out soon.
If you love unseen worlds and magic woven into our world, be sure to pick up Kat's new book, A Sleight of Shadows, available now. If you've already devoured it, these suggestions might help you find your next obsession.
Try these books with unseen worlds:
The Inheritance of Orquídea Divina
The Montoyas are used to secrets. Their home in Four Rivers was never like other houses: The pantry never emptied and their grandmother, Orquídea Divina, never left. When she invites them to her own funeral, they hope to get answers they've waited their entire lives for. Instead, Orquídea gives them one last gift before transforming.
That gift leaves them with more questions than answers. Seven years later, a mysterious figure appears, determined to kill off Orquídea's family one by one. To save their family, the Montoyas have to unravel Orquídea's secrets, going all the way back to her childhood in Ecuador, before it's too late.
The Library of the Dead
Ropa is a ghostalker. She can talk to Edinburgh's dead and take messages back to the living, but now the ghosts are talking about someone hunting children. The children's souls are being taken, leaving their bodies empty shells devoid of joy or life. Ropa can't ignore the whispers and follows the clues deep into the streets of Edinburgh. She doesn't expect to find an occult library or hidden magic, but she'll use whatever she can to hunt down all the secrets Edinburgh tries to keep from her.
The Magicians
A senior in High School, Quentin Coldwater still loves the fantasy novels he read as a kid. So when he gets invited to a very secret school of magic in upstate New York, he's thrilled. It's everything he dreamed it would be—with one small exception. Magic doesn't bring him the happiness he thought it would. Things seem to turn up when he and his friends discover that his beloved Fillory, the world from the novels, is real. But as they travel deeper into that world, he discovers that it's far more dangerous and complicated than he ever imagined. And at the heart of his journey lies a shocking secret.
Neverwhere
Some people fall between the cracks of London to a familiar but bizarre world beneath the streets. The last thing Richard Mayhew expected after a simple gesture of kindness was to end up in Neverwhere. His life was safe. Predictable. All Richard wants is to go home. But once you're in Neverwhere, it's almost impossible to leave.
The Starless Sea
When Zachary Ezra finds an old book in the library stacks late one night, he doesn't expect to find a story about his childhood tucked inside. What follows are a series of clues: a bee, a key, and a sword. Zachary follows them until he reaches a doorway leading to an ancient library deep underground. He meets fierce guardians who have sacrificed pieces of themselves to protect these lost stories, and those who want nothing more than to destroy them. To discover the truth, Zachary travels through the magical realms, discovering not just the end of his story, but his purpose.
The Night Circus
Le Cirque des Rêves is only open at night. There are no announcements. No warnings. The circus appears, filled with magic and wonder tucked inside its black-and-white tents. But behind the magic, there is a deadly competition at play. Celia and Marco have trained their entire life for their confrontation. Before they realize only one magician can be left standing, they fall deeply in love. But their fates have been set, and with it, the fates of everyone—from the guests to the performers—hang in the balance.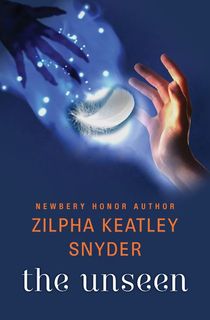 The Unseen
When Xandra Hobson rescues a beautiful bird, she's convinced the glowing white feather it leaves behind is magical. She takes it to school and is surprised that Belinda, the outcast, recognizes the feather and calls it a key. Xandra is reluctant to befriend Belinda, but when she uses the feather, it opens her awareness to an entire world of phantoms. Some are delightful. Others are monsters. Xandra needs Belinda's help to navigate this new world before the key turns her visions into nightmares.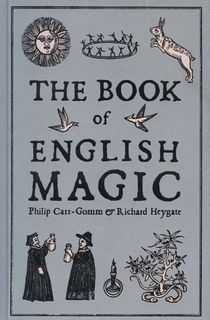 The Book of English Magic
Have you ever wondered where the legends and lore of magic comes from? This delightful novel takes you through the actual history of magic and the occult as practiced over the centuries in England. A lot of what most people know is superstition and illusion. But Carr-Gorman and Heygate walk you behind the curtain, exploring the hidden secrets and lesser-known truths to shine the light on all things magical. If you're looking for a hands-on experience, they offer plenty of ways you can experience the magical history of England with places to visit and things to do.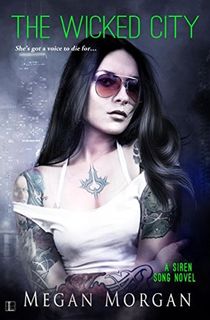 The Wicked City
June Coffin is a Siren, which means she can command anyone to do anything she says. But supernaturals like June tend to find themselves on the wrong side of a laboratory, so she rarely uses her powers until her twin brother Jason is captured. To save him, June has to go deep into the underground world of paranormal resistance. But when she meets the fiery leader, the line from cooperation to something more is quickly crossed. As tensions across Chicago rise, and with her brother's life on the line, June must finally fight for something more than herself.