The first book in the Expanse series, Leviathan Wakes, is an introduction to a futuristic world that still resembles our own. There are political machinations, a missing girl, and a secret that could shake the galaxy to its core. If you loved those things too, we know you're always on the lookout for more. Here are 11 books to travel to the edges of the galaxy and back filled with intense mysteries, impending wars, and deadly politics.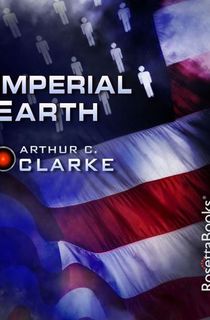 Imperial Earth
One of Arthur C. Clarke's classics features Duncan Mackenzie, who has never been to Earth. He's lived on Titan, now colonized for three generations. When he's invited to be a diplomatic guest for Earth's Quincentennial celebration, he begins physical and mental preparation for the journey because Duncan has another reason for going to Earth—one that the future of his family and his people rely on.
On Earth, he's quickly caught up in political machinations, unexpected encounters, and dangerous mysteries. Duncan wants answers. But to get them, he risks sacrificing the mission he desperately needs to complete.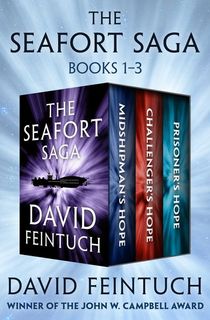 The Seafort Saga Books 1–3
The start of an intergalactic adventure, The Seafort Saga follows Capt. Nicolas Seafort from ship to ship as he faces unexpected challenges, insurmountable struggles, and terrible odds. It all begins in 2194, when Nicolas Seafort is a fresh recruit. After a daring rescue mission goes awry, Seafort finds himself in an unexpected leadership position he isn't prepared for. Not only does he have to complete the original mission, he has to do it with mutiny glimmering in jealous officer's eyes.
Ancillary Justice
Breq wasn't always human. She was once the artificial intelligence of Justice of Toren, a colossal starship that linked thousands of ancillary soldiers across the Empire Radch. That Empire conquered the galaxy. But one act of treason changed Breq's life forever. Now, she's stuck in the fragile skin of an ancillary human with too many unanswered questions. Driven by a relentless need for revenge, she'll stop at nothing to exact her revenge. Even if that means taking on the Empire itself.
Dawn
Hundreds of years after Earth is consumed by atomic fire, Lilith Iyapo wakes up in the hold of an alien ship. The massive craft is helmed by the Oankali, aliens who arrived in time to save the human race. After keeping them asleep for centuries, the Oankali have learned as much as they can about Earth. Now, they've decided it's time to return to Earth, and Lilith will lead them back. But the planet will be nothing like it once was. To survive, the Oankali merge their genetics with civilizations they consider primitive. In the post-nuclear world, plants will grow, animals will live, but humans will be something slightly different—whether they want to be or not.
A Memory Called Empire
The last thing ambassador Mahit Dzmare expects when she's called to the heart of the multi-system Teixcalaanli Empire is to solve a murder. Except, no one will admit it was a murder or that Mahit herself might be in danger. Not only that, but Teixcalaan wants to expand, and it's her job to keep her station out of their wake. It would be one thing to save herself, solve a murder, and vie for her station's independence. But the alien culture is seductive, and Mahit is harboring secrets of her own. Those secrets that might save her station or destroy it entirely.
Artemis
Artemis is the first and only city on the Moon. If you're an eccentric billionaire or rich tourist, life is good. If you're not, well, life is harder. That's why Jazz Bashara smuggles. That makes her a criminal. But she's got debts to pay, not to mention rent. When she's offered a job with a prize too lucrative to turn down, she can't say no. Except, she should have realized the whole thing was too good to be true. Not only is the job nearly impossible, it looks like she stumbled into a conspiracy vying for complete control of the city itself. The only way for her to survive is to pull off a job even more dangerous than the one she signed up for.
The City in the Middle of the Night
The planet January has two sides. One steeped in endless sunlight, the other trapped in permanent darkness. Between the two, humanity clings in two cities built in the sliver of a temperate zone. After a failed revolution, Sophie is exiled to the dark zone, an unexpected stranger appears from beneath the ice to save her. But Sophie has more than treason weighing her down: She's burdened with painful, dangerous secrets. As she struggles to maintain control, more challenges rise. And Sophie and the motley survivors are running out of time.
Star Wars: Light of the Jedi: The High Republic
At the height of the Republic, peace reigns and progress expands. Then, catastrophe strikes: An exploding ship threatens trade, travel, and peace, when it explodes, forcing the Republic to shut down hyperspace lanes and send the Jedi to investigate. But the scope of the damage pushes even the strength of the Jedi to the extreme.
As planets are threatened, the Jedi have to trust that the Force will see them through. The Jedi struggle to maintain peace and work to understand why the explosion happened and what made it so devastating, a dark threat grows in the outer edges of space. If the Jedi can't find it, can't destroy it, this threat might dismantle everything the Republic has strived toward and plant fear in the heart of every Jedi.
Seven Devils
Eris had no desire to be heir to the galaxy's most ruthless empire. That's why she faked her death and left her old life behind ... or so she thought. When she's recruited into the Novantaen Resistance, she's assigned to infiltrate a spaceship with deadly cargo and report her findings. She doesn't expect to find three fugitives with firsthand knowledge of the empire's inner machinations.
Unfortunately, their information will only be valuable for so long. The new heir plans to disrupt a peace summit and ensure the empire's insatiable expansion. Working with the fugitives, Eris has to stop him, or millions will die.
Binti
When Binti, a young Himba girl, is chosen to attend the prestigious Oomza University, she knows it's the chance of a lifetime (even if her family doesn't agree). Her mathematical talents along with her skill with astrolabes all but guarantee she's more than prepared for the interstellar journey. But when a jellyfish-like alien form, the Medusae, attack the ship, Binti is the only human they leave alive. With five days left in her voyage, Binti has to fend for herself on a ship filled with murderous aliens intent on destroying Oomza Uni and the planet housing it. But there's more to this war than meets the eye, and if Binti wants to survive, she has to find out what.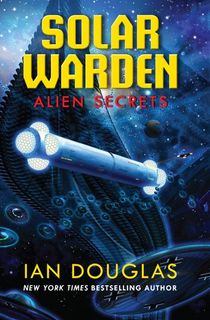 Alien Secrets
U.S. Navy SEAL Mark Hunter witnesses the impossible: a UFO destroying a North Korean bunker developing weapons of mass destruction. Turns out, the government has had secret alien alliances since 1947. How else did Germany have so many unexplained technological advances? Now, Mark is being recruited to lead elite soldiers across the universe so that humanity can take its place with the rest of intelligent life beyond our planet. But there's a reason aliens landed here to help guide war and instability. Intergalactic peace may not be on their agenda.