These days, flying androids deliver our packages and robot vacuums glide around our homes. If you want "Alexa" to obey your every command with an Australian accent, she can do that. If you prefer British, she can do that too. And not only do our phones guide us through unfamiliar cities or call our mothers via voice command—Siri can actually recommend places to bury a dead body. Do I sound a little paranoid? Maybe. But if we can make such technological advancements in the span of a few years, what will happen in the next decade? And in the one after that?
These 12 books imagine the consequences of our over-reliance on gadgets and gizmos aplenty: a robot uprising. Let's just hope our future AIs are more Iron Giant than Megatron.
Sea of Rust
The Doctor Strange writer's protagonist, Brittle, is not your typical robot. Wandering alone and exiled from her humanless society, she is known as a resister—one of the few robots who rejects the shared consciousness that controls the world. Though it's been three decades since the apocalypse—and fifteen years since the obliteration of humankind—Brittle is still tormented by her guilt over the violent AI takeover. Robot or not, during her post-apocalyptic wild west adventure, Brittle will grapple with a very human experience: the pursuit of meaning in a broken world.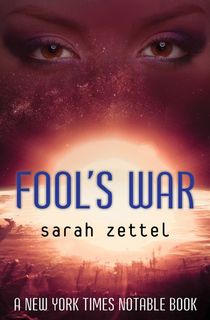 Fool's War
What if our greatest enemy isn't in the sky but within the palm of our hands? Sarah Zettel poses this question in her critically acclaimed space adventure, Fool's War. While touring the galaxy in a starship, the crew of the Pasadena discovers a strange life-form emerging from the craft's computer system. Little do they know, they've become the unwitting players in an imminent AI insurgence, and their recent planetary expedition has jeopardized all of humanity. But with only an engineer, a jester, and the general crewmembers on board, can they truly outwit the universe's smartest enemy?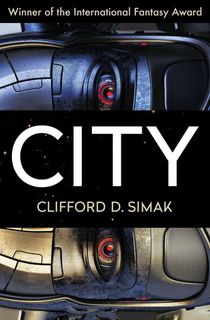 City
Arguably the Grand Master's finest work, Simak's City introduces us to a future-Earth in the wake of a mass human exodus to space. Left to their own devices, the planet's abandoned inhabitants—robots and literate dogs—have created a metropolitan utopia whose peace and harmony are shattered by war. Though surrounded by threats, a race called "Man" possesses the most dangerous weapon of all: the human condition. Filled with highly original conceits (a society of intelligent canines?!), City weaves eight different stories into one science fiction tale that examines the ugliest sides of humanity.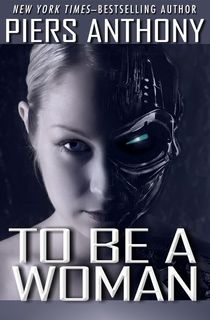 To Be a Woman
Elesa is one among thousands of humanoid robots built to serve mankind. But unlike the rest of the borg population, Elesa has awakened to her own consciousness—and she has ambitions much larger than protecting, loving, and caring for her human owners. Hungry for the freedom that she lacks, Elesa will fight attorneys, inventors, and her captors for her "personhood." A New York Times-bestselling author twenty-one times over, Piers Anthony poses thought-provoking questions about the nature of humanity and breathes new life into the fembot trope.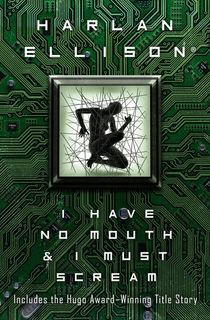 I Have No Mouth and I Must Scream
Among the six science fiction tales in this collection is the titular Hugo Award-winning story: "I Have No Mouth and I Must Scream." With his usual breathtaking inventiveness, Ellison tells the story of a terrifying far-future world in which AIs have decimated the human population. But the survivors—four men and one woman—suffer a fate worse than their obliterated friends and family: relentless torture at the hands of their robot invaders.
RELATED: 10 Must-Read Works by Harlan Ellison
Do Androids Dream of Electric Sheep?
In the year 2021, the world still reels from a global war and humans are few and far between. To rebuild the population, corporations have turned to technology—namely, sophisticated androids that become so unerringly human that they're eventually deported to Mars. But not every robot makes the trip, and many are hiding in plain sight. It's up to bounty hunter Rick Deckard to catch the remaining androids before they have a chance to rebel. This pulpy sci-fi masterwork was the inspiration behind the reigning robot film, Blade Runner.
The Prey of Gods
At first, South Africa thrives when personal robots enter the mainstream, but the AIs' growing empowerment inspires a full-scale rebellion. Now, the economy is failing, a drug epidemic scourges the country, an ancient goddess is on the warpath—and it's up to a band of eccentric misfits to save the world. With a Christopher Moore-like blend of SF/F, black comedy, and horror, Nicky Drayden's wildly original debut has been a 2017 top pick for the Wall Street Journal and Barnes & Noble.
Robopocalypse
The world has become overly reliant on its global network of machines—and with disastrous consequences. Just as Max Brooks' World War Z is an oral history, this national bestseller also chronicles the aftermath of the apocalypse as its human survivors defend themselves against a legion of ruthless AIs. Interviews, news articles, and other secondhand testimonies create a fictional account of an event that, when written in Wilson's conversational style, seems scarily real.
Mockingbird
No family, no friendships, no emotions, and a society governed by robots: this is the grim future-America of Walter Tevis' Nebula Award nominee—a dystopia where technological advancements have created a comatose humanity. Ruling over everyone is the immortal robot, Bob, and although he's a masterpiece of engineering, he's also hopelessly suicidal. His path will cross with Paul and Mary Lou, two people whose romantic relationship and growing self-awareness may be the key to preventing human extinction.
Sleeping Giants
When Rose was a young girl, firemen discovered her cradled in the palm of a buried, metal hand. Now an adult physicist, she's become an expert in her field, hoping to solve the mystery that has haunted her since childhood. Who—or what—does the hand belong to? Where did it come from, and why is it here? As she digs deeper into the relic's strange history—an investigation that is relayed through a compilation of interviews—the answers Rose finds will force her to decide what is worth sacrificing: scientific progress or human life?
Newton's Wake
Following a cataclysmic disaster known as the "Hard Rapture," the Earth's AIs attacked human brains and nearly obliterated the race. Somehow Lucinda Carlyle, a plucky entrepreneur, has risen from the rubble and found success as the gatekeeper to interplanetary travel. And while Newton's Wake speculates about the future through Lucinda's space adventures, the novel also satirizes the 20th century to paint a politically-charged—and not exactly flattering—portrait of Americans.
This post is sponsored by Harper Voyager. Thank you for supporting our partners, who make it possible for The Portalist to continue publishing the stellar stories you love.
Keep scrolling for more sci-fi stories!