When you want to read about dragons, the genre you likely reach for is fantasy. We get it. Dragons seem most at home fighting knights in castles on solid ground. But what if dragons could travel between planets? Or were made of stars? These spectacular books about dragons in space bring sci-fi and fantasy together at the far edges of the galaxy.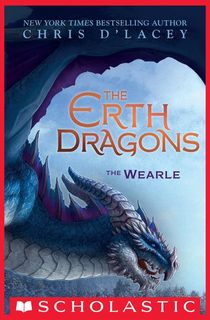 The Wearle
When the Wearle first discovered a planet filled with life, they sent their leaders on their home planet a message. And then no one heard from them again. Now, a young dragon named Gabrial has come to Erth to learn what happened to his father's expedition.
Nearby, Ren—a young human boy—watches the dragon visitor. And soon, the paths of the adolescent dragon and the boy will cross, and change Erth forever.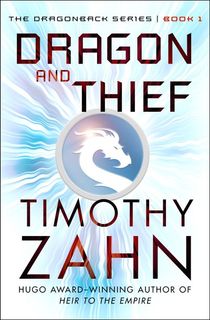 Dragon and Thief
The K'da are fierce fighters, but as symbiotes they can only live for six hours without their human host. One of those hosts is Jack Morgan, a young thief trying to go straight. When a K'da ship is destroyed, Jack becomes the stranded dragon Draycos' only possible symbiote.
But being stuck in a symbiotic relationship isn't all bad. Together, Draycos and Jack try to protect the K'da and prove Jack's innocence. This is a fast-paced adventure that moves through spaceships, spaceports, and the planets between.
Dragonflight
Anne McCaffrey is the queen of science-fantasy books about dragons, and Dragonflight is the first book in her Dragonriders of Pern series. Lessa is the daughter of an esteemed family on the colonized planet Pern, but she must go undercover to escape a killer looking to take out her bloodline.
When Lessa's powerful telepathic abilities are recognized, she starts down a path to become a Weyrwoman and dragon rider.
Guardians of Jupiter
Humanity survived when a Void Dragon ate the sun in 2160. But Earth became a colder version of its former self, stuck orbiting Earth and fending off attacks from the Offense.
Jay Scattergood works in the tech division and has figured out a way to locate and deactivate the mines the Offense bombard Earth's fleets with. But Jay has other things on his mind than saving the planet. When he was eight years old, he found a Void Dragon egg in his garden. Now it's in Jay's laundry bag. And talking to him.
Guardians of Jupiter is the first book in a series about dragons who devour stars, and the chaos they cause.
Dragons in the Stars
There's no such thing as space dragons. At least, that's what pilot Jael has always believed. But when she ignores orders and flies a dangerous route in hyperdimensional Flux, she's confronted by dragons who challenge her to a battle.
Jael is lucky to survive the exchange, and is warned by the dragon Highwing not to return to their territory. But when the Flux sends Jael back into the space dragon realm, she learns Highwing will be executed for helping her. Can Jael save the life of this legendary creature?
The Tar-Aiym Krang
The second book in the exciting Adventures of Pip & Flinx series, The Tar-Aiym Krang starts on the beautiful winged planet, Moth. It's a bustling hub full of ambitious characters, including the young thief named Flinx and his dragon-friend Pip.
When the pair find a star-map on a dead body on Moth, they see a chance to fulfill their own ambitions—but they don't consider that not all dreams are worth dying for.
This is a fun early book in a series that follows Pip and Flinx as they explore ancient alien civilizations, try to solve planetary mysteries, and find themselves in the middle of a space battle or two.
Star Dragon
After a deep-space probe captures footage of a remarkable dragon, a team of humans prepare for the long journey to study it in person.
The voyage will require five hundred years in Earth-time, but due to time dilation, it will only feel like two years for the crew of the Karamojo. And soon, the human and AI crew find themselves in turmoil, and at risk of never seeing their subject.
Star Dragon is a compelling glimpse into an AI-driven future. Brotherton weaves his vast knowledge of physics and astronomy into the plot while exploring how these complicated ideas impact the characters.
The Sail-Weaver
Tristan has spent his life studying to be a Weaver, one of the craftspeople trusted with creating the sails for the Navy's intergalactic tall ships. His first charge is creating the sales for Winged Victory, the Navy's largest ship yet.
But the vessel's crew is plagued with double-crossing and backstabbing. Tristan will have to rely on his dragon-friend Fenfyr to be his ally—particularly when the Winged Victory faces the galaxy's most terrifying threat: the Vermin.
This post is sponsored by Open Road Media. Thank you for supporting our partners, who make it possible for The Portalist to celebrate the sci-fi and fantasy stories you love.