If you're an avid science fiction and fantasy reader, chances are that you've been exposed to manga in some shape or form. Maybe you read it yourself, or maybe you watch its adjacent media format, anime. Maybe you've encountered a cosplayer at a con. These days, it's hard to miss manga, which has become ubiquitous in bookstores, on bestseller lists, and across geek-centric merchandise.
Before manga became a mainstream juggernaut, it was a niche medium in the late 1980s and 1990s. But that all changed in the early 2000s when Tokyopop emerged on the scene and introduced the then-radical idea of preserving manga's original right-to-left reading format. Prior to that, manga had predominantly been mirror-imaged to make it more familiar to English readers used to reading from left-to-right. That simple format change, combined with publishing collected manga volumes versus mimicking the monthly floppy formats used by American superhero comics, helped revolutionize how manga was viewed, bought, and read. Manga made its way into bookstores, finding new readers who'd never set one foot inside a comic book store.
In the years since, the manga industry has gone through its ups and downs. Nevertheless, there's no denying the foundation Tokyopop laid down in those early years. One of those legacies was its now-defunct original English-language manga program, which launched titles by creators inspired by manga aesthetics. While the program was met with mixed reception at the time, who could have guessed that it was a harbinger of things to come? Today, many current graphic novels and comic book artists are influenced by manga storytelling styles, visual aesthetics, and tropes.
Given its place in manga history, Tokyopop has a diverse catalog. Here are some of our favorite Tokyopop manga works.
9 Tokyopop Manga Titles You Should Try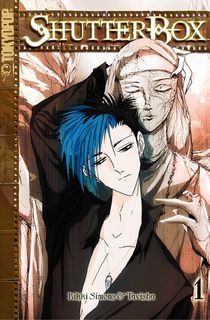 ShutterBox, Volume 1
By day, Megan Amano attends a college in Santa Monica, California. But when she dreams at night, she travels to a place called Merridiah University. Traditionally, Merridiah University is where spirits go to be educated before being reborn. That's lovely, but Megan is very much alive and now she's getting a double dose of higher education. Then, she discovers photos from the dream world on her camera from the waking world. Her quest to unravel the mystery will reveal a destiny she never could have imagined.
Hanger
In Neo-Tokyo, drugs able to enhance physical and mental abilities have led to a wave of super-criminals and rising crime. New recruit Hajime Tsukimo has recently joined a federal task force charged with taking down these chemically enhanced criminals. But to do so, he must team up with Zeroichi, a convicted drug-enhanced criminal hoping to reduce his sentence.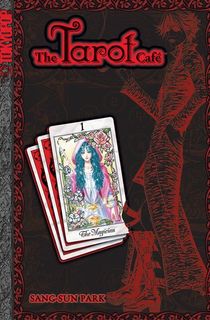 The Tarot Cafe, Volume 1
Tarot reader Pamela makes a point to help any supernatural being who comes her way. It doesn't matter if they're a vampire, a dragon, or a woman searching for her missing fiancé. Pamela will lend her aid. But behind that friendly exterior is a past that will soon affect the present.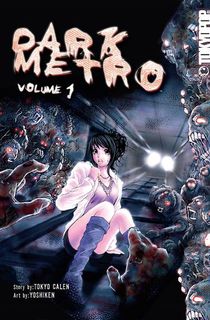 Dark Metro, Volume 1
Riding a near-deserted subway train at night can be scary. A bustling commuter center during the day transforms into a paranoia-inducing tunnel at night. Are those sounds your echoing footsteps, or is someone following? Are those creaks and groans from underground pipes or is that subway station haunted? Dark Metro builds on that deep-seated fear: Beneath Tokyo lies a rift between the land of the living and the land of the dead. And since the Tokyo subway cuts through that rift, some hapless passengers find themselves on a trip they had no intention of taking.
Aria the Masterpiece
In the far-flung future, the planet once known as Mars has been terraformed into a water-filled world named Aqua. Meanwhile, on Earth, Akari Mizunashi dreams of becoming a water guide who gives high-end tours around the Aqua city of Neo-Venezia. She soon gets the chance to realize her goal when she travels to the other planet and joins one of the most prestigious water-guide companies.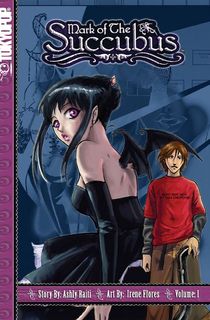 Mark of the Succubus, Volume 1
Maeve has one main purpose in the human world: hone her succubus talents to perfection. She must learn how to blend in with humans without getting caught and refine her seduction skills. That all changes when she befriends a student at her high school. And if that weren't bad enough, the head succubus of the Demon World has sent spies to the human world to make sure Maeve doesn't go astray.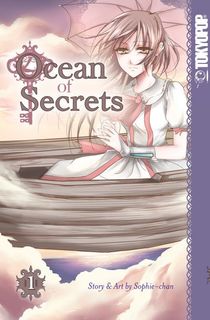 Ocean of Secrets, Volume 1
When a storm sweeps orphan Lia into the ocean, she's saved by a pair of runaways who travels the seas by a magical ship. The duo introduces her to a world filled with supernatural powers and three hidden kingdoms on the brink of war.
Parham Itan: Tales From Beyond
Yamagishi is an athletic boxer, while Sendo is a bookworm obsessed with conspiracy theories and the occult. But the two boys must put their differences aside when their school is plunged into supernatural chaos. The pair soon meets a mysterious paranormal investigator named Akisato and together, they learn they're trapped in a terrifying world known as The Beyond and must work together to escape. If you're a fan of Lovecraft's brand of cosmic horror, this is the manga for you.
Laughing Under Clouds
Three brothers are charged with capturing and escorting criminals to an inescapable prison built in the middle of Lake Biwa. But a secret rests at the heart of the brothers' family: Every 300 years, the serpent demon Orochi is born into a human vessel, and the eldest brother may be the latest incarnation.