Kick-ass female characters and fantasy books go hand in hand. Often, these warriors can be found defending their family's honor, saving their town, and proving time and time again that men aren't the only heroes. Jam packed with adventure, epic quests, and destinies to fulfill, these 12 fantasy books with powerful female warriors will make you want to cancel your plans and spend the weekend reading instead.
Have a woman warrior from your favorite book you'd like to include? Add her to the comments below!
The Merciful Crow
The first book in a stunning new fantasy series, Merciful Crow introduces the dark world of the Crows, a caste of undertakers and assassins ostracized by the rest of society. Fie, a Crow, is fiercely protective of her ragtag community. When Crown Prince Jasimir passes away, Fie is tasked with removing his corpse. She expects a royal reward, but instead finds herself thrown into the middle of royal intrigue.
Prince Jasimir faked his own demise, and when Fie discovers that rumors of his death have been greatly exaggerated, he offers her a bargain she can't refuse: If she safely escorts him away from the murderous queen, Jasimir will give the Crows the official protection they've long desired. Fie's mission to protect Jasimir, and save the Crows, is complicated by Jasimin's bodyguard, Tavin. The hawk bodyguard has devoted his entire life to protecting the prince. But after a lifetime of service, his desire for an identity of his own may prove dangerous...
RELATED: Shows Like Game of Thrones to Fill the Post-Finale Void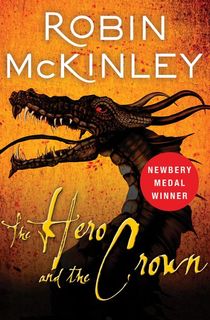 The Hero and the Crown
Though she tries not to let it get to her, Aerin—the outcast daughter of the king—is constantly shadowed by the rumors that her birth mother is a witch. To pass the time, she befriends and trains her father's retired warhorse, Talat, and learns of a forgotten recipe for dragon fire repellent…just in case the need ever arises.
But when a dragon attacks a nearby village, Aerin sees her opportunity to be a hero. Running head first into battle, she realizes that she might have bitten off more than she can chew, as the dragon is one of the great dragons of ancient times—a dragon that might frighten even the boldest of kings. This story of adventure and bravery will make you want to stand up and fight for something.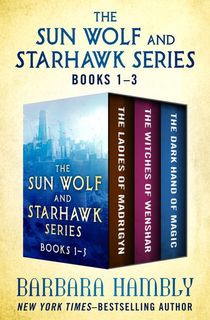 The Sun Wolf and Starhawk Series Books 1–3
As first lieutenant, Starhawk might at first glance seem secondary to her traveling companion, Captain Sun Wolf — however, she's anything but. Hambly's dark fantasy novels tell a story of war and witchcraft, following Sun Wolf and the mighty Starhawk as they become entwined in a magical, and sinister, plan.
In the first book in the series, The Ladies of Mandrigyn, the great mercenary Sun Wolf is offered riches for the use of his army against a wizard. When he refuses, he is kidnapped and forced to help—leaving Starhawk left to rescue him. Starhawk's independence and determination to rescue Sun Wolf (in a complete departure from the stereotypical damsel in distress motif) make her an incredibly fierce warrior.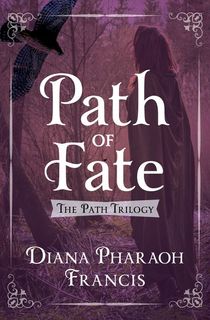 Path of Fate
Reisil, an orphan, thinks she's finally found her place as a healer, which offers her a connection to the community and even acceptance. But little does she know that she has the ability to communicate telepathically with animals, making her an ahalad-kaaslane: a guardian who can't have family or community ties. Though she resists her new role at first, Reisil soon comes to realize that it's her duty to protect her people. And when disaster strikes, she stops fighting her true destiny and becomes a warrior in her own right—on a mission to track down traitors and save two kingdoms.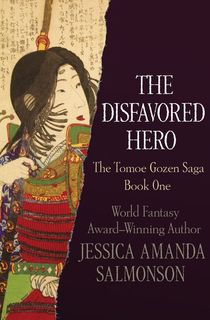 The Disfavored Hero
When peasants possessed by an evil wizard kill samurai Tomoe Gozen, her life is restored and she returns to reclaim her dignity and right some wrongs. Featuring epic battles and a cast of deeply flawed but determined characters, this story of the legendary warrior Tomoe Gozen's determination to win back her honor will leave you spell-bound. The trilogy follows Tomoe on different journeys—all of which include sword-wielding warriors and feminist messages that will leave you cheering.
The Girl with Ghost Eyes
This historical fantasy novel takes place in the San Francisco Chinatown of 1898, where Maoshan Daoists attempt to keep dark forces away. Among the Maoshan Daoists is Li-lin—a young widow with yin eyes that give her the ability to see the spirit world—and her father, a renowned Daoshi exorcist. When a sorcerer attacks her father, and sets an evil plan in motion, Li-lin must navigate a male-dominated world before ancient evil can prevail. Thankfully, she has a clever spirit—in the form of a human eyeball—to help her, as well as her peachwood sword and burning paper talismans. Li-lin's story provides action and adventure that weaves fantasy together with Chinese folklore.
Alanna: The First Adventure
Winner of the Margaret A. Edwards award, the first book in the Song of the Lioness series follows Alanna of Trebond as she pursues her dream of being a knight. Unable to train as one because she's a girl, she switches places with her brother, Thom—who wants to learn the art of magic. As Thom disguises himself as a girl, Alanna assumes the name Alan and heads to the castle of King Roald to train as a page. Along the way, she learns that if she wants to become a knight, she'll have to learn how to control her heart and recognize who her true enemies and allies are.
RELATED: Great Sci-Fi and Fantasy Books Featuring Multidimensional Female Characters
Throne of Glass
Eighteen-year-old assassin Celaena has served her time for her crimes, but Prince Dorian only agrees to offer her freedom if she acts as his champion in a competition to find a new royal assassin. If she wins, she'll have to serve the kingdom for three years before she's free. But when contestants start turning up dead, Celaena must find the killer before she herself becomes a victim. The first in the five-book series (which still has more to come), Celaena is a fierce warrior who doesn't sacrifice her true self for anyone.
RELATED: You Need to Read Sarah J. Maas' A Court of Thorns and Roses
Graceling
The first book in the three part Graceling Realm series, all of which are standalones, introduces us to a world where everyone is given a special talent called a 'Grace.' Katsa's Grace is killing. And as the king's niece, she's forced to use her skill for whatever he wants. But if Katsa hopes to use her Grace for good, she'll have to uncover its true nature. Though Katsa is a warrior, she's still just trying to navigate her way in the world—and finds adventure and romance along the way.
The Lord of the Rings series
If you love epic fantasy, chances are you've probably read (or at least watched the adaptation of) The Lord of the Rings series. While the majority of the series follows Frodo and the fellowship on their perilous quest to destroy the One Ring, there are many warriors they meet along the way.
Éowyn, the daughter of Éomund and Theodwyn, proves herself when the men go off to fight in the Battle of the Hornburg during the War of the Ring and she's left in charge of Meduseld as its fearless leader. But what she really desires is to go off into battle herself, so—disguised as a man—she takes matters into her own hands and charges forth. Éowyn's strength, bravery, and selflessness make her one of the greatest female warriors of all.
RELATED: 7 Must-Read Tolkien Books for The Lord of the Rings Fans
A Song of Ice and Fire series
George R.R. Martin's sprawling epic fantasy books take place in the kingdom of Westeros, as different Houses fight for the right to sit on the Iron Throne. The immensely popular series currently contains five books, with fans eagerly awaiting the release of the sixth book, The Winds of Winter. Arya, the youngest daughter of House Stark, has always been a warrior. From a young age, she was more interested in practicing swordsmanship than 'acting like a lady.' She's headstrong and a fan favorite to make it to the end—something that is never certain for main characters given Martin's track record.
Who Fears Death
This World Fantasy Award-winning post-apocalyptic fantasy novel focuses on Onyesonwu, a young mixed-race girl ostracized by her Okeke community because she's an Ewu—a child conceived when her Okeke mother was raped by a Nuru man. Onyesonwu and her mother and stepfather struggle to find acceptance in their community, but when her stepfather dies, Onyesonwu's grief unlocks an unfathomably powerful magic within her. An ewu and a sorceress, Onyesonwu is now twice-stigmatized within her people. But her newly discovered magical skills give her the power to possibly bring peace to the Okeke—and defeat Daib, the powerful sorcerer who raped her mother. A warrior with magic as her weapon, and a desire to ultimately create a life of freedom for those she loves, you're sure to root for Onyesonwu.
The Dragons of Dorcastle
The first book in The Pillars of Reality series introduces readers to Mari, a bright young Mechanic, and Alain, the youngest Mage. They live in a world where the two Great Guilds of Dematr, the Mechanics and the Mages, are bitter rivals that only agree on one thing: Change is bad. When a threatening Storm approaches, Alain learns that according to an ancient prophesy only Mari can save the world — and he'll have to work with her if there's any hope of staying alive.
This post is sponsored by Fierce Reads. Thank you for supporting our partners, who make it possible for The Portalist to celebrate the sci-fi and fantasy stories you love.
Featured still From "Game of Thrones" via HBO