From Game of Thrones to Harry Potter to Tolkien's Middle-earth legendarium, many of the most enduring fantasy stories in history have featured memorable dragons. Since we've yet to win a dragon egg in a dive-bar poker game, we'll have to settle for living out our beast-rearing dreams through the pages of novels. Thus, here are our favorite dragon books of all time.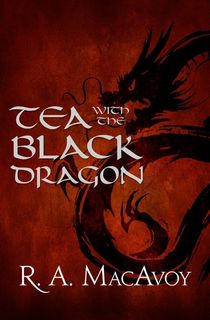 Tea with the Black Dragon
This San Francisco-set fantasy was nominated for both the Hugo, Nebula, and World Fantasy Awards. Martha McNamara came to San Francisco at the request of her troubled adult daughter. But now that Martha's here, her daughter is nowhere to be found. When Martha herself runs into danger, the only person who knows she's missing is the mysterious Mayland Long — a friend Martha met at her hotel who has the ability to transform into a dragon.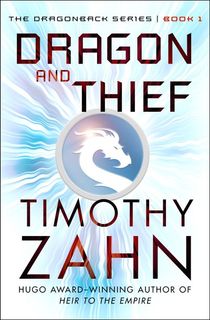 Dragon and Thief
This first entry in the thrilling Dragonback series by Timothy Zahn introduces Jack Morgan, a young con artist in hiding after being framed for a crime he didn't commit, and Draycos, a warrior from an endangered draconic race. After a chance meeting on a planet where Jack is hiding from galactic law, Jack realizes Draycos could help prove his innocence. But first, Jack must allow the strange creature to bond with him physically and mentally.
Zahn is the creator of Star Wars' Grand Admiral Thrawn and the author of the acclaimed Heir to the Empire trilogy. In the Dragonback series he proves his knack for fun, action-packed sci-fi extends far beyond the Star Wars universe.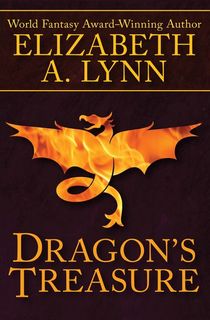 Dragon's Treasure
In this sequel to Dragon's Winter, Karadur Atani has now gained the power to transform from a human into a dragon. He must grapple with the challenges of ruling as a dragon lord in a fantastical medieval world. Karadur vowed he would be a more merciful ruler than his father, but his unruly draconic nature threatens to make that challenging. When Karadur unleashes his fiery fury on an outlaw clan, sparing only two of its members, he changes the course of Dragon's Keep forever.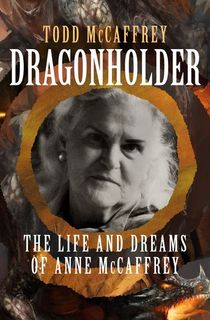 Dragonholder
The late Anne McCaffrey authored the epic science fantasy series Dragonriders of Pern. In Dragonholder, McCaffrey's son Todd — who has himself written a number of Pern novels, both on his own and in collaboration with his mother — reveals "the stories behind the stories." The authoritative text on McCaffrey's life and legacy, Dragonholder is a must-read for fans of McCaffrey.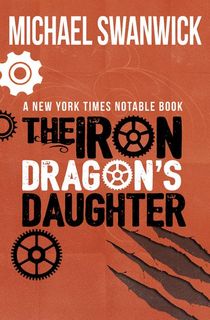 The Iron Dragon's Daughter
A World Fantasy Award and Locus Award-winning novel, The Iron Dragon's Daughter is set in a steampunk, dystopian version of Faerie. Jane, a changeling, works in a factory where mechanical dragons are built and shipped off to war. When a dragon named Melanchthon challenges Jane's view of life in faerie, she must decide if escape is worth the risks.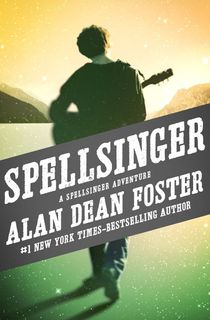 Spellsinger
After a regular college student is transported to a magical dimension, he must team up with a Marxist dragon and other fantastical creatures in this charming Alan Dean Foster series. Jonathan Thomas Meriweather was a typical college student, content to spend his youth smoking in his room and strumming his guitar. When he's suddenly transported to a magical realm, Jonathan is shocked to learn that his music has a vital power—and that his actions have real consequences. With no way home, Jonathan must stay and rally an army against encroaching dark forces.
RELATED: Young Adult Fantasy Books to Cast a Spell on Readers of All Ages
A Song of Ice and Fire series
His Majesty's Dragon
In this alternate-reality fantasy, warriors fight each other on the backs of dragons during the Napoleonic Wars. Lawrence is content with his position as a high-ranking captain in the British navy. When his ship captures a French vessel with precious dragon egg cargo on board, Lawrence is proud to contribute a new dragon to His Majesty's Aerial Corps. But when the dragon hatches at sea—and imprints on Lawrence, choosing the proud sea-captain as his rider—Lawrence must relinquish everything he's worked for in the navy to fulfill his duty to the throne. Over time, the traditional Lawrence and the unconventional dragon Temeraire develop an unshakeable bond.
The Hobbit
The Hobbit, or There and Back Again is an iconic adventure fantasy in J.R.R. Tolkien's Middle-earth legendarium. It follows homebody Bilbo Baggins as he leaves his beloved Hobbit-hole in the Shire and joins a quest to reclaim a mountain—and a horde of treasure—from the vicious dragon Smaug (perhaps the only purely antagonistic dragon on this list). An unlikely hero, as Bilbo travels farther and farther from his packed larder and comfortable rooms in the Shire, he proves to be a better burglar and comrade than anyone on the quest could have anticipated.
RELATED: Journey Through Tolkien's Artwork at the Morgan Library Museum
Seraphina
In the world of Goredd, humans and dragons live side-by-side, their mutual distrust tempered by an official treaty. To set mortal minds at ease, dragons assume human shape to visit court. But beneath the placid surface, dangerous resentment simmers. Soon after musician Seraphina joins the court of Goredd, a member of the royal family is murdered gruesomely, and suspicion falls on dragons. Together with a prince, Seraphina is thrust into the heart of the investigation as the end of the human-dragon treaty draws closer—and as Seraphina struggles to hide a dangerous secret of her own.
RELATED: 28 Must-Read Fantasy Book Series
Eragon
In the first book in the Inheritance Cycle, farm boy Eragon intends to trade a beautiful blue stone he finds in the mountains for food … only to watch as it hatches into a dragon named Seraphina. When a bloodthirsty king sends his armies to Eragon's village to hunt down the egg, the farm boy and the young dragon flee. They're accompanied on their exodus by a bard who will ultimately teach Eragon what it truly means to be a rider. Written when author Christopher Paolini was still a teen, the Eragon series was a publishing sensation at the time of it release. 16 years since the first book in the series was published, Eragon remains an absorbing tale of draconic adventure.
If you fall in love with the Inheritance Cycle and need more from Paolini, the author recently released his first-ever sci-fi novel. You can read an interview with Paolini about his sci-fi debut To Sleep in a Sea of Stars over on Den of Geek.
Dragonflight
The first book in McCaffrey's iconic Dragonriders of Pern series, Dragonflight introduces the planet of Pern. Human colonizers on the often-extreme planet have survived by mastering dragons with whom they share a telepathic bond. In northern Pern, Lessa is the only survivor of a decimated royal family. After the rest of her family was slaughtered by challengers to the throne, she learned how to make herself unnoticeable in order to survive. But when Lessa's world is furthered threatened by an evil force from a neighboring planet, she teams up with a dragon queen to fight it.
Dealing with Dragons
Independent-minded Princess Cimorene abandons her royal duties and runs away to live with a dangerous dragon called Kazul in the first book of this funny, feminist fantasy series by Patricia C. Wrede. In her unconventional life as a voluntary prisoner to a dragon, Cimorene must contend with royal societal disapproval—as well as the many unique challenges of living in an enchanted wood.
Harry Potter and the Sorcerer's Stone
Though multiple dragons appear in the series, Norbert of Harry Potter and the Sorcerer's Stone is one of the most memorable. After Hagrid wins a dragon egg from a disguised Professor Quirrell during a card game, he becomes obsessed with the creature, whom he names Norbert. Norbert, later revealed to be a female, is eventually released into the care of Ron's brother Charlie Weasley.
This post is sponsored by Open Road Media. Thank you for supporting our partners, who make it possible for The Portalist to celebrate the sci-fi and fantasy stories you love.
Featured photo via the cover of "Dragonflight" by Anne McCaffrey