Before she became a Nebula and Hugo Award-winning author, Vonda N. McIntyre attended the 1970 Clarion Writers Workshop, a residential program for speculative fiction authors. Her life-changing experience at Clarion inspired McIntyre, a Seattle resident, to create something similar in the Pacific Northwest. In 1971, she launched the inaugural Clarion West Writers Workshop along with Robin Scott Wilson. The rest, as they say, is history.
For 51 years, Clarion West has fostered the talent of rising SFF writers through both the main workshop and additional classes. To celebrate the late Vonda N. McIntyre, The Portalist has teamed up with the Clarion West Writers Workshop to offer a prize pack that honors McIntyre's enduring influence as an author and mentor.
One entrant will win a hardcover copy of Pocket Workshop: Essays on living as a writer, a $150 gift certificate for Clarion West classes, plus the digital editions of seven Vonda N. McIntyre titles: Barbary, Dreamsnake, Fireflood, Superluminal, two book bundles in the Starfarers series, and The King's Daughter.
Enter your email address below to take home the prize pack!
By entering your email address, you agree to receive emails from The Portalist.
The Pocket Workshop: Essays on Living as a Writer
Pocket Workshop collects twenty-eight essays by instructors of the Clarion West Writers Workshop — essays that illuminate their authors' experiences of writing and of living as professional writers.
Included here is advice for handling writer's block, working with voice, and using allegory, as well as methods for scene-setting, landing a good finish, writing despite distractions, mentoring, and so much more.
Since 1984, the six-week writer's workshop has provided resources to more than 600 science fiction, fantasy, and horror writers, many of whom work today as professional and award-winning authors and editors.
A $150 gift certificate to use over the next calendar year on Clarion West Classes. More details on classes can be found here.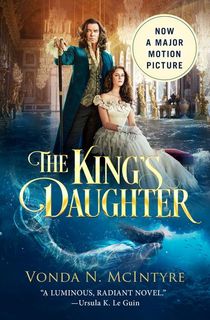 The King's Daughter
Winner of the Nebula Award and now a major motion picture: "A luminous, radiant novel" (Ursula K. Le Guin, author of the Earthsea series).

During the late seventeenth century, Louis XIV's natural philosopher and explorer, Father Yves de la Croix, does what no one has done for four hundred years: he brings a living sea monster to land. Thus begins a stunning fantasy, a journey into science and superstition, and an alternate history in which Yves and his sister, Marie-Josèphe—a lady-in-waiting with her own finely tuned intelligence and insatiable curiosity—struggle to learn from and protect the sea woman. As Marie-Josèphe translates the sea woman's songs into stories, she hopes to stave off the creature's inevitable execution—for Louis XIV believes the wondrous being holds the secret to the immortality he craves, a twisted obsession that will force brother and sister to choose between their conscience and their loyalty to king and country . . .

The basis for the movie starring Pierce Brosnan, The King's Daughter is "a dazzling and spirited evocation of the passions, intrigues, and preconceptions of the age, along with a dandy pair of misfit, star-crossed lovers: an enchanting slice of what-if historical speculation" (Kirkus Reviews).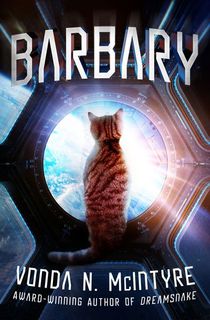 Barbary
A story of feline first contact by the Hugo and Nebula Award–winning author that "recalls Robert Heinlein's excellent stories for this age group" (Publishers Weekly).

Twelve-year-old Barbary has been dreaming of going to space for as long as she can remember. Now, the orphan is on her way, joining the family of her mother's best friend on the research station Einstein—but she won't be going alone. Barbary can't bear to leave behind her only friend, a Manx tabby cat named Mickey.

Getting used to zero gravity is just one challenge the pair will face on their journey; when they finally land on Einstein, Barbary will have to trust her new sister with her secret stowaway. But Mickey's mischievous nature may get Barbary kicked off of her new home for good—and put all of humanity at risk as an alien ship flies their way . . .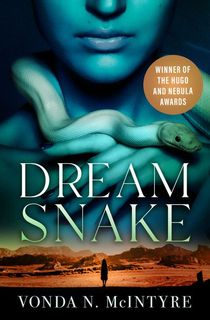 Dreamsnake
On an Earth scarred by nuclear war, Snake harnesses the power of venom to cure illnesses and vaccinate against disease. The healer can even ease patients into death with the power of her dreamsnake. But she is not respected and trusted by all, and when she tries to help a sick nomad child, the frightened clan kills her dreamsnake.

Ashamed of being misjudged and grieving the loss of her dreamsnake, Snake has one choice to maintain her livelihood: she must travel to the city, which jealously guards its knowledge. And before she faces the prejudices and arrogance of the people there, Snake must make her way across a barren desert, surviving storms and radiation poisoning, helping those she can—all while a madman stalks her every move . . .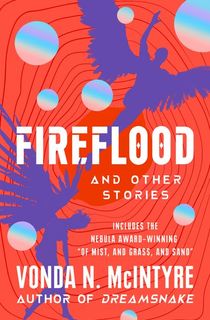 Fireflood
A collection of eleven stories from the New York Times–bestselling author, including Nebula Award winner "Of Mist, and Grass, and Sand."

This brilliant collection of short fiction showcases renowned author Vonda N. McIntyre's sparkling lyricism, captivating vision, and advocacy of the different.

The titular story is one of alienation and discrimination, as a woman transformed into an "ugly" lifeform—a clumsy "digger"—seeks to escape her servitude to humans, but is denied sanctuary by the beautiful and graceful "flyers." Also included is the acclaimed story "Of Mist, and Grass, and Sand," which became the first section of McIntyre's Hugo and Nebula Award–winning novel, Dreamsnake. In it, a woman who harnesses the power of snakes' venom to heal saves the life of a nomad boy in the desert—but the price she pays may be too much to bear. In "Aztecs," later expanded into the novel Superluminal, a woman undergoes biological modifications in order to pilot ships during faster-than-light travel.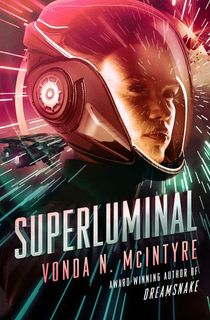 Superluminal
In a future where space travel moves at faster-than-light speed, starship crews can only survive transit if drugged nearly to death. Then there are those like Laenea Trevelyan, who want to become pilots so badly they will go through years of training and major surgery to free themselves of biological rhythms. But though they become literally heartless, their emotions are just as human as before.

Laenea discovers this herself when she immediately falls for crewman Radu Dracul upon her early release—some might say escape—from the hospital after her procedure. She is not unknown to Radu; Laenea was the first offworlder he ever saw when she and her crew delivered a vaccine for the cryptovirus that decimated his family and his planet.

However, their intense attraction cannot last. Laenea's modifications will not survive in close proximity to Radu's biorhythms, which are too strong to allow him to become a pilot.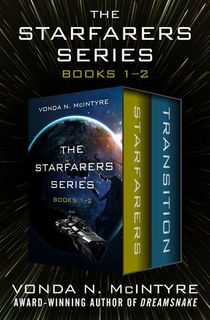 The Starfarers Series Books 1–2
The first two books in "the most important series in science fiction" from the New York Times–bestselling author of Dreamsnake (Ursula K. Le Guin, author of the Earthsea series).
Starfarers

The Starfarer is a self-sufficient spaceship with a functioning ecosystem, able to navigate from one star system to another via cosmic string, and it is about to embark on a deep space expedition in search of alien contact. Its global crew has come together in the spirit of cooperation and scientific advancement. But Earth struggles with anti-science and anti-technology factions, and there are those who want to turn the Starfarer into a military base. One of them is on board. And he will stop at nothing—including sabotage—to enforce his agenda . . .

Transition

After the crew members of the Starfarer hijack their own ship, they intercept an alien message and attempt to decipher its complex patterns. It could be an introduction, a warning, or a trap. In Tau Ceti, the first star system humans have ever visited, they discover worlds possessing life but no higher forms of intelligence. And with a saboteur still in their midst, tensions rise as the ship and its team hurtle toward a meeting more than three millennia in the making . . .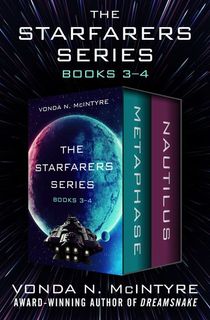 The Starfarers Series Books 3–4
Metaphase

Cast out from interstellar civilization, the crew of the Starfarer encounters an extraterrestrial whose reputation is equally bad: the squidmoth. Contact specialist J.D. Sauvage risks her life to befriend the creature, trusting her instincts instead of the warnings of the alien human. The welcome Sauvage receives and the connection she makes will help her overcome her innate fears and prejudices, and she will be given a gift that will save her from being left behind in an empty star system—as well as redeem the Starfarer and its mission . . .

Nautilus

After their encounter with the squidmoth, and with their ecosystem immunized by the alien human, the crew of the Starfarer makes contact with representatives from the Four Worlds. J.D. Sauvage is sent to meet the furry creatures—as large as lions and as lithe as otters. They have been waiting for humans for a long time. But there is something they want from the Starfarer team: Earth's one advantage over space civilization—a new, faster algorithm for interstellar navigation.
For full details, see official rules.
Note: The sweepstakes is open to all legal residents of the 50 United States and Washington, DC who are 18 years of age and older by January 7th, 2022.