Sometimes, you watch a movie and you just can't get enough of your favorite character–except that the sequel won't be out for a year or maybe more. If you walk out of the Justice League movie feeling that way, you may be in need of some reading recommendations to help fulfill your craving for more Wonder Woman or Aquaman.
There are plenty of comics to scratch your itch, of course; but there are also great novels out there which explore themes raised by each of the Justice League's members. Below are just some of the great books you might want to run out and grab, based on which Justice League hero you love the most.
The Last Policeman
In the corrupt city of Gotham, Batman is often the only justice, serving at times as both investigator and enforcer. The same can be said of Hank Palace, the protagonist ofThe Last Policeman.
The novel follows a homicide detective in Earth's final days as humanity winds down in the face of an asteroid strike that can't be avoided or survived. As with Batman, Detective Palace faces a level of opposition that's difficult to argue or fight against: the world is ending in a few months, so why bother to investigate a death that appears to be one of thousands of suicides?
This book is especially well-suited for readers who are enjoying the middle aged Batman of the newest films. If The Last Policeman ends up being your jam, the book is the first in a complete trilogy.
The Blood Print
There are tons of reasons Wonder Woman might be your favorite, but one of my favorite things about Wonder Woman stories are the Amazons and the island of Themyscira. In the standalone Wonder Woman film, I wished the Amazons and their way of life had received more screen time.
Amazon fans may want to check out Ausma Zehanat Khan's The Bloodprint, which follows a group of warrior women on a quest for a weapon that could save their nation. The story focuses on two of these warriors, Arian and Sinnia, who seek a text called the Bloodprint that represents hope in the face of oppressive tyranny.
It's a great read for viewers who wanted more of the Amazons' warrior sisterhood in the films. The Bloodprint is the first in a series, and it'll definitely keep you occupied before Diana makes her next silver screen appearance.
Autonomous
As a long-time fan of Teen Titans, I've always loved Cyborg. As I got older, I realized I was drawn to the character because of my fascination with robots and cyborgs and what precisely makes somebody a person instead of a machine. It's something Victor Stone struggles with at times in the comics and the series: how much of his body can be made from robotic parts before he's no longer human?
If that subject fascinates you as well, pick up Annalee Newitz's Autonomous. The novel explores questions raised by the existence of Paladin, a narrative character and battle android. Despite being programmed and affected by software, is Paladin a person who deserves autonomy? And what exactly is autonomy, anyway?
Autonomous explores the ethics of all kinds of technology, from sentient robots to medicine, and the socioeconomic questions Newitz asks are ones that Cyborg fans may be asking as well. This novel stands alone, but it'll leave you thinking for a long time.
Child of a Hidden Sea
I've never been particularly interested in Aquaman–until I saw the costume and character design for the Justice League film, which gives off some serious pirate vibes.
There's tons of pirate fantasy out there, but one that's particularly well-suited to movie viewers is A.M. Dellamonica's Child of a Hidden Sea, which follows a marine biologist who gets transported into another world filled with politically tumultuous island nations and fleets both pirate and imperial.
Action and marine biology make for a great read for Aquaman fans. Child of a Hidden Sea is the first novel in a trilogy, so there's even more marine biologist piracy waiting for you once you've finished.
RELATED: 10 Sci-Fi and Fantasy Books About Heroes and Heroines with Extraordinary Powers
Time Salvager
Even if you're not familiar with the comics, you might know the Flash from the TV show on the CW. If that's the case, you know that Barry Allen often travels through time, sometimes screwing up the timeline.
And guess who else has the potential to screw up the timeline? Time Salvager's James Griffin-Mars, a time traveling scavenger who, uh, not-very-accidentally saves a scientist from a previous time by bringing her back to his future.
If you haven't gotten enough when you finish, there's also a second book in the series, which will at least hold you over until the next season of The Flash on TV.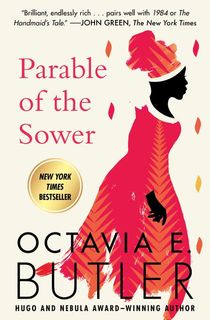 Parable of the Sower
While Superman's role in Justice League was … not emphasized, we'll say, he's one of the main members of the Justice League of the comics as well as one of DC's three most iconic heroes, alongside Batman and Wonder Woman.
Clark Kent is a character known for being a hopeful figure in a dark world, and Lauren Olamina–the messianic leader and protagonist of Parable of the Sower –is similarly luminescent. Lauren leads a growing group of people on foot through a burning, famine-ravaged future California, doing her best to give hope to the people who follow her.
Parable of the Sower is one of the most hopeful dystopian novels you could read, with Lauren offering a promise of salvation in a dark world. There's a second book in the series as well that you might want to pick up once you're done.
Featured still from "Justice League" via Warner Bros.