There's something to exploring the human condition through nonhuman characters. Animals can add a sense of whimsy to an adventure plot, or they can allow readers to enter a serious plot with a lowered guard. Sometimes, they reveal what makes us truly human, a staple question for SFF stories. For the animal-lovers, here is a list of nine SFF stories featuring lovable animals.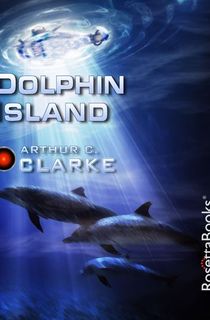 Dolphin Island
Late one future night, Johnny Clinton, a teen boy with a troubled past, stows away in a cargo hovership, only to crash-land in the middle of the Pacific Ocean. As a stowaway, the crew didn't know Johnny was onboard, and they evacuate without him, leving Johnny alone amidst the wreckage, adrift in the deep blue sea. Luckily for Johnny, a pod of dolphins guide him to safety, on a strange island in the midst of the Great Barrier Reef, where Johnny meets a professor who has made it his life's work to communicate with these intelligent creatures. When calamity strikes the island, Johnny must risk his life once more to seek help in an adventure fit for any marine biology lover.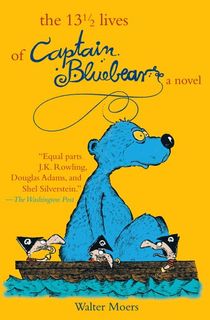 The 13 1/2 Lives of Captain Blue Bear
Bluebear (who is, fittingly, a big blue bear) has had 27 lives, but he will only share with us 13 and a half of them. His is a life of adventure, with pirates, hobgoblins, and a spiderwitch, who force Bluebear to use his wits to escape death's traps. In the magical world of Zamonia, a staple setting for Walter Moers, fantastical creatures abound and share their strange lives.
Bluebear interweaves his story with The Encyclopedia of Marvels, Life Forms, and Other Phenomena of Zamonia and its Environs, created in-world by fictional professor Abdullah Nightingale and illustrated thoroughly by Moers', whose cartoonish style is reminiscent of Moers' esteemed career as a German cartoonist. Anyone who likes The Hitchhikers' Guide to the Galaxy or The Moomins will find something to love in this whimsical set of tales.
The Animorphs Series: The Invasion
I'll take any excuse to stan Animorphs and the great K. A. Applegate. In the greatest war epic to ever exist, five human teens plus one alien friend obtain the power to morph into animals to fight off an invading alien army of parasitic slugs. The first casualty of this war is Tobias, who doesn't die, but he does get trapped in a red-tailed hawk morph, losing his human life for life in the woods.
Tobias must adapt quickly to his new life as a hawk. He learns to hunt, protect his territory against owls, and soar on thermals above the city. Throughout the series, Tobias wonders if he trapped himself in morph on purpose. His human life was not ideal, as he was shuffled between abusive family members after his parents abandoned him (or so he thinks).
Yet, his love for his fellow fighter Rachel keeps him tethered to his human life, along with his desire to protect the human race. Tobias's story questions which traits humans share with animals and what sets us apart, bonded by our desire for survival with different paths to do so.
The Tale of Despereaux
While most mice are born blind, sickly Despereaux Tilling comes into the world with his eyes open. He continues his streak of uniqueness by picking up strange, unmouselike habits, like reading fairy tales about knights saving princesses and living happily ever after. When a dastardly rat kidnaps the sweet Princess Pea, Despereaux gets his opportunity to live out his dream. However, the road to heroism is not easy. It requires sacrifice and pain that has Despereaux wondering if happily ever after even exists. Yet, this children's fantasy novel is a story full of as much hope as melancholy, and the ragtag ensemble cast of humans, rats, and mice pull together to save the day.
Redwall
This longrunning series, published from 1986 to 2011, chronicles the adventures of anthropomorphic animals inhabiting Redwall Abbey and its surrounding Mossflower Wood. The series is told as a fictional history of the mice, moles, hares, badgers, and other peace-loving woodland creatures who live more or less in harmony. Yet, at times, the inhabitants of Redwall Abbey must become warriors to protect their home from marauding bands of rats, weasels, and foxes.
Brain Jacques was lauded for his Redwall series, with comparisons made to J.R.R. Tolkien's The Lord of the Rings series and Richard Adams's Watership Down. His stories of courage combine action and poetry to create cozy adventures for young and adult readers alike.
Seekers
In this series, four bear cubs search for a place where they can live in peace away from human danger. Lusa is a black bear, Toklo a grizzly, Kallik a polar bear, and Ujurak rounds out the clan as a shape-shifting grizzly cub. The four bears come together after a series of tragedies leaves them abandoned or orphaned from their families.
They venture deep into the Arctic to relearn how to be wild, with trials testing their friendship and commitment to each other. After the success of the Warrior Cats series, the pseudonymous author Erin Hunter (really a team of writers) uses bears to explore environmentalism and the impacts of human behavior on animals' wellbeing.
Fire Bringer
In 13th Century Scotland, Rannoch the red deer is born with a mark on his forehead resembling an oak leaf. This mark is the symbol of a prophecy among the deer, as the sign of their god Herne. Whoever bears this mark will be able to speak to all animals and bring freedom.
On the day of Rannoch's birth, his father is murdered, and the Lord of the Herd plots to kill Rannoch in fear of the prophecy. Rannoch and a small group of fawns flee to a new herd to escape, only to be caught by new dangers. Evading hunters and befriending allies, Rannoch struggles to grow up without a herd. He searches for Herne's mythical herd deep in the mountains, all the while wrestling with his fate to battle his herd's despotic leader.
The Green Ember
In the land of Natalia, rabbits wield swords to fight for freedom against wolves, hawks, and the Lord of Prey. Young rabbits Heather and Picket Longtreader grow up in a peaceful region of Nick Hollow, in the north of Natalia. They play games in the woods, naïve of their world's danger, until one stormy day when their father tells them the story of old King Jupiter, the last king of the Thirty Warrens and the Great Wood.
After a string of strange visitors, Heather and Picket are sent to a nearby village, only to hear screams back home. They rush home and find their family captured by wolves. After a harrowing chase, the pair evade the wolves, but this is only the beginning of their journey, as they venture through the woods to rescue their family, gaining new skills and mysteries to solve along the way.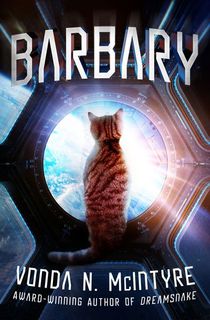 Barbary
12-year-old Barbary has always dreamed of going to space. Shuffled between foster families since the death of her mother, she finally has the chance to escape orbit, as her latest foster father lives on the Einstein, an outer space research station. However, pets are expressly forbidden on the space station, and Barbary can't bear to leave behind her cat Mickey.
With the help of some unlikely allies, Barbary finds a way to smuggle her cat aboard, but how long she's able to keep her cat a secret on the small space station is anyone's guess. Mickey is a curious cat, and his mischievous antics put him at increasing risk of getting discovered—and Barbary returned to Earth. Meanwhile, an alien spaceship drifts closer every day ...